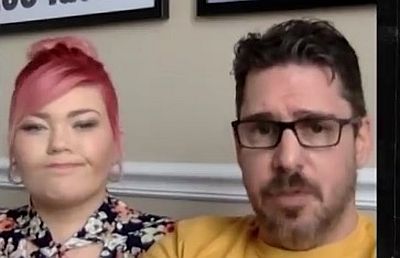 Earlier this week, it was reported by numerous outlets that Teen Mom OG stars Amber Portwood and Matt Baier were being evicted from their Indiana home, due to them not paying their rent, in addition to making alterations and damages to the house. On February 9, their landlord, Kisby Enterprises, filed a lawsuit against the 'Teen Mom' lovebirds in small claims court.
Amber and Matt denied the eviction allegations in a statement to Real Mr. Housewife, and today, the couple popped on Skype with TMZ to further explain what happened.
"Every mortgage payment has been paid in advance, sometimes months in advance," Matt told TMZ. "Again, we put a $32,000 down payment on this house. We have all the checks here. What I said to [the landlord] is, 'There's nothing to discuss.'
"[He] filed something unlawfully and then tried to rescind it and said, 'We'll just let it go away. Well for us things just don't go away," Matt added.
Amber also denied that the house is "in shambles" as the owner stated in the lawsuit.
The Ashley has pulled up the court records and can confirm that yesterday, Amber and Matt's attorney filed an appearance in court for them in regard to the hearing. An eviction hearing is still on the books for March 9.
However, in a statement to TMZ, the landlord, Kisby Enterprises, admitted that the whole thing was a big "unfortunate misunderstanding" and stated that it intends to withdraw the eviction filing against Amber and Matt.
This is not the only pending court case that Amber and Matt are currently dealing with. In January, their other former landlord, Zuluscape, filed a lawsuit against the couple, stating that they owed back rent and did damage to the home they were living in before their current one. (The court filing claimed that Amber and Matt left the rental house smelling bad and full of pet damage, among other things.)
That lawsuit is ongoing. In fact, the first hearing for that lawsuit will be on February 23.
Watch the video containing Amber and Matt's full statement to TMZ below: