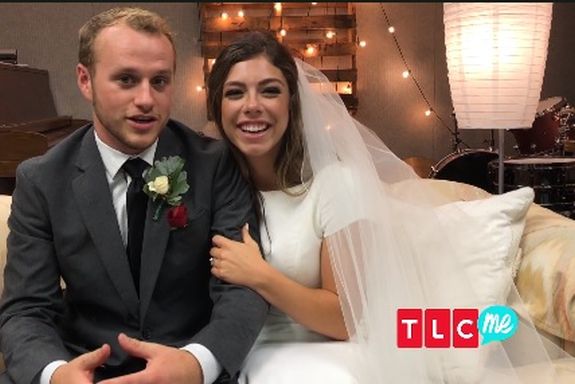 Another Duggar kid has tied the knot!
Counting On star Josiah Duggar married Lauren Swanson on Saturday, June 29 at John Brown University Cathedral of the Ozarks in Siloam Springs, Arkansas. Josiah, 21, and his 18-year-old bride released a statement to the media after saying "I do."
"What a joy it is to be husband and wife," the couple told People magazine. "Our wedding day was absolutely perfect!"
"What was even more perfect was to see my beautiful bride walking down the aisle," Josiah gushed. "We are so thankful the Lord has brought us to this place and we can't wait to begin our journey as husband and wife."
The wedding was officiated by the father of the bride, Dwain Swanson. The couple told People they went with a "romantic" theme and chose the colors blue, grey, pink, olive, green and white. The wedding was accented by wood and iron, the magazine reports. (Surely the Duggars' trusty wedding planning pal, Miss Cindy, sent Josiah's brothers and sisters out into the field to start hacking down trees to get enough wood for the ceremony decor!)
Josiah's teen bride Lauren wore a white cap sleeved bridal gown. Her eight bridesmaids wore blush-colored dresses handmade by (who else?!) Jana Duggar. (Luckily, Jana did have the help of Anna Duggar to hand-sew the dresses.)
"From walking down the aisle, to looking in his eyes and saying the vows was probably one of my favorite moments," Lauren said in a video filmed right after the wedding.
"What we're looking forward to…is really spending time with each other as a couple, and really slowing down," Josiah said in the video. "For me, I made a priority years ago, for my first year of marriage especially, to just slow down on as much work stuff as I can and really focus on our relationship with each other."
Unlike, Josiah's sister, Jessa, who bucked tradition by serving ice cream instead of cake at her wedding, Josiah and Lauren did have a cake. (It was strawberry shortcake flavored and heart-shaped, if you care. There's no word yet if Jana had to make the wedding cake, too.)
They also served cupcakes and candy.
The night before the wedding, the couple's families had a "summer-style indoor cookout rehearsal dinner with burgers, hot dogs and sides on the menu," according to People.
After a failed courtship with Marjorie Jackson several years back, Josiah found love with Lauren. He began courting her in January.
After announcing the courtship, Josiah told People, "We are overjoyed to begin this new phase of our lives together. Through the years our families' friendship has allowed us to get to know one another as friends. I can definitely say I have found a great friend…. even better than I could have hoped for or imagined."
Lauren had a very Duggar-like upbringing. She is the oldest of eight children and her parents and family have been friends with the Duggars for years. Her family made an appearance on the Duggars' former TLC show, 19 Kids and Counting. At 18, she is one of the youngest Duggar brides. (Joseph Duggar's wife, Kendra, was 18 when they got married last year. Joy-Anna Duggar was 19 when she married Austin Forsyth.)
In the TLC video, Josiah stated that the "journey to" his and Lauren's wedding day will be a focus of the upcoming new season of 'Counting On,' which premieres July 30.
Wanna get all the stats on the previous Duggar weddings? Click here to read The Ashley's "Duggar Wedding: By the Numbers" post!
Watch Josiah and Lauren talk about their wedding in the video below:
(Photos: TLC, Instagram)