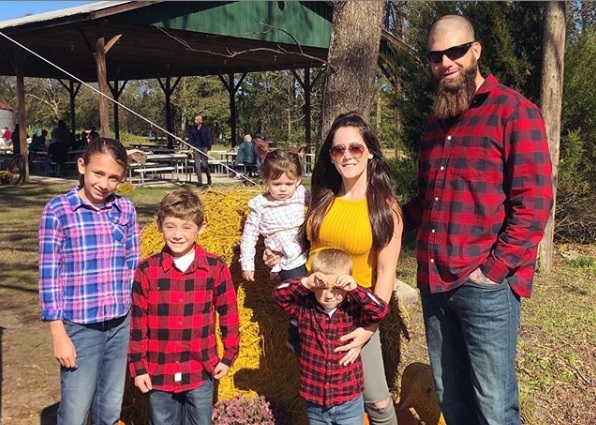 North Carolina authorities were reportedly looking for Jenelle Evans and David Eason after they failed to turn their daughter Ensley and David's daughter Maryssa over to CPS last night. As The Ashley told you yesterday, a judge signed an order on Monday to have both girls removed from the Easons' care.
Although Jenelle and David refused to turn their kids over to authorities, they did bring the girls to another location and place them in the care of someone else. Us Weekly is reporting that the girls are at the home of their paternal grandma, Laura Jo Eason, and while that may very well be the case, The Ashley has not been able to confirm it.
Jenelle and David's mom have had a strained relationship over the years. Right after the news broke that David had shot and killed Jenelle's dog, David's mom posted about it to her social media, causing Jenelle to rage-post about David's mom on her own social media accounts.
CPS is still investigating and the kids will remain out of their parents' care until further notice, though. But The Ashley can confirm that there are no more kids currently in the care of Jenelle and David. It is not yet known if CPS will seize the children from their current location(s).
As The Ashley told you, the couple left their home on The Land on Tuesday, but returned Tuesday night. (David and Jenelle returned home, but it is unknown if the girls were with them or not. It appears that they may have taken the girls to the other location yesterday and returned home solo.)
Jenelle was spotted at a North Carolina courthouse on Wednesday morning with her lawyer. The Ashley hears that Jenelle's lawyer has been attempting to get the CPS investigation squashed but has not yet been successful.
Radar Online reports that "Jenelle is meeting with the kids at social services this afternoon. It is supervised visitation. She asked and they are going to allow it."
Jenelle and David are currently back home on The Land.
Jenelle's mother, Barbara Evans, has been contacted, and was supposed to be taking temporary care of Ensley. However, she does not currently have the two-year-old in her care.
View this post on Instagram
As The Ashley previously told you, all of Jenelle and David's other children have been removed from their care. Kaiser, Jenelle's son with Nathan Griffith, was removed from her care last Friday, when CPS informed Nathan's mom Doris Davidson that she was authorized to pick Kaiser up from his daycare. Since then, Kaiser has been with his father, Nathan. On Monday, a judge signed an order to allow Kaiser to stay with Nathan for the foreseeable future.
Jenelle's other son Jace is being kept away from The Land by Barbara, who has custody of the boy. After Barb learned about David killing the family dog, she has refused to allow Jace to be around David.
David's son Kaden is no longer allowed to visit his father. David was not allowed to associate with his son (with ex Olivia Leedham) for most of the boy's life. In 2017, Olivia began allowing visitation between David and Kaden, but stopped after the 911 call made by Jenelle in October 2018 went public. Olivia went back to court to get David's visitation with Kaden discontinued, and earlier this month, a judge sided with Olivia, ruling that Kaden would not have to go to his father's. (Jenelle was not happy about it!)
This story is still developing…The Ashley has read the other sites' reports and is only reporting what she has been able to confirm with her own sources so that she knows the info she reports is accurate.
(Photos: Instagram)