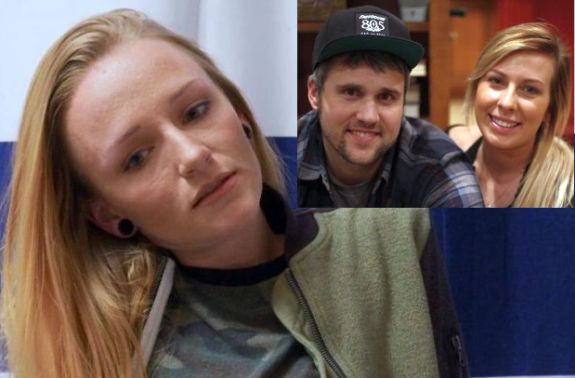 Maci Bookout likes her relationship with Ryan and Mackenzie Edwards the same way she likes her beer: cold.
The Teen Mom OG star recently told Us Weekly that she currently has no relationship with her baby daddy or his "brown-eyed" wife, Mackenzie, despite the fact that she and Mackenzie posed together for a photo with all their kids while Ryan was in the slammer earlier this year.
"We don't really have a relationship," Maci said of herself and Mackenzie. "It's not negative. It's not a bad relationship, there's just really not one."
Maci and Mackenzie famously feuded during several of the 'Teen Mom OG' reunions, mostly over the fact that Maci admitted to knowing Ryan was on drugs but didn't inform Mackenzie or Ryan's family of that fact.
As for where her relationship with Ryan stands, Maci says she has no contact with him at all.
"I haven't seen him or anything. [He] hasn't had the chance to impact [me] or have an impact yet," Maci told the magazine.
Last year, The Ashley broke the news that Maci and her husband Taylor McKinney had filed for (and were granted) restraining orders against Ryan for themselves, their kids Maverick and Jayde and their dogs. (Bentley– the son Maci shares with Ryan– is still permitted to see Ryan.) That restraining order is technically good through May 2020.
Maci also revealed that Bentley is aware of the his father's struggle with substance abuse and his recent jail stay.
"People are talking about it at home. So I definitely don't want him going to school and some kid saying, 'Oh so-and-so told me' or 'my mom showed me' or 'I saw this,'" Maci said. "I think just from the standpoint of him being able to process, comprehend and understand, and get through it in a healthy manner, I think he needs to know what's going on. So that I can also, as his parent, reinforce that he does have love around him and support around him. And that that's life; things happen but it's going to be OK."
Bentley still has a relationship with Ryan's parents, Jen and Larry Edwards, though.
"He goes over to their house at least one weekend a month. Most of the time, every other weekend," Maci said. "That will never change, ever."
Watch Maci's interview video below!
RELATED STORY: Mackenzie Edwards Lashes Out at Jenelle Evans for Posting Clickbait Article About Ryan Edwards Being Abused in Jail
(Photos: MTV; Instagram)