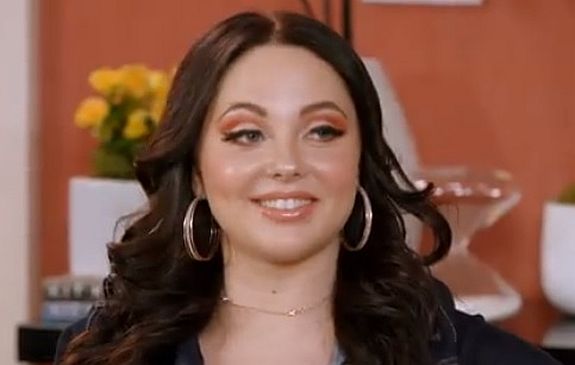 MTV used its Season 9B Reunion episode on Monday to officially announced that Teen Mom: Young and Pregnant star Jade Cline is being "promoted" to Teen Mom 2 for next season. The announcement came via a live interview Jade did with Kail Lowry and her Coffee Convos podcast co-host Lindsie Chrisley, alongside Teen Mom OG stars Tyler Baltierra and Catelynn Lowell!
During the intense interview, Jade, Lindsie and Kail discussed how Jade was told that she had snagged Jenelle Evans' spot on 'Teen Mom 2,' how Jade's 'Young and Pregnant' co-stars feel about her "promotion" and why Kail was initially unhappy to hear that Jade was joining the cast.
When The Ashley broke the news last month that Jade was joining 'Teen Mom 2,' the show's fans were shocked. Jade said she, too, was surprised when she was told the franchise's producers wanted her for 'Teen Mom 2.'
"I didn't know. My producer, they're all saying that they have to tell me something. And no one is telling me anything so for weeks I'm like, 'What the f**k is going on?'" Jade said. "I'm at school, and all of sudden, all the cameras are on and they're with my producer– and, on 'Young and Pregnant' they never break that wall, and I was like 'What's going on? I'm gonna poop, I'm scared!'
Jade said Jenelle's old producer Kristen Schylinski came to inform Jade of the news.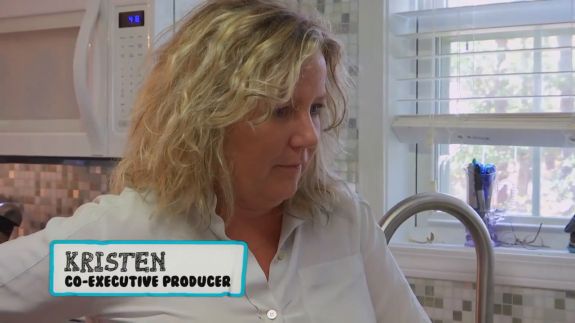 "Kristen and Jamie, who is my producer now came out and she was like, 'Hi I'm Kristen on 'Teen Mom 2' and we want you to be on 'Teen Mom 2!' And I was like…'Okay?' I had no clue. I was blindsided.
"They said, 'We love you, we love your story so much, we want you to be on 'Teen Mom 2' and I was like, I didn't know what to say. I was like, 'I feel so wanted and popular!' The show has been on so long that I can't believe they would want me on a show that's been on for like 10 years with the same people."
Kail said that she had similar sentiments and admitted she was not thrilled to hear that another girl was the joining 'Teen Mom 2' cast.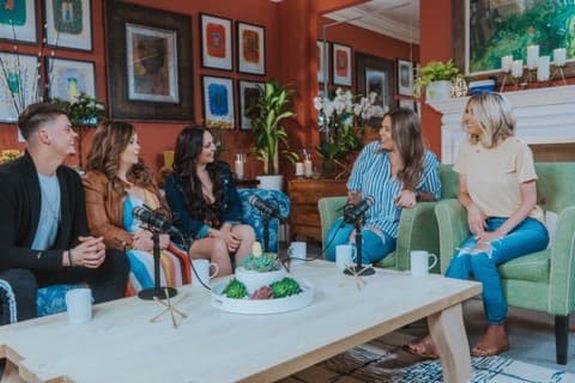 "I had the same thoughts," she told Jade. "Not against you, but I was like, 'It's not broken, so don't fix it.' With the drama that they had when they added another person [Briana Dejesus] to the show, I was like, 'Why are we doing this again?'… It wasn't like, 'Oh Jade? Why Jade?' It was like, 'why are we the last to find out and when were you going to tell us?'"
"I don't want to step on peoples' toes, I don't like that," Jade said.
During the conversation, Lindsie provided some much-needed comic relief, and encouraged Jade to continue to try to stay out of the social media drama that is common with the 'Teen Mom' casts.
Jade also confirmed what The Ashley told you months ago– that her 'Young and Pregnant' co-star Lexi Tatman has been let go from the show, and that producers have already found a replacement girl.
"I was confused, I thought there were going to be six stories because I thought Jenelle was still on it," Jade said. "All this stuff was going on, with 'OG' and Bristol [Palin] quitting, and then with 'Young and Pregnant' now they took off Lexi. Then they already had it in their head that I would say yes [to being on 'Teen Mom 2'] , so they had someone there to take my spot [on 'Young and Pregnant']."
Jade told Kail and Lindsie that, unlike the casts of 'OG' and 'TM2,' the 'Young and Pregnant' girls are not close at all. Currently, Jade said she is only friends with Kayla Sessler, whom she told she was moving to 'Teen Mom 2.'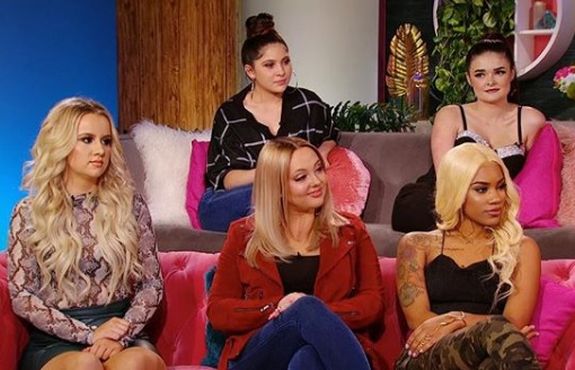 "Honestly, I don't really have a relationship with any [of the other girls]," Jade said. "We never really hung out and we're all kind of different. I feel like my mindset is very older. Compared to a lot of the other girls, I just have…I've always taken care of myself, since I was younger. CPS took me away from my parents when I was 16 years old. I've been taking care of myself since then, so I feel so much older. I feel like I didn't vibe with a lot of them.
"They're only a couple years younger than me, but I feel like mentally, they were just in a different spot. I know a lot of them live with their parents; I've been out of my parents' house since I was 16 years old. I've been on my own for six or seven years, so I feel like I didn't vibe with anyone or talk with them as much just because I was just somewhere else mentally."
Because of their lack of bond, Jade said she refused to answer the other girls when they asked her if she was really was joining 'TM2.'
"The rumors started and I didn't say anything to anyone," Jade said. "Obviously they said 'don't tell anyone s**t.' But, of course, Kayla asked me and I was like, 'Yeah, I am,' and she was like, 'Oh, OK, are you leaving? She's sad.'
"And then Ashley [Jones] messaged me and I just deleted it…I just don't talk to her, so I'm not going to answer," Jade added, stating that it had nothing to do with Ashley personally. "If Brianna [Jaramillo] asked me I would have just deleted it, too. But Kayla and I talk all the time so I'm obviously going to sit and tell her."
During the hour-plus podcast episode, Jade opened up about her parents' addictions, her relationship with her daughter's father and more. At one point, she broke down in tears and was comforted by Kail, Tyler, Catelynn and Lindsie, all of whom have dealt with addictions in their families.
"I'm so excited to watch your story and watch you flourish because you are a very special young lady," Lindsie told Jade.
Listen to the full episode of Coffee Convos below!
(Photos: MTV, Jessica Taylor Stevenson Photography)