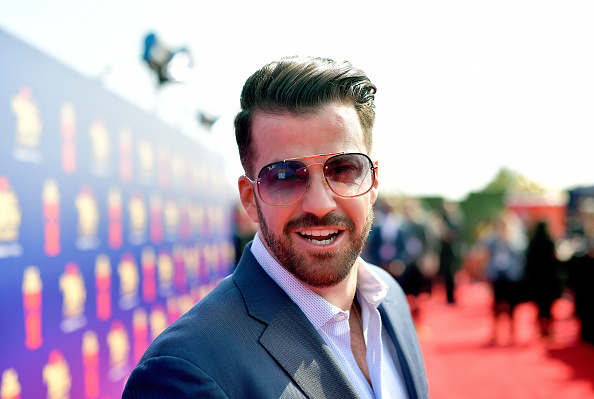 Johnny Bananas is tired of The Challenge not getting the respect he feels it deserves, and he reportedly made sure everyone knew it Saturday night at the MTV Movie & TV Awards!
According to The Blast, the longtime 'Challenge' star was upset that the show he has basically anchored for the last decade or so lost the 'Reality Royalty' award to Love & Hip Hop. The site reports Johnny stormed the stage and "accepted" the award anyway, grabbing the mic from the 'Love & Hip Hop' cast before they were able to give their acceptance speech.
The site reports that Johnny's rant lasted a few minutes. During that time, he pretended 'The Challenge' had won, telling the crowd, "We finally won! After all these years, it's about time MTV finally gives 'The Challenge' the recognition it deserves."
Johnny then reportedly slammed the others shows that were up for the award (which, in addition to 'Love & Hip Hop' included The Bachelor, Vanderpump Rules and Jersey Shore).
"All the other shows that got nominated are essentially paying rent in the genre we created!" Johnny said.
During Johnny's "Kanye"-esque speech, the 'Love & Hip Hop' cast attempted to give Bananas the heave-ho from the stage, assuming he was just some rando who managed to get up there. (Apparently, the 'Love & Hip Hop' cast members aren't 'Challenge' fans…)
So sharp I just made a knife jealous 🗡 @MTV #TooGlamToGiveADamn #ThisViewIsBananas #RedCarpetReady #BananasDoingThings #MTVMovieAwards pic.twitter.com/w4vgx8UPLd

— Johnny Bananas (@johnnybananas) June 16, 2019
Although the 'Love & Hip Hop' crew was unhappy, MTV was even more upset about Johnny's antics.
"MTV is furious with Johnny Bananas for doing this. [They] are considering editing the entire incident out of the show," The Blast's source stated. (The moment was, indeed, cut out of the East Coast airing on Monday night. It's unknown if it will be cut from the West Coast's airing.)
"Sources tell us it is unclear if he will face any discipline actions because of the outburst, but the issue is that both shows fall under the MTV/VH1 umbrella and this is their talent," The Blast reported.
Johnny seemed to have no remorse for his actions. When a fan tweeted the link to a story about Johnny's outburst, asking how MTV could hide it from them, Johnny retweeted the link, writing, "Don't hide the banana!"
Don't #HideTheBanana https://t.co/gMPG7RUUKm

— Johnny Bananas (@johnnybananas) June 17, 2019
RELATED STORY: Casts of 'The Challenge,' 'Jersey Shore' & Other MTV Reality TV Shows Attend the MTV Movie & TV Awards: See the Pics!
(Photos: Matt Winkelmeyer/Getty Images; Twitter)