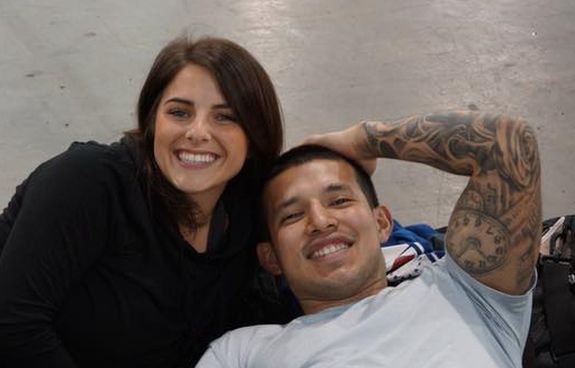 The breakups just keep on coming in the Teen Mom World!
Just days after Teen Mom OG stars Mackenzie and Josh McKee split, it appears that Teen Mom 2 couple Javi Marroquin and Lauren Comeau may have followed suit.
The Ashley can reveal that the engaged pair got into a huge fight over the weekend, while their friends were over at their house for a get-together. The Ashley's sources tell her that the fight was so bad that police were reportedly called to the scene, although no one was arrested or removed from the home. (Based on what The Ashley can tell from online records, it was only a verbal argument, not physical.)
Following the fight, Lauren unfollowed Javi on Instagram and, at press time, was still not following him. Lauren has also deleted a bunch of photos of her and Javi off of her Instagram.
Lauren and Javi— who are engaged and share nine-month-old son Eli— have had a rocky relationship lately, the source said.
"They fight constantly, but this one was really bad," the source told The Ashley. "Something major went down."
And, unfortunately for 'Teen Mom 2' fans, it was not captured on camera for the show. As The Ashley told you earlier this month, Javi has not filmed for the show, because he wants his new Crossfit gym to be distanced from 'Teen Mom.' (Kail Lowry's other baby daddies Chris Lopez and Jo Rivera are also not filming for this season of the show.)
Javi and Lauren only recently got engaged. In June, he proposed to her in her hometown in Maine.
They started dating in the summer of 2017 but quickly broke up. Javi moved on with 'Teen Mom 2' star Briana DeJesus, but after that fizzled he quickly reunited with Lauren. Within six weeks of announcing that they were back together, the couple announced they were expecting their first child together. Eli was born in November 2018.
UPDATE! While Lauren and Javi have yet to comment on their alleged split, Kail released a statement on Monday via Us Weekly.
"Even though I've said things in the past, it's not my place to comment on their relationship or issues," she told the magazine. "I wish him the best whether they're together or not."
That same day, she posted a tweet that many followers seem to think was in reference to Lauren and Javi.
I'm convinced the happiest looking couples on IG have the most problems 😭

— Kailyn Lowry (@KailLowry) August 18, 2019
"I'm convinced the happiest looking couples on IG have the most problems," she wrote.
(Photos: Instagram; Twitter)