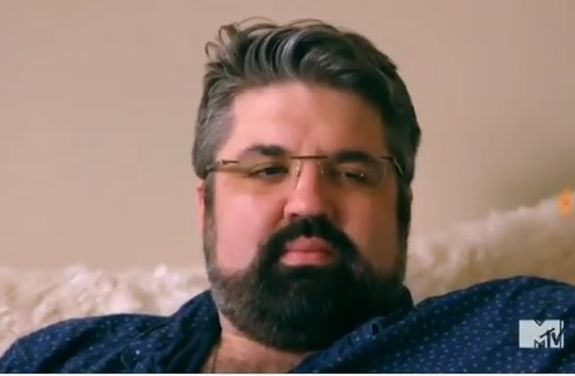 Andrew Glennon is holding nothing back and his ex-girlfriend (and baby mama) Amber Portwood is not happy about it!
Andrew posted a telling message on Instagram Stories earlier this week, writing, "The silence ends now"…and he wasn't kidding! In a series of Instagram comments made over the course of this week, Andrew has revealed what he says is the truth about his relationship with the Teen Mom OG star.
Andrew said that both he and their one-year-old son, James, were on the receiving end of the alleged physical abuse by Amber. Andrew also stated that the 'Teen Mom' star never wanted the baby to begin with!
"She wasn't taking her medication, she attacked my son and I on more than one occasion, and I pray she gets the help she needs," Andrew wrote, later adding that he and James suffered, "a landslide of abuse" over the past year.
"She would lock herself in her closet until 6 a.m. smoking weed, listening to music and taking hydrocodone," he wrote. "Everyday I was ripped into emotionally…
"I'll do what's best for my son, protecting him from him from her onslaught of media attacks and physical attacks," Andrew later added on Instagram. "And [James] being shoved over flat on his back on a tile floor for opening cabinets. Or being thrown on the bed for crying…"
In another series of comments, Andrew detailed how Amber was unhappy when she discovered she was pregnant with James (just a month or so into her relationship with Andrew).
"If anyone was set up it was James," Andrew wrote. "He never stood a chance at having a mother. His birth was a burden and a source of misery from the start.
"[Amber said], 'I never wanted another baby. I'm 29 years old and should be out having fun! This isn't the life I wanted to live! You've ruined everything!'… [I heard that] daily," Andrew wrote. "This little man is the source of all of my joy in life. It used to be split evenly, but I cannot control other people's actions or emotions. I had no control of that decision, my family was broken without my say so."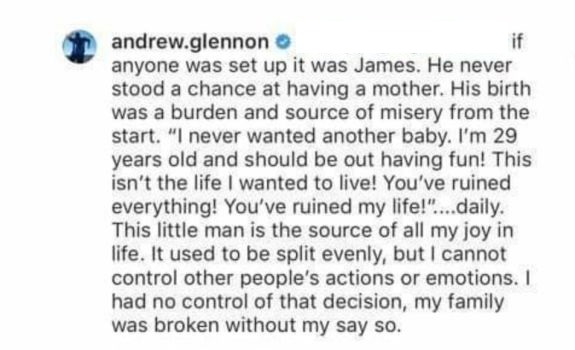 Andrew claimed in his comments that, at one point, he became alarmed by the change in Amber, so he said he went to her family, as well as her MTV production crew to try to get help, but no one took action.
"I made cries for help to her doctor, her brother, her family, MTV, and it landed on sympathetic but deaf ears," he wrote.
He also described Amber's alleged actions on the night of her July 5 arrest.
"Replaying it night after night in my head…there were so many close calls…I'm talking inches. I have never seen the person I saw that night and it was utterly terrifying," Andrew wrote of Amber. "[She had] a total loss of control, but she's stated her mental illness played no part in the attack, so I don't know what to think anymore. My nerves are raw but I keep it together for the security and well-being of baby James."
Amber is not allowed to have any contact with Andrew, due to a no contact order that is currently in place. However, that did not stop the 'Teen Mom' star from unleashing on her ex via Instagram Live. (She did, however, clarify that she was speaking "in general" and not directly to Andrew, since her No Contact Order barred her from doing so.)
Her Instagram Live session (which was reminiscent of the one featuring a kimono-wearing Amber screaming at Jenelle Evans on Instagram Live a few months ago), contained plenty of messages to Andrew, though.
"I can't say anything, but I know DAMN well that I am not going to be f**king slammed in the media any f**king more over this nasty, nasty, nasty man," she yelled. "I'm NOT playing anymore. It's gotten to a point where if I hear one more thing about him, it's all comin' out!"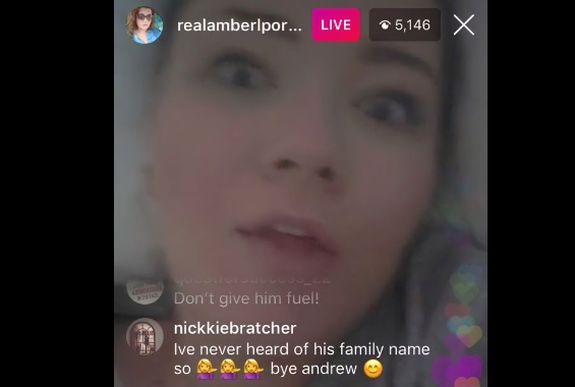 While she was careful to say, "I can't talk directly to him," she then basically spoke directly to him.
"I'm not playing ANY.MORE. It will all come out, and God that will embarrass him and his family," Amber said. "I have tried to sit here and be quiet, just to protect his family name! The whole time I was with him, like, Bro, there was s**t that you did that I literally kept to myself, because of his family name. He doesn't even DO what his father and his grandfather did. 'Oh he's a cinematographer.' Dude met me and never worked again in his life!"
"Stop f**king playing with me," she told Andrew someone. "I'm to the point where I'm getting pissed. I'm getting really pissed….you are disgusting."
She then clarified again that she wasn't talking to Andrew specifically.
"And when I say 'you' I'm not talking to directly to him but if he sees it, I don't give a f**k!" Amber, showing off her "Real Woman" personality, roared into the camera. "I will say to everybody, if he keeps playing with me, I'll f**king throw all that dirt out. I'll get dirty. You've been dirty since Day 1. I had to find that out two years later, looking back at bank statements, looking back at all this s**t.
"I'm not even supposed to be saying half of this stuff right now, but I don't care," Amber yelled. "I admitted my faults that night. I have not been in trouble for 10 years. Stop playing with me. I will not protect your family name anymore."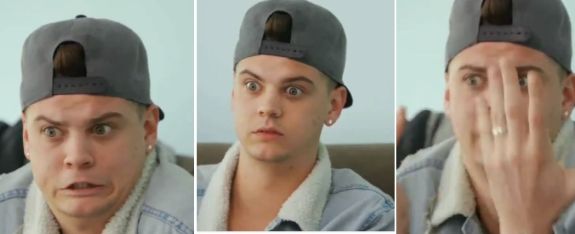 Amber then gave The Ashley a shout out(!), telling her fans to go read The Ashley's story from years ago that discussed the restraining orders that were placed against Andrew by women before he met Amber.
"I already know the WHOLE story on that, and DON'T MAKE ME TALK ABOUT IT, BRO!" Amber said, with her eyes bulging to Ryan Edwards levels. "I'm not talking directly to him, I have to say that, but I swear to God DO.NOT.MAKE.ME.TALK.ABOUT.YOU."
Amber then seems to realize she's drifting into dangerous territory, legally, so she again clarifies, "And I'm saying this to you, the fans, because I can't talk to him I have a no contact order. I can't f**king talk to him. I'm saying to you guys that I'm not going to have this slander against my name."
UPDATE! After this article posted, Amber's brother Shawn Portwood posted his thoughts about what Andrew said.
"This is freaking bulls**t," Shawn tweeted. "How dare him continue this smear campaign. I can't believe this. It's just a giant smear campaign because he knows that a lot is about to come out and it's not going to look good for him. He's trying to make himself look better and make her look worse. With her record it's easy and he's using that to his advantage. You cannot continue to fold somebody for their past actions because she has made huge strides and changing herself for the better. She has issues and she knows it but she is tenfold better than what she was before…
"I promise you from what I know they can't prove anything. Every accusation he has made against her cannot be proven," Shawn continued. "Only one thing and it's something that she admitted to right off the get-go and in the end the truth will come out…I'm not enabling. I talk to her all the time and try to help her. She's even staying all the social media right now just so she won't respond to all these hateful comments. She goes and sees a therapist multiple times a week to work on her issues."
RELATED STORY: 'Teen Mom OG' Star Amber Portwood Files an Objection to Andrew Glennon's Request to Move to California with Son James