From bad makeup to even worse outfits, the stars (and former stars) of the Teen Mom franchise were out and about this week, bringing the "WTF" to NYFW and beyond!
In an effort to bring you up-to-date on the latest Teen Mom OG and Teen Mom 2 news, The Ashley brings you the Teen Mom News Pile. Here are some of the major (and minor but interesting) 'Teen Mom'-related things that have happened over the last few days…
Jenelle Evans & David Eason Sported Their Finest Threads at New York Fashion Week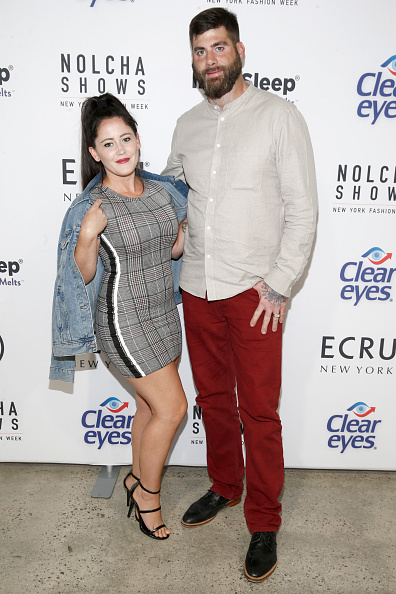 As 'Teen Mom 2' fans know, Jenelle and David are true fashion legends of our generation. The unemployed MTV stars hit up New York Fashion Week this weekend, sitting front row at random shows and showing of their fresh-to-death fashion choices.
Jenelle chose a short plaid dress to wear to the Elf Sack fashion show. (I mean, it's not as prestigious as the random "Indonesian Diversity" show Jenelle & Co. attended in February but, really, what is?!) She then topped the dress with an oversized denim jacket (as you do), wearing it without putting her arms in it because, apparently, that's how North Carolina's High Fashion Elite do it?
Unfortunately, Jenelle's makeup stole the show. The former 'Teen Mom 2' star was once again the victim of poor foundation blending. As photos of Jenelle surfaced online, her haters were quick to point out the very obvious line where her pasty white makeup stopped.
(She later posted to Instagram Stories that, "my face wasn't that white before we left. #f**kit.")
David– who is, of course, the epitome of haute couture– must have had his fancy "courtin'" pants in the "scrubbin'" pile. Instead, he chose to wear blood red pants (suitable for working at Burger King in 1979), topped with a wrinkled white blouse.
Farrah Abraham Dressed Like Carmen Sandiego For Some Reason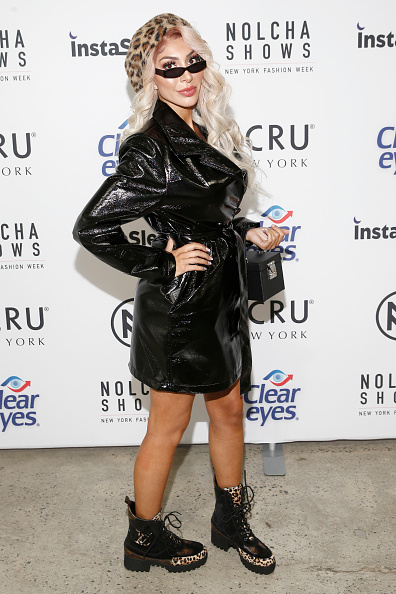 MTV's other expelled 'Teen Mom,' Farrah Abraham, also attended NYFW— and the "Elf Sack" Show that Jenelle and David did. Someone should have placed an "Elf Sack" over the Backdoor Teen Mom, though, to cover up the head-to-toe mess that was her outfit at the event!
For reasons unknown, Farrah showed up wearing some sort of "International Spy Meets The Nanny" costume. From the leopard print beret, to the black plastic trenchcoat (that looked like it was surely from the "Made by Hefty" line), Farrah's outfit was strange, even for Farrah. Perhaps the worse fashion, offense, though was Farrah's jumbo leopard-trimmed combat boots that looked like they came straight out of Justin Bobby's "beachwear" closet!
She stuffed her boats into these clunkers and tromped her way through the fashion show.
Debra Danielsen Informed Us That at "Debz OG" Workout Video Exists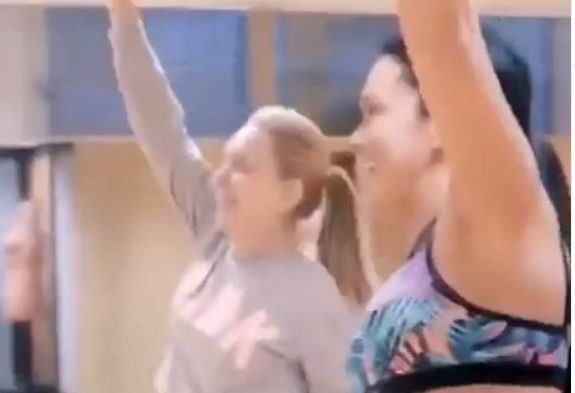 Yes, kids, you read that correctly: There is a Debz OG workout video!
Earlier this week, Debra– the mother of Farrah– posted a clip of her workout tape to her Instagram account. Debz OG gave us just a sample of the jazzercise treasure, but it was enough to leave us screaming for more (or mercy…same/same).
The video, which features Farrah's rarely seen sister Ashley Danielsen, is set to Debz OG's own rap tune, naturally. A sweatshirt-and-Spandex-wearing Debz is shown punching a dummy (and no, we're not talking about Farrah, BTW). She also does leg lifts like the true boss that she is and even shows off her Lycra-covered booty for the camera.
And, yes, it's just as good as it sounds! Watch the video snippet below!
Ryan Edwards Bought (Another) Car
Bentley's daddy certainly put his MTV paycheck to good use this weekend! Ryan, along with his dad Larry, purchased a 1969 Camaro at the Mecum car auction in Dallas over the weekend. The 'Teen Mom' star's mug was even seen on-camera during the auction.
The price for the pristine, numbers-matching Camaro Z28? A cool $59,000!
Ryan's wife Mackenzie, who is currently pregnant, seemed thrilled with her hubby's purchase, posting it proudly to Instagram.
"They finally got their dream car!" she wrote in the caption of a photo of Ryan and Larry in the car. "Super excited about this one!"
Ryan also posted photos of his new car.
"Can't believe this really happened! Camaro z28 1969 numbers matching 302 with a 4speed!!!!" he wrote.
This is just the latest vehicle in Ryan's arsenal of fancy rides. Last year, while Mackenzie was pregnant with their son Jagger, Ryan purchased a new custom F-100 truck…from Mackenzie's ex-husband, Zach Stephens, who works at a car dealership near their home.
To catch up on the latest 'Teen Mom' news, click here!
(Photos: Instagram, Brian Ach/Getty Images)