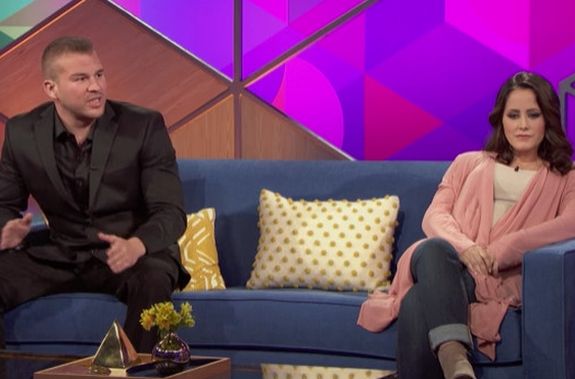 It appears Hell (aka The Land) has frozen over, because Jenelle Evans is actually praising Nathan Griffith… and his girlfriend!
The former Teen Mom 2 star returned to her Twitter on Thursday to thank her once-very-estranged baby daddy for assisting her in the time since she left her husband— the Nathan-hating David Eason.
"Thank you for being there for Kaiser and helping out lately," she wrote to Nathan, tagging his girlfriend, Ashley Lanhardt in the tweet as well. (This is significant, since in the past she has frequently referred to Ashley as Nathan's "side piece.")
Earlier on Thursday, Nathan tweeted how happy he is that he and Jenelle have finally been able to establish a good co-parenting relationship. (As 'Teen Mom 2' fans know, they were at odds for nearly the entire time Jenelle was with David, and have been fighting each other for custody of Kaiser for a long time.)
Thank you for being there for Kaiser and helping out lately.

— Jenelle Evans (@PBandJenelley_1) November 21, 2019
"I am so appreciative to finally have a healthy relationship with [Jenelle]," he wrote. "Something we should of had 3-4 years ago. Especially one, that everyone, is supportive with. Thank you [Ashley] for being so understanding."
"It's sad how bitter people deflect negative attention to cover up their own insecurities," Nathan added. "Hoping to justify their actions by the finding comfort in the approval of others."
The first hint that the once-bitter exes were getting along came earlier this month, when Nathan was seen in the background of a photograph taken of Jenelle. As The Ashley told you at the time, Nathan was in the location to pick up Kaiser and, since he and Jenelle are getting along now, he stayed to play with the kids. The Ashley's sources told her at the time that Jenelle had sent notice of her improved relationship with Nathan– as well as her mom Barbara— to the 'Teen Mom 2' producers.
Meanwhile, Jenelle's other baby daddy, David, has been busy. Over the past week, he's posted negative comments on social media about both Jenelle and Nathan.
RELATED STORY: EXCLUSIVE! Jenelle Evans Spotted with Baby Daddy Nathan Griffith: More Details & How Jenelle is Using Her Co-Parenting Relationship to Try to Get Back on 'Teen Mom 2'
(Photos: MTV; Twitter)