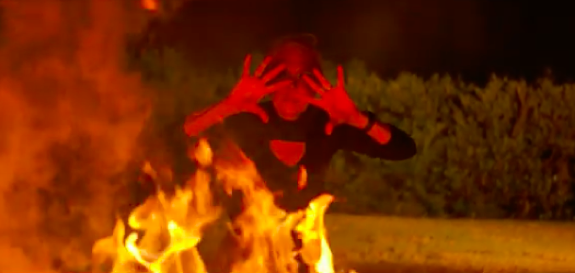 From preventing your costar from recruiting new cult members to trying to work your way onto the set of The Late Show, the stars (past and present) of the Teen Mom franchise have had quite the busy week.
In an effort to get you up-to-date on the latest Teen Mom OG and Teen Mom 2 news, The Ashley brings you the Teen Mom News Pile. Here are some of the major (and minor but interesting) 'Teen Mom'-related things that have happened over the last few days…
David Eason makes a poor attempt to pull at some heart strings.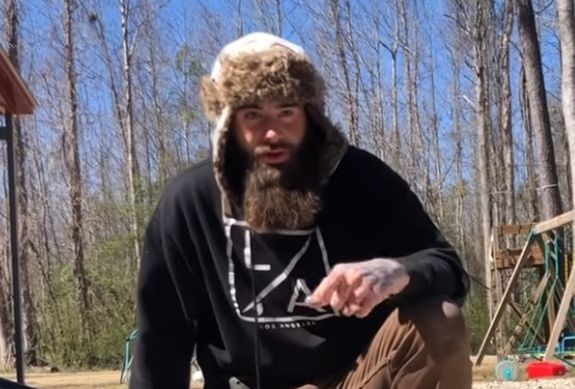 In the weeks since former 'Teen Mom 2' star Jenelle Evans announced she was divorcing David Eason, Jenelle has laid pretty low on social media. David, on the other hand, has taken to social media quite a few times to speak on he and Jenelle's split, answer questions from fans and most recently, talk about life handing him "the s**t end of the stick."
Jenelle's former soulmate took to Instagram on Friday to share a photo of his 15-year-old self along with a lengthy caption explaining what was going in his life at the time and what would shortly follow.
"My 15 year old skinny a** with a mop on my head, vitiligo just starting to appear on my face," he said, while making sure to point out that he had a girl next to him in the picture, as well as some tacky earrings.
"… But what nobody sees is the fact that this was a 15 year old boy who had a full time job, bought a car before I had license," he continued. "I even had my own house in three different places around this time. Moving from rental to rental yea, but hell I know some grown a** men that STILL do that."
David went on to say that three years after this picture was taken, he'd be married and getting ready to become a father.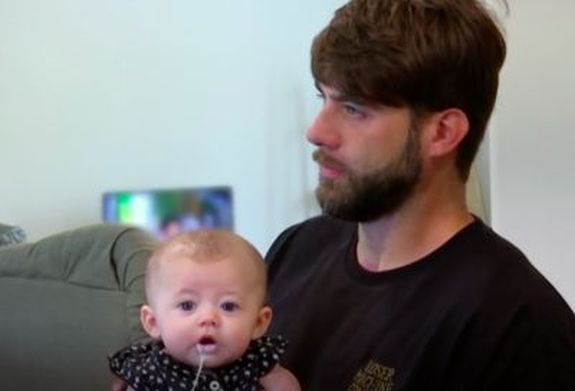 "I've always had it tough on my path through life," he said. "I learned to get through by focusing on the day I have been given and learning from my past. So ho ahead, laugh it up just remember nobody knows my story. I've been handed the s**t end of the stick more than anyone I know but I always make it through one way or another. God bless everyone who believes in me, I can't wait to give you my truth!"
Umm… ok.
Kail Lowry accuses Leah Messer of drinking the Kool-Aid.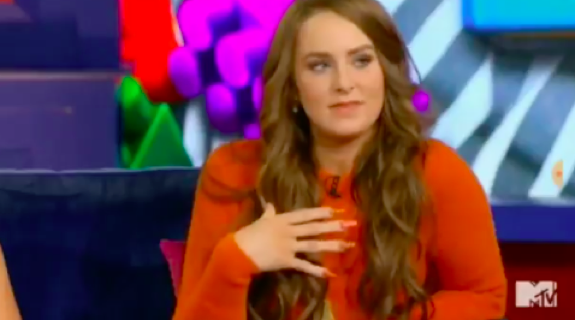 The friendship between 'Teen Mom 2' costars Kailyn Lowry and Leah Messer was put to the test this week after Kail warned a fan to steer clear of an alleged cult Leah has joined.
According to Radar Online, Leah's involvement in the Mastery in Transformational Training organization (otherwise known as MITT) and the recruitment it entails led her to contact Rachel Chitwood, a fan of 'Teen Mom 2' who expressed interest in the program on social media.
After speaking with Leah and later tagging her in an Instagram post, Rachel's Instagram handle was ultimately seen by Kail (thanks to a repost by Leah), who reached out to warn her of what she was getting into. Rachel said she initially blew Kail off, but eventually realized her concerns were valid.
Rachel said she planned to join an event for MITT in January 2020 but later determined she couldn't afford it. She said Leah was very vague about the purpose of the organization and once she found out Rachel no longer planned to attend the January event, "she got mad and became mean."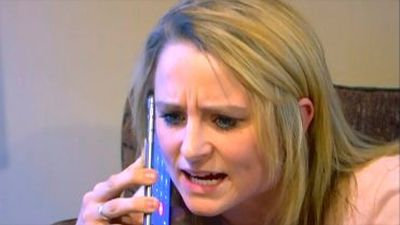 While Leah continued her attempts to recruit Rachel, Kail was also in contact with her, sharing her opinion that "those types of program target weak people who can be manipulated."
"I don't want to lose her as a friend but I also don't think any of this is ok," Kail told Rachel.
In a series of text exchanges, Kail told Rachel she didn't want to see "young moms do it and spend their savings on this," adding, "it's not cheap."
"I'm not sending you lies," Kail said in another text to Rachel. "I just want you to be aware of what you're getting into. I don't like that young moms believe her about it and will go broke trying to afford it."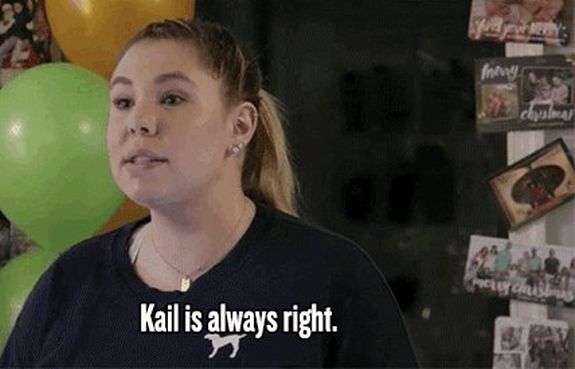 Kail went on to mention an article that claimed six people in the MITT group had died and another 35 had sued the organization.
In response to the cult claims, Leah turned around and accused Rachel of being involved in an organization similar to MITT in the past.
"I guess this girl that talks about this extremely scary 'cult' forgot to mention she was talking about how she had done something similar to MITT before too. Maybe I'll show those texts. It's clear to me you wanted to do the article for the WRONG REASONS. I hope you feel achieved," Leah said in a now-deleted tweet.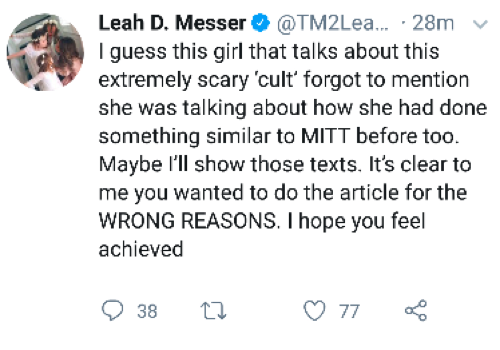 As to whether or not the drama from cult-gate left any bad blood between the costars, Kail said on Friday that she and Leah's friendship was just fine.
"Just wanted to tweet that even though there's some stuff going around about Leah & myself, I truly came from a good place & expressed my concerns to HER. We worked it out & this will not affect our friendship," Kail said on Twitter.
Just wanted to tweet that even though there's some stuff going around about Leah & myself, I truly came from a good place & expressed my concerns to HER. We worked it out & this will not affect our friendship.

— Kailyn Lowry (@KailLowry) December 6, 2019
On Saturday, Leah responded to Kail's tweet, assuring everyone that their friendship is still "on," despite the argument.
"I'm glad you directly came to me. I love you bb!" Leah tweeted to Kail. "It definitely is NOT going to affect our friendship. We actually get to be even closer after our first disagreement."
Farrah Abraham attempts to get a new job with MTV…in the most-cringy way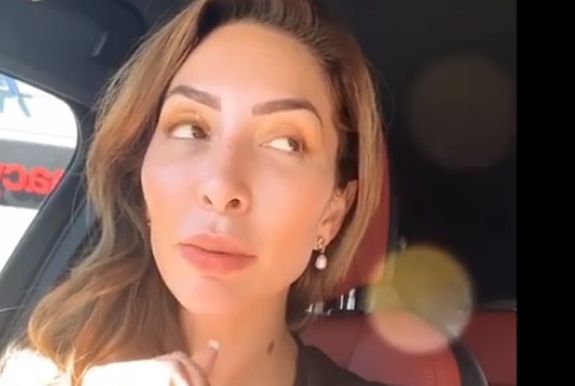 Viacom and CBS announced their official merger this week as ViacomCBS — a move CEO Bob Bakish called "a historic moment."
"Thanks to the hard work of many, #ViacomCBS is now in business. This is a historic moment & comes at exactly the right time. Demand has never been higher for content that engages, delights & informs." Read more from CEO Bob Bakish on ViacomCBS's future. https://t.co/3UUXiOIEPK

— ViacomCBS (@ViacomCBS) December 4, 2019
Being that Viacom is the network behind the 'Teen Mom' franchise, the person running the Twitter account for Stephen Colbert's 'The Late Show' gave viewers an idea of a potential crossover show that this merger could bring — one that we would probably end up watching, to be totally honest. .
Congrats to @ViacomCBS on the merger! Can't wait for crossover shows like this! #LSSC pic.twitter.com/VNLan3Moyz

— The Late Show (@colbertlateshow) December 6, 2019
After seeing her (former) mug featured on something that doesn't require a NSFW warning, former 'Teen Mom' Farrah Abraham took a moment out of her busy product-pushing, selfie-taking schedule to share her congratulations to the networks. Oh, and also do some shameless self-promoting.
"@colbertlateshow @ViacomCBS The stock might jump if I come back … congrats to @Viacom & @CBS … @colbertlateshow let's chat over [coffee]."
@colbertlateshow @ViacomCBS The stock might jump if I come back 🎅🏻 congrats to @Viacom & @CBS … @colbertlateshow let's chat over ☕️ #CBB pic.twitter.com/uFxmJgaqpn

— FARRAH ABRAHAM (@F1abraham) December 6, 2019
OK, we'll give Farrah a little credit here for suggesting coffee instead of offering to send over a surplus of her silicone body parts to the show. #Growth
Debra "Debz OG" Danielsen continues to be a treat for the eyes and ears.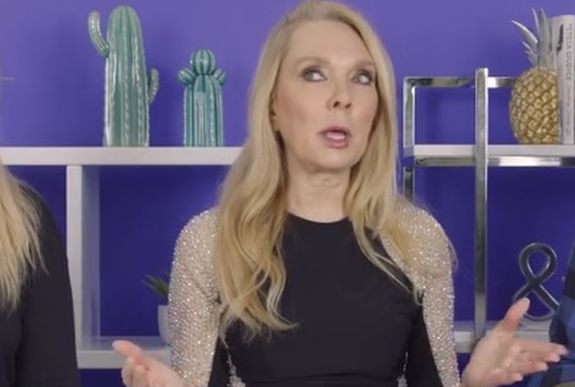 If a new banger from Debz OG was topping your 2019 Christmas list, go ahead and consider your holiday season made!
Former 'Teen Mom OG' grandma Debra Danielsen has released a new song and music video, just in time for all of the December parties and get togethers. Debra's new single "Clawed Doves" is the autotune-heavy track we all need in our life!
However, Debra's new jam gives us something even better than robotic sounds we can hardly decipher: an accompanying music video. This video features everything from Debra running/crawling on the beach…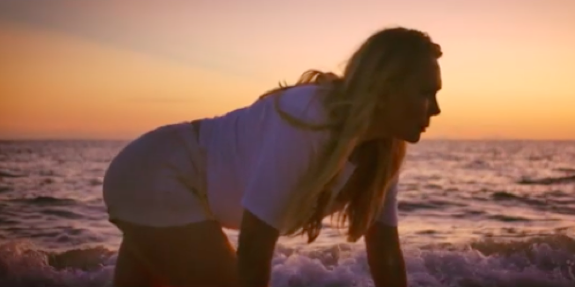 …to Debra getting lost in the forest.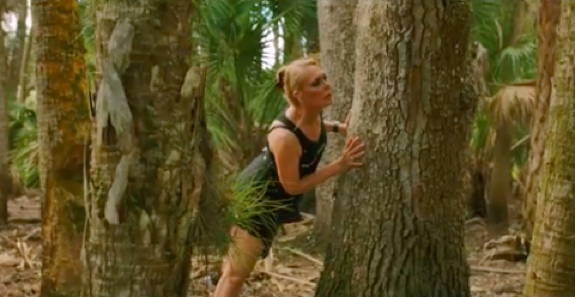 Along the way, we also get to see her eat branches…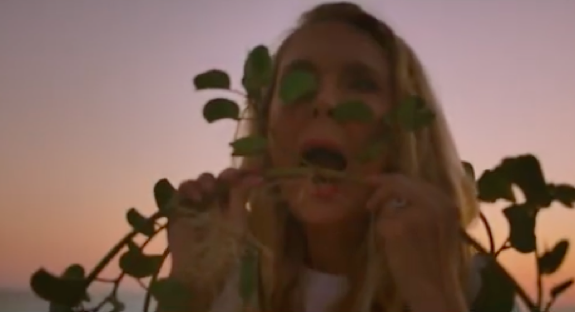 … try her hand at some sort of voodoo magic around a fire…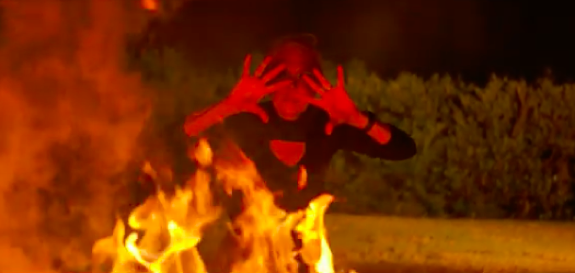 …and get into a confrontation with a random blonde girl that ends with a bitch slap. (Perhaps Debz was exhibiting a "belligerent, anti-Christ attitude?")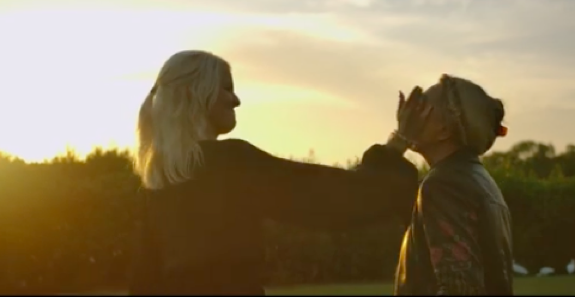 Also worthy of a shoutout (based on sheer confusion alone) is the blink-and-you'll-miss-it shot at the end of Deb's video, which, much like Deb herself, left us with way more questions than answers.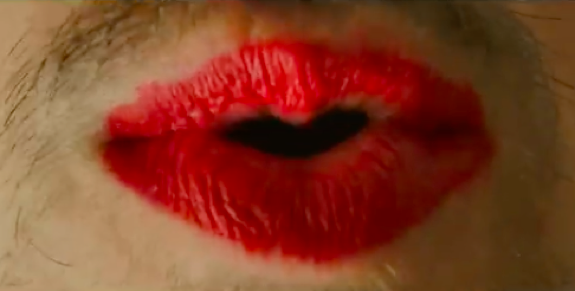 Thank you, Debra. You're the gift that keeps on giving, whether we've asked for it or not.
Check out the full video for "Clawed Doves" below!
To catch up on the latest 'Teen Mom' news, click here!
RELATED STORY: 'Teen Mom 2' Star Leah Messer Discusses Dating a Man in Costa Rica, Her Sister Victoria's Baby Daddy & More on "Coffee Convos" Podcast
(Photos: MTV, Twitter, YouTube)