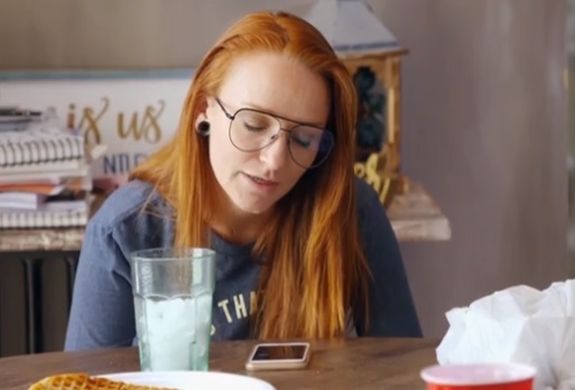 They're baaack! The girls of Teen Mom OG are returning for another season…and, of course, they're bringing their assortment of drama-causing baby daddies with them too!
'Teen Mom' fans got their first look at the upcoming Season 8B during Part 3 of the Teen Mom 2 Reunion on Tuesday. Catelynn Lowell and Cheyenne Floyd provided commentary after a short trailer for the season aired. Judging from the footage we saw, it looks like more of the same for most of the girls on the show.
As per usual, Maci Bookout's storyline seems to focus on Ryan Edwards, who, according to her, is trying to golf his way back into the good graces of the show's viewers— and their son Bentley. Maci's husband Taylor McKinney tells Maci that he thinks Ryan (who is looking fly in his pink polo and khaki shorts) is using Bentley "as a prop."
"It's like, 'Oh we're going to film golfing today, let me invite my son," Taylor says.
"I feel like an idiot," Maci tells him.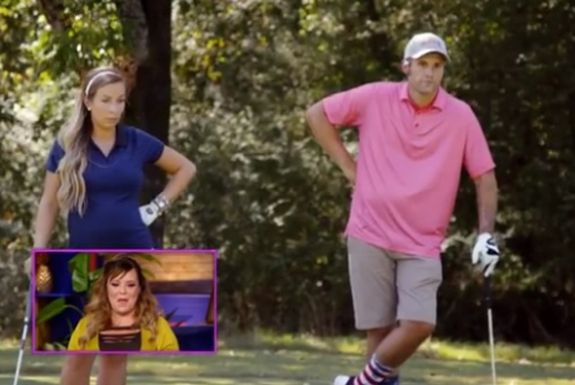 As for Cheyenne, it appears that her on- and off-again relationship with her boyfriend Matt seems to be taking her focus away from her daughter Ryder…at least that's what Cheyenne's baby daddy Cory Wharton believes.
"I feel like your focus has shifted. I just don't know if it's on Ryder," Cory tells an angry Cheyenne.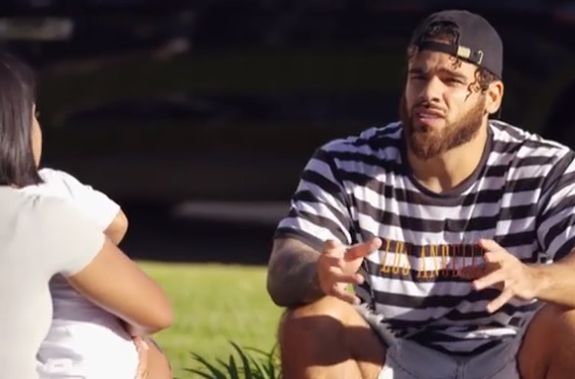 On the Reunion, Cheyenne also brought up that other big storyline of Cory's we will see this season.
"I'm sure everyone knows that Cory's having a baby with [his girlfriend] Taylor [Selfridge]," she says. "So that's going to be a big part of our story."
Naturally, drama-loving Dr. Drew Pinksy asks Cheyenne how she feels about Cory knocking up another girl. Unfortunately for him, though, Cheyenne doesn't deliver the snarky answer he was probably hoping for.
"You know, babies are a blessing," she says. "That's a good thing….I'm excited for Ryder to be a big sister. I just thought it would come from me first."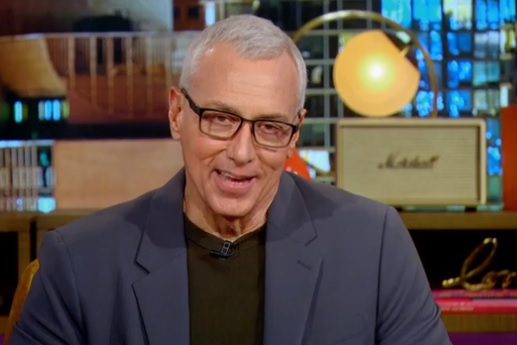 For Catelynn and Tyler Baltierra, Catelynn has some sort of "big surprise" for Tyler that she and her friend discuss while chowing down (and chewing with their mouths open on camera…as you do).
"Do you think Ty's gonna be weirded out?" Cate asks her friend.
"No I think he's gonna, like, cry his eyes out!" the friend says.
We then cut to Tyler and Catelynn in a field (both wearing white for some reason), and Catelynn taking a blindfold off a very-confused-looking Tyler. We don't get to see what Tyler and Catelynn are looking at.
Is it another positive pregnancy test? Did she paint a giant portrait of Butch on the side of their home? We will have to wait and see on that.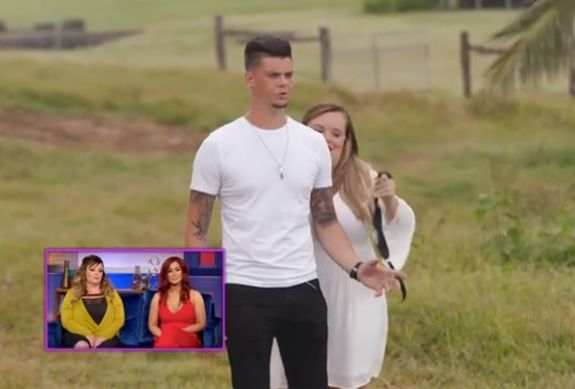 During the Reunion, though, Catelynn tells us that she and Tyler are "in a great place."
"On my side of the story, I think there's drama but there's also just a lot of cool things," Catelynn said. "Like getting older and Nova being a big sister. Yeah, it's been good so far."
Mackenzie McKee (who is being brought back as a regular cast member this season) also makes an appearance in the trailer. Her relationship problems with husband Josh McKee will be the focus of her season's storyline. We see her telling Josh that she can't be with him if she knows he slept with someone else.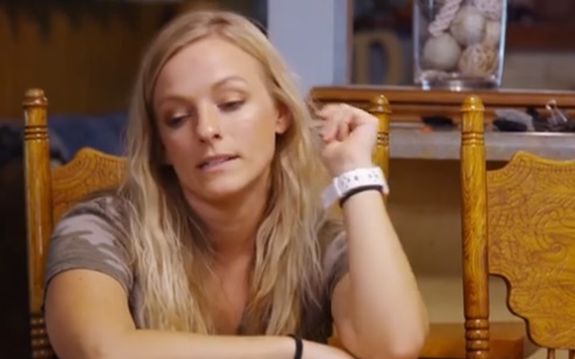 We don't get to see anything from Amber Portwood in the trailer. (But, as The Ashley told you a few months back, Amber was not fired from 'Teen Mom OG' and has filmed for this season, as have her baby daddies Gary Shirley and Andrew Glennon.)
Amber does get a mention in the trailer, though. One interesting spot in the trailer is a phone call (which we viewers get to be on both sides of) between Maci and Catelynn. It was filmed soon after Amber was arrested for domestic violence.
"Did you see the news?" Maci asks Cate.
"About Amber?" Cate responds.
"What in the hell!?" Maci says.
The new season of 'Teen Mom OG' premieres next year, but no exact date has been released yet.
You can watch the trailer and Reunion segment with Cate and Cheyenne's commentary below!
RELATED STORY: 10 Amazing, Funny & Downright Strange 'Teen Mom' Gifts You Can Buy For Everyone on Your Holiday Shopping List
(Photos: MTV)