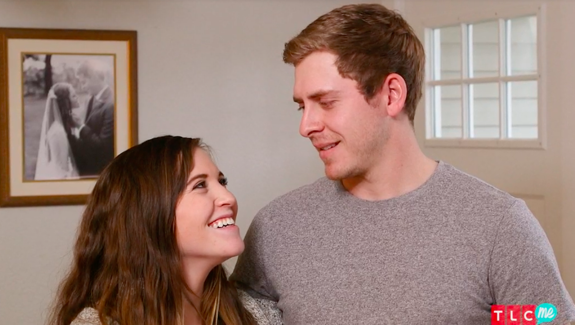 The Forsyths are soon becoming a family of four!
Counting On stars Joy and Austin Forsyth announced on Wednesday that they are currently expecting, less than a year after tragically revealing in July that they had lost their second child 20 weeks into Joy's pregnancy.
The couple, who are also parents to two-year-old Gideon, shared their latest baby news on social media.
"Yes… it's true! [Austin] and I are PREGNANT again," she wrote, adding that it has been "quite the crazy journey these last few months, but we are so thankful that mom and baby are healthy!"
Along with their announcement, Joy directed her followers to the Forsyth Family YouTube channel, where fans got to see the couple reveal the baby news to the Duggars around Christmas time.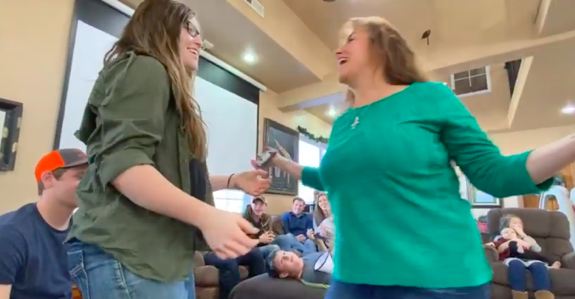 The video also documented Joy's pregnancy journey thus far — from the moment after she took her initial pregnancy test (while the rest of the Dugs had gathered at the house for "Family Night"), to confirming her pregnancy and revealing the news to Austin, which she decided to do with a Christmas ornament.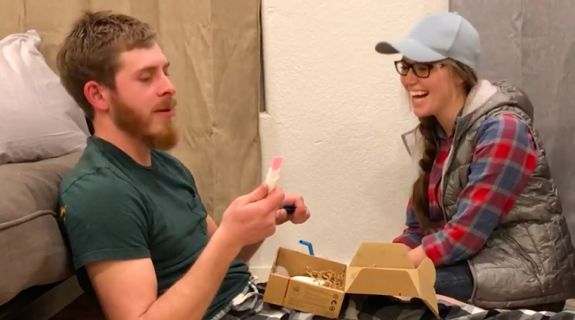 Later in the video, Joy and Austin give an update when Joy is eight weeks pregnant, at which point they explain that Joy has begun spotting, leading them to schedule an appointment with their doctor to make sure everything is OK. After having some blood work done, Joy said she was told by her doctor that she may be experiencing what is considered a molar pregnancy.
"He explained it to me, basically you're pregnant but it's not a viable pregnancy, it's not going to last past 10 or 12 weeks," Joy said, to which Austin added, " … it didn't get all of its DNA."
Joy said while she and Austin "want to be so excited for this baby" they have a lot of fears after going through the loss of their daughter last year.
In the next clip, though, Joy and Austin announce that they not only received good news from their doctor, they also found out the gender of their baby.
"We are having a girl and I cannot believe it," Joy says. "I just started crying, I don't even know what to say! Yeah, we're having a girl and it's due August 19. Pretty crazy! Super excited, nervous and thankful, all at the same time, but God is good."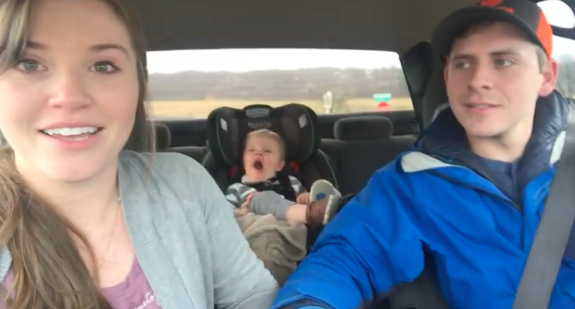 Fans then get to see Joy and Austin's gender reveal with the Duggar family, which involved a helicopter (flown by Joy's brother John-David…who is a pilot, in case you didn't know!).
The Dugs and Forsyths all gathered in a cold field to watch as John-David released a heap of pink confetti on the ground, signifying that Baby Forsyth is a girl.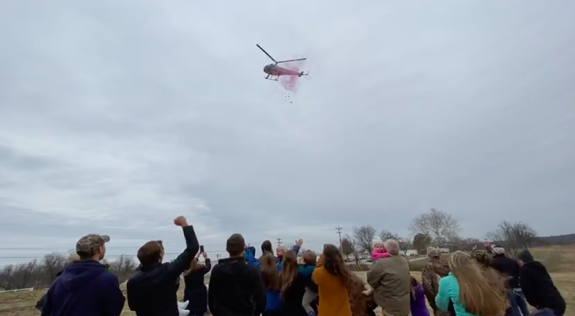 In addition to the Forsyth Family video, TLC posted a video sharing the 'Counting On' couple's big news as well, during which Austin shared his thoughts on becoming girl dad.
"I'm pretty nervous about raising a girl," he said. "I feel like they're going to take a little more work than the boys. I feel like Gideon, he's tough and he'll eat anything, but I feel like a girl, we'll have to pamper her a little bit more. But I'm so excited."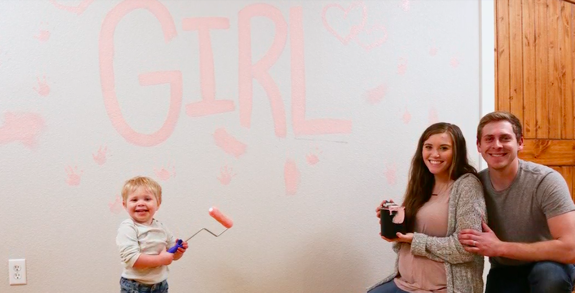 As for Joy, she said she believes raising a daughter will be easier in some ways.
"I feel like my heart is just going to melt when I meet her and I'm just so excited to dress her up in bows and fluffy dresses," she said. "It's going to be fun."
Check out Joy and Austin's pregnancy announcement video below!
RELATED STORY: Jill & Derick Dillard Buck Duggar Family Homeschooling Tradition: Enroll Oldest Son in Public Kindergarten
(Photos: TLC; Instagram; YouTube)