Alaskan Bush People star Bear Brown is now denying that he was trying to disestablish paternity of his newborn son, River, in court…but Bear's ex-fiance (and baby mama) Raiven Adams isn't buying the Alaskan Bush People star's claims that it was all a big misunderstanding…and she's coming in with plenty of receipts!
As The Ashley told you, Raiven gave birth to baby River Anthony last Monday, weeks before her April due date. That same day, Raiven dropped the short-term restraining order she had against Bear. However, four days after River's birth, it was revealed that Bear and his lawyer had filed a Petition to Disestablish Paternity of the baby.
Despite filing the necessary paperwork, Bear is now claiming (via Instagram) that he was not trying to "un-establish" (aka disestablish) himself at River's dad, but rather establish himself as River's dad in order to guarantee equal parental rights. He also claimed that his lawyer made a mistake when filing what was supposed to be a petition to establish paternity. Bear's post on Tuesday marked the first time he had publicly acknowledged the birth of his son.
"When my petition was filed there was a mistake in the order, it was supposed to say I'm trying to establish myself as Rivers dad," Bear wrote on Instagram. "NOT un-establish! Please check the court records and you will find the mistake has been rectified! I will always consider myself Rivers dad!"
The Ashley did just that, of course, and can confirm that the situation has been rectified. According to Alaska court documents, a Petition for Establishment of Paternity was filed March 12 by Bear, or rather Bear's attorney on his behalf. (Docket information on the website also stated that as of March 16, Bear's attorney had also filed a Child Custody Jurisdiction Affidavit.)
In Bear's post, he also claimed that "it was two days after River was born" before anyone told him his son had arrived, despite some of his followers having congratulated him on social media about the birth of his son on the day River was born.
Raiven– who has been staying in the NICU with River since his birth— was not having it, and ripped on Bear (and his explanation) in a series of now-deleted Instagram posts.
On Tuesday, Raiven posted a screenshot of a text message presumably sent by Bear on Friday at 10:59 a.m., in which Bear asked her for an update regarding River's health, as well as the baby's name (possibly referring to the last name, since he used the baby's first name in the text). While Bear's text had a friendly tone to it, Raiven pointed out that Bear claims to have not found out about River's birth until two days after it happened, yet he waited another two days to reach out.
She also doubted that his attorney accidentally filed the wrong paperwork regarding the disestablishment/establishment of paternity issue.
"Sounds to me like you didn't like being called a deadbeat and needed someone to blame," Raiven wrote on Instagram, adding that she had receipts for "all of [Bear's] crazy" and despite his alleged claims that the Discovery Channel would bury her (presumably in bad press for going against Bear), she wrote that she was willing to "be buried for [her] son."
https://www.instagram.com/p/B92mTXEn58R/?utm_source=ig_web_copy_link
Some of those receipts Raiven has already taken shared online, among them are her alleged efforts to contact Bear prior to River's birth, texts to Bear after River's birth and texts to Bear's lawyer that she made in an effort to get in contact with Bear.
Raiven also posted a screenshot of a text conversation between herself and Bear in which she sent a photo of River and told Bear that she "asked people to stop bashing" him for River's sake, to which Bear agreed and thanked her.
As for the post in which Bear attempted to clear up the establishment/disestablishment of paternity, he included a skin-to-skin photo, presumably of himself and River; however, Raiven revealed on social media that the photo was actually of her and River, and Bear had just cut her face out of the photo so that people would think he had gone to see his son!
" … you will not use my photo with me in it and play victim," she wrote as part of a now-deleted lengthy Instagram post in which she bashed Bear for his alleged mistreatment of her. "You don't want to be a dad you want me as your pet and I won't do it."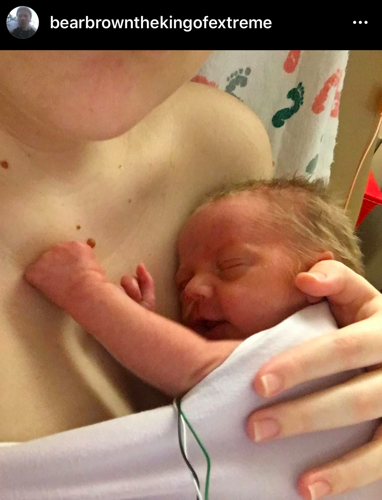 Raiven went on in the post to reveal that, currently, River is on Medicaid and that despite some people's perception of her, she is not money-hungry.
"The fact that y'all think I am a money-hungry person is funny," she said to those who accused her of getting pregnant by the 'Alaskan Bush People' star to become rich. "I have $30 to my name and this show won't last forever."
Raiven also slammed Bear for the mental abuse she claims he put her through for months and the victim-shaming she's received from his lawyer — the latter of which she posted proof of on Tuesday in a series of screenshots.
"You are literally only hurting yourself, him and also your child," the text allegedly sent from Bear's attorney to Raiven read. "You're not proving a point. You aren't salvaging your name by repeating 'abusive drug addict' over and over because you chose to live with him for a long time and even have a child with him. Don't believe me? Let's litigate it and you'll see."
In Raiven's filing for a short- and long-term restraining order against Bear (both of which have since been dropped), Raiven claimed Bear used guns and propane to intimidate her, as well as admitted to using cocaine. Bear has denied the drug use.
Bear has not yet responded to Raiven's latest claims.
RELATED NEWS: Raiven Adams Says Baby River— Premature Son of 'Alaskan Bush People' Star Bear Brown— is Still in Hospital; Bear is Currently on a Camping Trip
(Photos: Instagram)