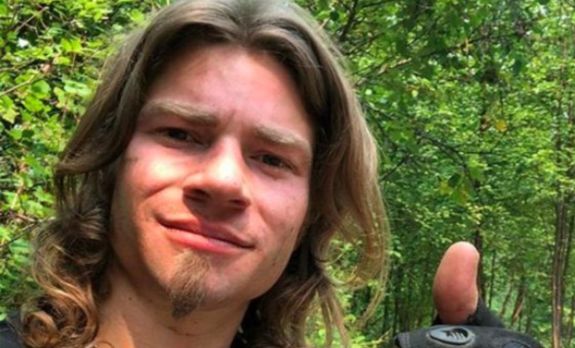 Bear Brown's pregnant ex-fiance, Raiven Adams, has called a truce with the Alaskan Bush People star.
Online court records indicated that the case opened by Raiven on February 10 against Bear has been closed on Monday. In addition, the short-term restraining order Raiven took out on Bear has been dissolved, and she has withdrawn her request for a long-term restraining order.
As The Ashley previously reported, Raiven filed for and was granted the short-term restraining order against Bear, claiming that he admitted to using cocaine, had abused her verbally, intimidated her with guns and propane, and had threatened to withhold money and food from her. She also wrote that the Discovery Channel star also used his fame as leverage to keep her in line.
In late February, Bear denied Raiven's drug accusations, making it clear to his Instagram followers that he did not use any drugs.
He also lawyered up around that time. According to court records, Raiven never obtained a lawyer for herself for the case. She did, however, ask the court for protection for herself and her unborn son, who is due in April.
"Our child due in April will need protection from violent behavior/ source of control / putting the baby in harms way," Raiven wrote in court records, requesting that Bear be required to enroll in substance abuse treatment, as well as a "program for the rehabilitation of batterers."
Raiven has since had a change of heart, though, and dropped the case. According to a source for The Sun, she had the orders dissolved and withdrawn because she wanted to call truce with Bear.
"She's having a difficult pregnancy and just wants peace. All parties are happy with how the hearing ended today," the source told The Sun, adding, though, that Bear and Raiven have no plans to get back together.
In mid-February, Raiven posted on her private Facebook page that she had been taking medication and steroids to stop the early contractions she'd been having. At press time, she was still pregnant, though.
RELATED STORY: 'Alaskan Bush People' Star Bear Brown Denies Allegations of Drug Use Made By His Pregnant Ex-Fiancé Raiven Adams; Hires Himself a Lawyer
(Photos: Discovery Channel, Instagram)