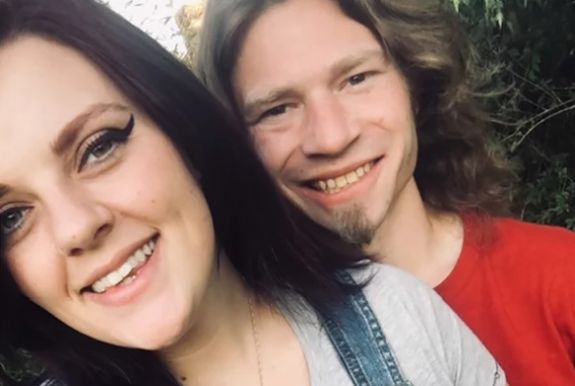 Alaskan Bush People star Bear Brown has taken to social media to deny the drug use accusations made recently by his pregnant ex-fiancé, Raiven Adams.
Bear's Instagram post appeared to address the particular claims Raiven made in court documents earlier this month that Bear had admitted to her that he used cocaine and that he punished Raiven by "verbally abusing" or threatening to kick her out when she would express concern over Bear's drug use.
"There's something I would like to say," Bear posted on Instagram on Monday, along with a selfie. "I DON'T DO DRUGS!!!!!!!!!!!!!!!!!!!!"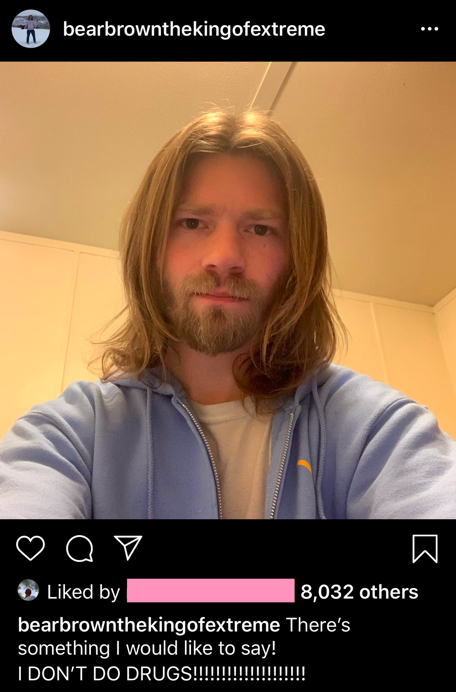 The day before he posted that he was "brokenhearted," and a fan asked him directly if he does cocaine in the comment section of the Instagram post.
"No!" Bear responded. "I don't do drugs!!!"
While Bear took an opportunity to shoot down the rumors of his drug use, his posts noticeably left out any mention of the looming abuse allegations he's facing. As The Ashley told you earlier this month, Raiven filed for a domestic violence restraining order against Bear; the petition for the short-term protective order was granted and the court date for the long-term protective order is set for February 27.
The Ashley can confirm that, as of today, Bear has hired an attorney to represent him in the case, and has filed to continue the long-term protective order hearing scheduled to be held tomorrow. At press time, Raiven does not appear to have retained a lawyer and the judge had not granted or denied the request to continue the scheduled hearing.
In court documents obtained by The Blast, Raiven claimed Bear has abused her verbally, intimidated her with guns and threatened to withhold money and food from her. She also wrote that the Discovery Channel star also used his fame as leverage to keep her in line.
"While dating I would bring up his erratic behavior (yelling, slamming things, preventing me from leaving rooms)," the documents state. "I was told multiple times if I didn't follow what he wanted me to do/say/act he would have Discovery [Channel] bury me [with] lawsuits if I spoke about his behavior."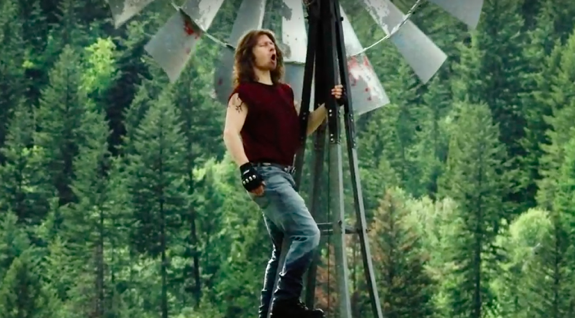 Raiven claims Bear also threatened to take their baby away from her once the baby was born if she left, and that he has used propane to scare her on multiple occasions.
"I fell asleep on two occasions [shortly] before separating permanently," she claims. "Both times I woke up to propane left on in our trailer. When I expressed concerns he laughed as if it was a joke."
Those who have followed the couple's journey may recall that they began dating last year and went on to surprise fans with their engagement announcement in August 2019.
Just two weeks later, the couple called off their engagement and the following day, they revealed Raiven was pregnant with Bear's baby.
Not long after the couple's pregnancy announcement, Raiven's mother, Kassy Adams, slammed Bear and the rest of the Brown family for allegely "treating Raiven like trash." Despite the family drama, the couple rekindled their relationship in September, only to break up again in November.
RELATED STORY: New Court Documents: Pregnant Ex of 'Alaskan Bush People' Star Bear Brown Accuses Him of Using Cocaine & Exhibiting "Abusive Behavior"
(Photos: Instagram; Discovery Channel)