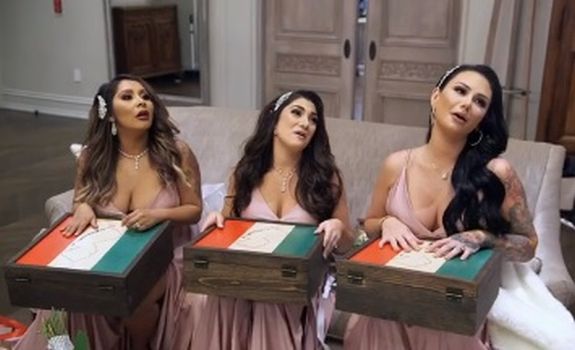 Nicole Polizzi and her two Jersey Shore Family Vacation co-stars, Deena Cortese and Jenni Farley, took quite a lashing from fans back in November, when audio of the girls' bridesmaids' speech/roast at Angelina Pivarnick was leaked, exposing some of the cruel things that Nicole & Co. said about Angelina at her wedding.
Now, though, Nicole is revealing what really happened behind-the-scenes of the wedding— which is being shown currently on 'Family Vacation'. During the latest episode of her It's Happening with Snooki & Joey podcast, Nicole revealed that the show's producers forced her, Jenni and Deena to do the roast.
"Well, we're not really supposed to talk about but…f**k it, it's my podcast," Nicole began.
"I literally told producers, 'I'm not going to do a speech because I'm not comfortable doing one; I don't think we should be doing one," Nicole said. "[I said] 'We're not going to make a mockery of this wedding' and of course we were forced to do something we didn't want to do."
This revelation comes just a few days after Angelina posted a message on her Instagram that stated she had forgiven her co-stars and had moved forward from the roast. (It did take her a while, though. Nicole stated that, by late January, Angelina was still not speaking to her or the other girls.)
Nicole said she was relieved to see that Angelina was no longer angry about what happened.
"I'm really glad that Angelina knows that we weren't being spiteful and being a**holes because we truly wanted the best wedding for her," Nicole said. "We did so much to help her be comfortable and help her with the wedding and stuff, so I'm really glad that she realizes that weren't not f**king a**holes and we truly didn't mean to ruin her wedding."
After the first clip of the brutal wedding speech aired, Deena posted— then quickly deleted— a message on Instagram stating that the show's producers made them do the roast. Nicole addressed Deena's deleted post as well.
"Deena was correct, producers forced us to do the speech. I literally said 'no' like 10 times. Even though MTV paid for Angelina's wedding fully and it was the final episode of the season, of course they wanted it to be crazy with all of us there. Her sister was the maid of honor and I felt she should do the speech…
"I was really uncomfortable," Nicole continued. "I was like, 'I'm not doing a f**king speech…I don't like to be forced to do something I'm not comfortable with and that's what Deena was talking about."
Nicole said she was also against the 'Jersey Shore' boys doing the dance routine they did at the wedding.
"I don't even think they should have done a dance," she said. "Just, like, have us all celebrate a beautiful day for her. And it just turned into a reality show, which, I'm not surprised, because MTV did pay for the whole wedding."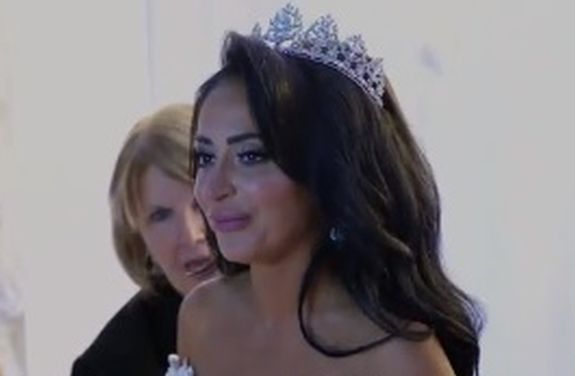 Nicole acknowledged that, if you let the network pay for your wedding, you know you're giving up some control of what goes down. Still, she said she's happy that Angelina knows that she, Deena and Jenni weren't trying to be "mean girls" or "bullies," which is what many fans have accused the trio of being since the audio was leaked.
She also gave insight into the part of the teaser clip where she is shown saying "I'm f**king done with this show!"
"That's when I realized that I'm not coming back to the show," Nicole said. "I don't like to be forced to do things, and it's not fun for me anymore, and the drama is so unnecessary at my age— 32 with three kids. I'm not into it, girl!"
As The Ashley previously reported, Nicole announced back in December that she was done filming new episodes of 'Jersey Shore Family Vacation,' likening the current filming situation to "a nightmare." Several members of the 'Jersey Shore' cast, including Mike Sorrentino and Vinny Guadagnino have tried to convince her to stay on the show, but Nicole claims she's still over it. She said her co-host Joey Camasta was sitting at the same table as she and the other girls were.
"You saw all of us devastated, like, 'What did we sign up for?'" Nicole said. "It wasn't great. I'm really glad you guys get to see it, but I'm just done with it. I'm really glad to move on, and I'm glad Angelina wants to move on as well. We're all gonna move on from this and just grow individually."
Of course, Nicole realized that her blab session will probably anger the show's producers.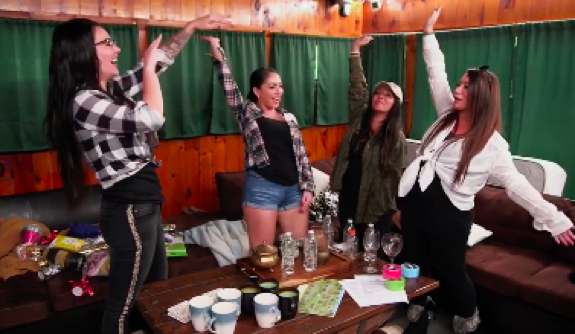 "I'll probably get in trouble for speaking the truth," Nicole said.
To listen to the audio of the bridesmaids' speech (from Hell) click here!
You can listen to the entire episode of It's Happening with Snooki & Joey below!
RELATED STORY: Angelina Pivarnick Says She's Forgiven Her 'Jersey Shore' Co-Stars For Their Wedding Day Roast; "A Couple of Jokes [Won't] Ruin What We Have Rebuilt"
(Photos: MTV; Instagram)