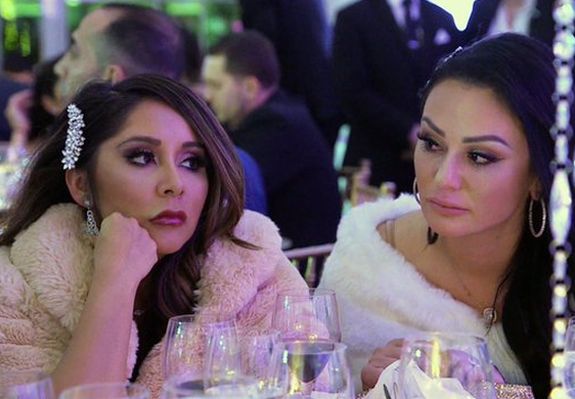 Thursday's episode of Jersey Shore Family Vacation marked that last time fans will see Nicole "Snooki" Polizzi as a full-time cast member…but it sounds like she may not be the only 'Shore' star to be signing off after this season!
Nicole revealed back in December that she was leaving 'Jersey Shore Family Vacation' after Season 3. Before Thursday's season finale, Snooki tweeted, "Last episode tonight…Love and appreciate you all!" In her reply to Snooki's tweet, Jenni "Jwoww" Farley shocked fans by implying that she, too, will leave the show if Nicole does.
"I am way to[o] ride or die to see you leave… if you're done, I'm done," Jenni wrote. "There's no Jwoww without my Snooki."
I am way to ride or die to see you leave… if you're done, I'm done. There's no Jwoww without my Snooki 😩 https://t.co/iA0bRT97rW

— JWOWW (@JENNIWOWW) June 18, 2020
Despite ups and downs in her personal life, Jenni has never stated publicly that she had any intention of not returning for another season of 'Family Vacation.'
While live-tweeting the episode Jenni called out Angelina Pivarnick for causing Nicole to quit the show. (Thursday's episode showed Angelina's November 2019 wedding and, as The Ashley previously told you, Jenni, Nicole and Deena Cortese were heavily criticized by fans over their bridesmaids-speech-turned-roast of Angelina.)
"I watched my best friend quit [the show] because she couldn't handle the stress," Jenni wrote on Twitter. "I stayed up so many nights hearing Deena cry over being called names she didn't deserve. All while Angelina basked in the attention she was given. 7 months I waited for tonight."
Jenni also retweeted Nicole's tweet which stated, "Ehh..this whole thing was the absolute last straw for me. I refuse to leave me family to be treated like I'm the issue and bad person when in my heart i know i am nothing but a loving and loyal friend."
Nicole later tweeted, "'m embarrassed and so glad to be leaving the show due to this insanity."
(The trio has insisted that the show's producers made them give the brutal speech.)
Jenni's tweet about leaving 'Jersey Shore Family Vacation' was met with plenty of opposition from fans.
"Are you really going to quit too Jwow NOOOOO we can't lose both of you!?" one fan replied. "But would understand if you did… Hoping you will stay we love you Jenny!"
"Ugh no no both of you reconsider. just get rid of that dirty hamster!" another wrote.
However, when one fan suggested that Jenni and Nicole leave 'Family Vacation' and revive their old MTV spin-off Snooki & Jwoww, Nicole stated, "That would be a dream!"
Nicole, who has stated in interviews that she wants to remain on TV, just not on 'Jersey Shore Family Vacation,' reiterated those sentiments while live-tweeting on Thursday, telling one fan, "Oh I'll be on screens! I got a ton of shows I wanna do next!"
MTV has yet to announce if there will, indeed, be a Season 5 of 'Jersey Shore Family Vacation.' However, after Thursday's episode aired, Mike "The Situation" Sorrentino posted to his Facebook fanpage, "We didn't come this far just to come this far. See you next season," indicating that there will indeed be a Season 4.
In addition, both Mike and Vinny Guadagnino confirmed on Twitter that they're not planning to follow Jenni and Nicole off the show.
— Mike The Situation ☝🏻 (@ItsTheSituation) June 19, 2020
"Well I'm not quitting," Vinny wrote. Mike retweeted Vinny's tweet and added, Same."
RELATED STORY: Nicole "Snooki" Polizzi Claims 'Jersey Shore Family Vacation' Producers Made Her Give Mean Toast at Angelina Pivarnick's Wedding
(Photos: MTV; Twitter, Facebook)