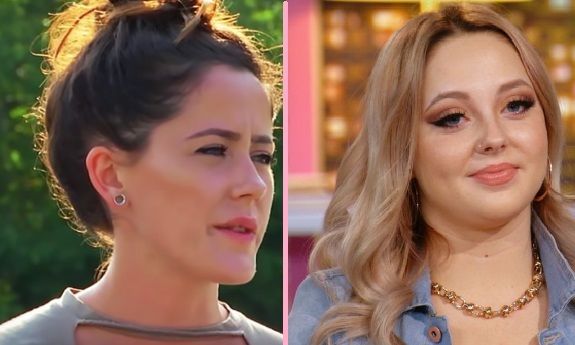 During a recent podcast interview, Jenelle Evans made some pretty outrageous-sounding claims, stating that her former Teen Mom 2 producers requested footage from her earlier this year and that they were contemplating kicking new girl Jade Cline off 'Teen Mom 2' in order to re-insert Jenelle.
The Ashley went to her behind-the-scenes sources to find out if there was any truth to what Jenelle said on the podcast. As promised earlier this week in her story about the podcast interview, The Ashley will now go into more detail about this part of Jenelle's statements.
According to at least two different production sources, Jenelle was contacted by those associated with production of the show. (Whether or not she was asked to send cell phone footage of her life in Tennessee with the kids and without husband David Eason is unclear.)
However, both sources dispute Jenelle's claim that Jade was going to be booted from the show in order for them to reinstate Jenelle.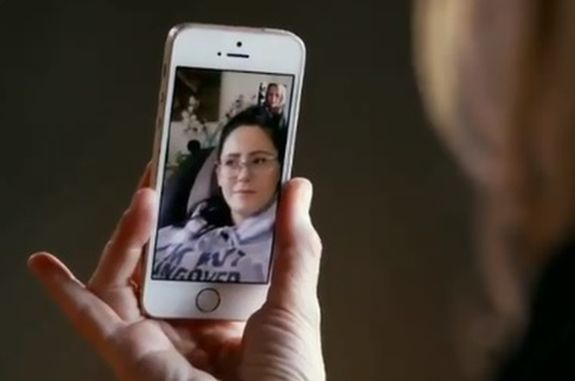 "That's completely ridiculous," one source said. "Now, maybe that's what [the producers] were telling Jenelle but that was never going to happen. Jade's story is so dramatic and interesting, and they had already been shooting Jade's footage for the season. There is no way they would waste budget money to send a crew and film Jade for the new season if there was any chance they would not be using her in the new season. None."
"There has never been any talk about bumping Jade from the show," another production source confirmed to The Ashley.
"When [the producers] were talking to Jenelle when she was living alone in Nashville without David, they were not convinced that it was legit," the source added. "That's why I believe the cellphone footage story is true, as they weren't spending the money to send a crew down to film and risk running into David." (The source wanted The Ashley to make it clear that he/she was not able to confirm this 100 percent, though.)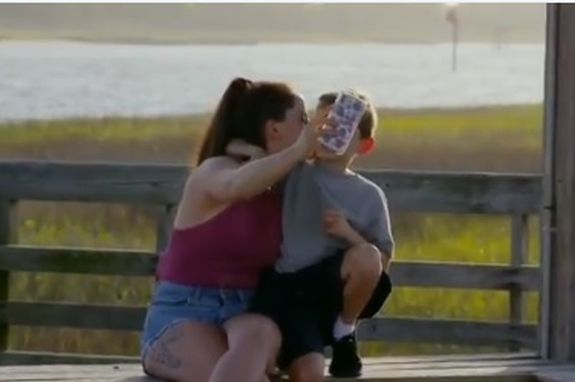 Interestingly, though, both sources tell The Ashley that Jenelle was being considered to be filmed for Season 10— but not as a main subject of the show. Instead, both said that Jenelle was being considered to be used as part of her nemesis Kail Lowry's segment!
No, seriously…
"They got the idea when all of the domestic violence stuff was circulating about Chris [Lopez]," one source told The Ashley. "They had the idea that Kail could possibly call Jenelle and then visit her to squash their beef and talk about their experiences."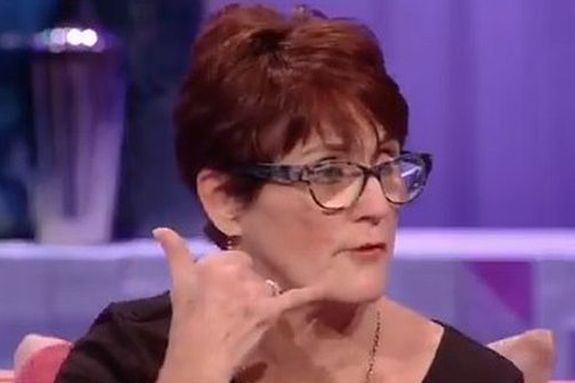 Last year, Kail had asked Jenelle to appear on her Coffee Convos podcast, but Jenelle had declined (via her manager/agent/person).
"MTV was planning to fly Kail to Tennessee, where Jenelle was living [before going home to North Carolina to be with David]," one behind-the-scenes source told The Ashley. "Kail was not going alone, though; [MTV] was flying with her to film it, but she had agreed to do it."
From the source's point-of-view, though, neither girl was actually interested in burying the hatchet.
"Jenelle only agreed once MTV got involved and wanted to film it," the source said. "Kail told crew members that Jenelle's manager told her she'd have to apologize to Jenelle off-air, though, before Jenelle would come on [the podcast], and Kail refused."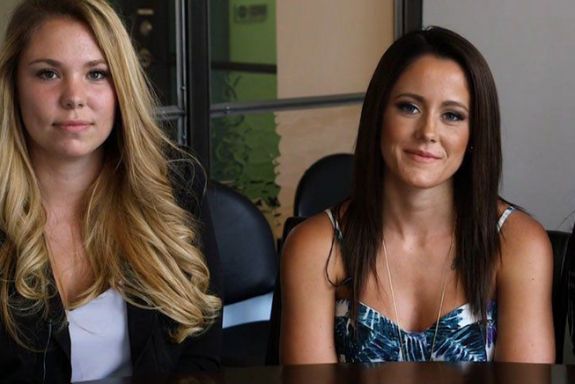 One production source tells The Ashley that soon after the idea was formed, photos surfaced online of Jenelle and David together and basically killed any chance of that segment happening, as Kail and the 'Teen Mom 2' crew want nothing to do with David.
As The Ashley has reported, Jenelle and David are now back together and living with their litter 'o' kids on The Land in North Carolina. Jenelle's Viacom contract (which barred her from working with or appearing on a competing network for one year) expired earlier this month.
RELATED STORY: Jenelle Evans Talks About the Current 'Teen Mom' Cast: Calls Mackenzie McKee "Thirsty" & Kail Lowry "Bitchy"; Reveals If She'd Ever Do An Adult Movie