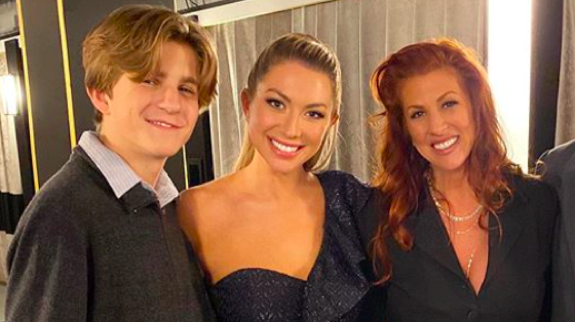 Now that she's been fired from the Bravo family, Stassi Schroeder's actual family is stepping in and asking that the network reconsider its decision.
Stassi's mom, Dayna Schroeder, is interacting with some of her family's supporters on social media and directing them to the campaign "Stand Up and Support Stassi" – a "fans only" Instagram page created for those still standing by the fired Vanderpump Rules star, despite her racially insensitive actions against Faith Stowers, for which she and Kristen Doute were fired. (Remarks made in the past on Stassi's podcast have also come under fire.)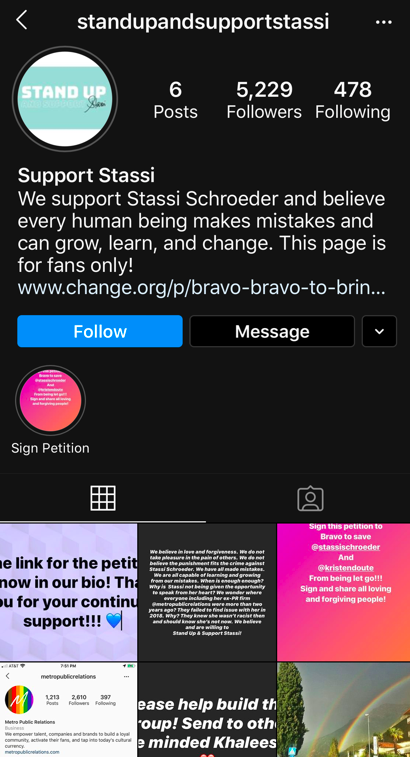 Within the bio of the Instagram page is a link directing fans to an online petition titled, "Bravo to bring Stassi Schroeder and Kristen Doute back to Vanderpump Rules," which, as of press time, had already surpassed its original 10,000-signature goal. The petition is directed to Bravo, NBC Universal, 'Vanderpump Rules' and Lisa Vanderpump regarding the firing of Stassi and Kristen. (Max Boyens and Brett Caprioni are not mentioned in the petition, despite having been fired at the same time as Kristen and Stassi.)
"This petition is about the firing of Stassi Schroeder and Kristen Doute from Vanderpump Rules for their behavior and actions towards a former castmate," the petition reads. "While no one condones this behavior, we also believe their actions were not racially motivated."
The petition goes on to mention the partnership deals Stassi, in particular, has lost as a result of the situation.
Dayna is not credited as the creator of the online petition.
Someone else from Stassi's family tree hoping to see her bounce back from the controversy and (back onto 'Vanderpump Rules') is her youngest brother, Nikolai.
Shortly after Bravo's decision was made, Nikolai posted (and has since-deleted) an emotional Instagram video, addressing Lisa, the show, Bravo and "anyone that has been involved with Stassi getting fired."
"I want everyone to hear me out because my sister is one of the most loving people you will ever meet in your life," the 15 year-old said. "She deeply apologizes for what she said and I'm so desperate for her to succeed … I just want her to go as far as she can.
"I'm asking for another chance for her and she'll show everyone how good of a person she is and how much she cares about everyone," he continued. "She likes entertaining people, that's why she does all this TV stuff … My family is heartbroken from what's been going on with her. Everything's been taken away from her."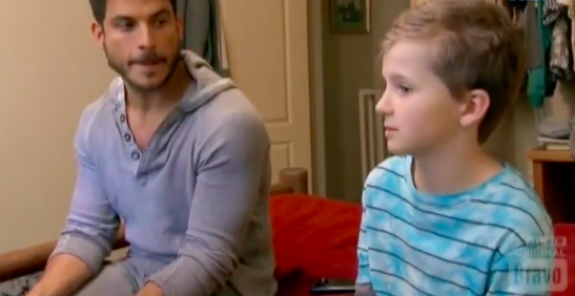 As The Ashley reported Wednesday, along with more partnership deals, Stassi was also stripped of her podcast, Straight Up with Stassi. As for Kristen, her publisher called off all promotion of her new book and both girls (and Katie Maloney, by default) lost their Witches of WeHo wine line with Nocking Point.
Nikolai went to ask Faith to forgive his sister, suggesting they find a solution that would "benefit both of you guys – to get her career back and to make you live the best life ever."
" … Is there anything that we can do for you?" he asked. "Please. I don't want to see my sister like this anymore. … I love all you guys, but please, one more chance to forgive her."
In an interview with E! News on Wednesday, Faith stated that she has forgiven Stassi and Kristen.
"For me, it's something really hard for me to move forward from. As a Christian, as a God-fearing woman, I do forgive them," she said during the live interview. "For now, I feel like Kristen and Stassi have a lot to learn and I wish that for them. I wish that they educate themselves and really know what's really going on in the world so they can use their privilege for the betterment of the world.
While she has forgiven them, Faith said she wishes Stassi and Kristen had actually apologized to her directly, rather than releasing their apologies as statements.
"It's not really an apology. It's a statement," she told E! News. "I think it would have been a lot better if it was something personal because for me, it was a personal attack. For me, I had to make a lot of changes in my life and go through a lot that a normal person wouldn't have to go through. It really hurt me emotionally so I think the apology should have matched the offense. I think it should have been just as heartfelt as their allegations were heartfelt."
While Stassi's family may be willing to overlook her wrongdoings, the same can't be said for Stassi's former friend Rachael O'Brien.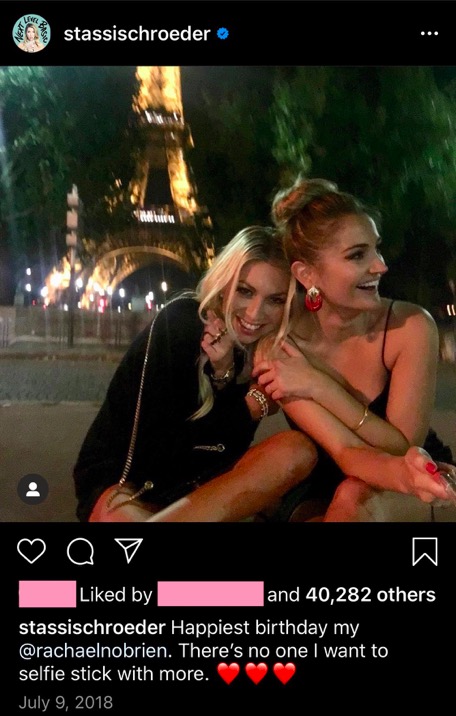 The comedian, who has appeared on 'Vanderpump Rules' in the past as a friend of the cast, told Page Six she warned Stassi about an insensitive photo she posted back in 2018 –- one that resurfaced recently, prior to Stassi getting the boot from Bravo.
Despite Rachael's warning at the time, Stassi went on to post (and quickly delete) the photo, which included a photo of herself labeled "Nazi Chic," Kristen labeled "Tupac Chic" and Rachael labeled "Criminal Chic."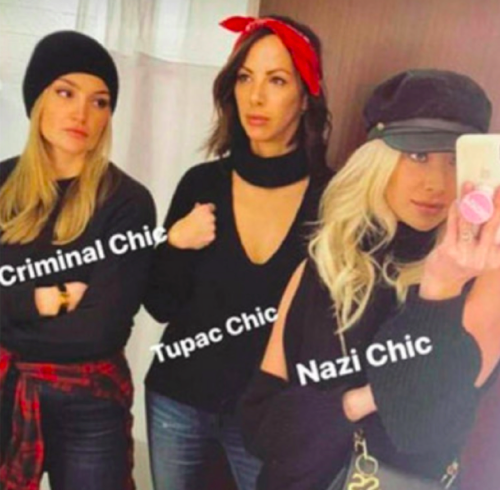 "A little over two years ago I was with friends and took a picture," Rachael told Page Six. "I saw the way it was being captioned by her and begged for it not to be captioned that way and thus posted. My attempt for her to understand the severity of her caption went dismissed. That request was not honored, and I have been upset ever since.
"It was not then, nor has it ever been a reflection of my own value system," she continued. "I am grateful to not be associated with [Stassi] anymore. Our personalities and hearts are not the same."
So far, Stassi's family's attempts to get her back on Bravo have not been successful. In fact, Bravo's Andy Cohen spoke out on Wednesday, voicing his support of Stassi & Co.'s firings.
Stassi has apologized for what she did and said. In a message posted to her Instagram account earlier this week, Stassi told her 2.1 million followers, "It is important that I continue to take accountability for what I have said and done, while pushing myself to do better."
"I have grown significantly from the person I was then, and I am still filled with remorse and regret for the hurt I caused. I am grateful for the people in my life who continue to check me and push me to evolve into a more educated person," she wrote.
View this post on Instagram
Stassi has not made any more public comments since her firing.
RELATED STORY: Lisa Vanderpump & Andy Cohen Comment on 'Vanderpump Rules' Cast Firings; Stassi Schroeder's Podcast, Witches of WeHo Wine & Kristen Doute's Book Have All Been "Cancelled"
(Photos: Instagram: Bravo; PageSix)