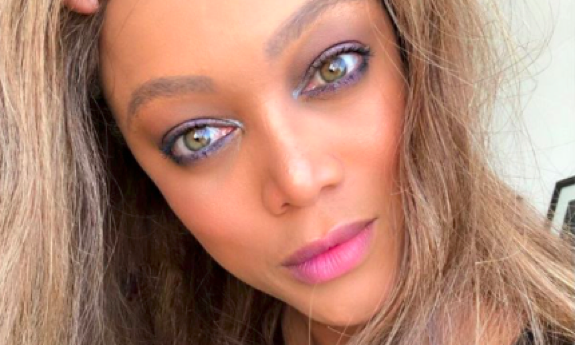 Days after Dancing With the Stars host Tom Bergeron and co-host Erin Andrews were informed they would not be returning to the ballroom next season, Tyra Banks has been named the new host, as well as an executive producer of the long-running series.
Despite the now-former judges seemingly being blindsided by their firings, E! Online reports that 'DWTS' has experienced a decline in ratings over the years, which may in part explain why the show's producers felt the need to make some changes.
Tyra— whose predecessor Tom had been the host of the show since its premiere in 2005— said in a statement she's ready for her new role as host and executive producer.
"I've been a fan of 'DWTS' since its beginning," she said.. "The fun mixed with raw emotion, seeing celebrities push past their comfort zones, the sizzling dance performances …"
In true "Tyra" form, she then made things about herself and her past modeling career.
"It's always transported me to my days of turning it up 10 notches on the catwalk," she said. "Tom has set a powerful stage and I'm excited to continue the legacy and put on my executive producer and hosting hats."
In a statement confirming the firings of Tom and Erin, ABC said that the show will be embarking "on a new creative direction." During an interview on Good Morning America on Wednesday, Tyra vaguely (and confusingly) described what that "new creative direction" may look like.
"OK, let's just keep this real, it's going to be so next level," she said. "We're doing all this crazy stuff, taking it into the next level, but still keeping the stuff that we know America loves, but you need to get ready because it's going to be different."
Following Wednesday's announcement that Tyra would be joining the show, Tom continued to keep the social media commentary regarding his exit lighthearted.
I guess I won't be getting back my monogrammed towels 🤔😉

— Tom Bergeron (@Tom_Bergeron) July 15, 2020
"I guess I won't be getting back my monogrammed towels," Tom tweeted, to which Erin joked that she never even received any towels.
I'm sorry this is how you had to find out 😏 #TerryCloth https://t.co/WLhyDfJAeR

— Tom Bergeron (@Tom_Bergeron) July 15, 2020
"I'm sorry this is how you had to find out," Tom replied.
In addition to the banter with Tom, Erin issued a statement on her 'DWTS' departure via Twitter, in which she thanked ABC and the 'DWTS' family "for 6 memorable seasons."
❤️😉 pic.twitter.com/4NwkqvAnuF

— Erin Andrews (@ErinAndrews) July 14, 2020
"Those years wouldn't have been as special without my loving host Tom Bergeron, the talented dancers, and witty judges," she added. "I will always cherish my days on that set, even if I wasn't the best at walking in heels."
'DWTS' judge Carrie Ann Inaba has also spoken out following the news of Tom and Erin's exit, Pop Culture reports, stating they "will truly be missed."
"We have been a family for many years and that will never change," she continued. "It's been amazing working with them both and I wish them nothing but the best … We will always be connected through love and respect…and glitter and fake tan."
This isn't the first time Tyra has been brought on as a replacement host for a reality competition series. In 2017, she joined America's Got Talent as its host, following Nick Cannon's exit. Tyra held the position for two seasons before Terry Crews took over in 2019.
Tyra's previous hosting gigs also including The Tyra Banks Show, which ran from 2005 to 2010. She also served as the host (and one of the judges) for America's Next Top Model. In addition to hosting and judging on 'ANTM,' Tyra was also the show's creator, as well as an executive producer.
Hear Tyra discuss her new hosting gig below!
RELATED STORY: Tom Bergeron Reveals He's Been Fired From 'Dancing With the Stars' After 15 Years As Show's Host; ABC Confirms Erin Andrews Was Also Let Go
(Photos: Instagram; Twitter; YouTube)