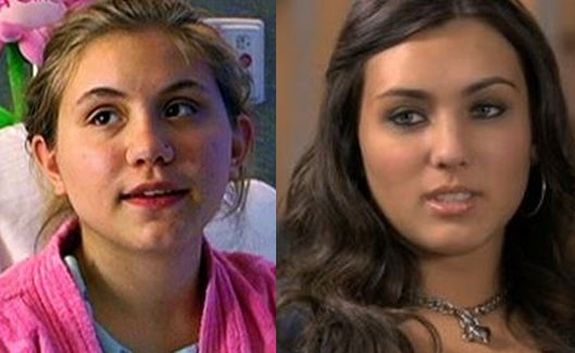 The girls of 16 and Pregnant have come a long way since they allowed MTV to come in and film their lives nearly 10 years ago.
Recently, Jamie McKay and Izabella Tovar— who both starred on the third season of the MTV reality show—took to Instagram to talk about filming their episodes nearly 10 years ago, and how much their lives have changed since that time.
Jamie— who gave birth to her daughter Miah on October 3, 2010—stated that she has only watched her "16 and Pregnant" episode once since it aired, due to the pain it causes her. Since the show, she has gotten married and had two more children (one son, Mason, with Miah's father Ryan McElrath, and another son, Jackson, by her now-husband David).
"I came across these cleaning my basement. MTV sent them to me when my episode aired. My husband has never seen it and I've only watched it once," Jamie wrote. "I've never wanted to look back at such a painful time. Not because of MTV but as a vulnerable teen I opened my life to the world and many people were not kind. Thankfully that time in my life is over and I'm stronger."
Jamie stated that, back in 2010 when she was a pregnant teen, she never thought her life would end up where it is now.
"I had goals back then that I thought were completely out of reach and here I am with a life I dreamed of," she wrote. "Never give up y'all. If you work for something hard enough and you stay focused it will happen."
Some of Jamie's followers expressed their desire to have moms like Jamie on the Teen Mom shows.
"You've made leaps and bounds and should be very proud of the woman you've become. You are exactly what MTV needs to show more of," one person wrote.
(Fun fact: The cast of Teen Mom 3 was supposed to be made up of girls from "16 and Pregnant" Season 3; however, when Season 3 star Jordan Ward got pregnant again immediately after filming her episode, the producers decided to shift and use the Season 4 cast members instead!)
Jamie's Season 3 co-star, Izabella Tovar, also recently reflected on the filming of her episode. The episode— which showed the birth of her son Enrique (now called Henry) on September 17, 2010–was filmed when Izabella was only 15.
"I watched my episode of 16 & Pregnant the other day," she wrote on Instagram. "It was the first time in a long time I'd watched it, tbh I skipped through some parts. But overall it was so cool to see how far we've come in life over the past 10 years. & omg how has it been 10 years?! Henry's 10th birthday is in 3 days… double digits you guys, I'm crying."
After filming her episode, Izabella went on to have another child– daughter Anastazia—with Henry's father, Jairo Rodriguez , in November 2014. The couple married in May 2016 and split in January 2018.
To see what the other girls from "16 and Pregnant" Season 3 are up to, click here!
(Photo: MTV; Instagram)