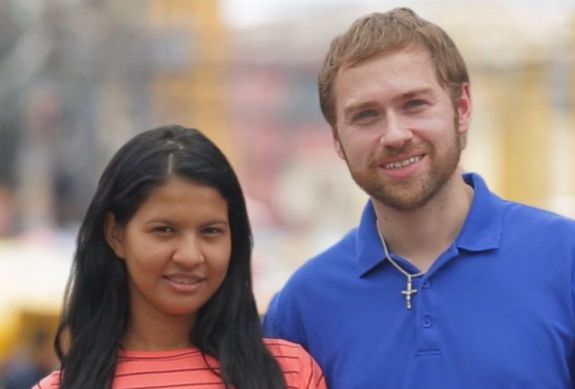 After a tumultuous couple of months, 90 Day Fiancé couple Paul and Karine Staehle appear to be taking steps to repair their relationship.
According to In Touch, Paul and Karine have agreed to dismiss the Emergency Protective Orders they had against each other, as well as cancel the December 3 hearing that was scheduled to work out custody for their son, Pierre.
A judge reportedly signed off on the paperwork September 16.
As The Ashley previously told you, the pair's respective protective orders were filed following an altercation that occurred July 30 that was streamed on Instagram Live by Paul. The dispute, which resulted in the cops being called twice, allegedly began after Paul caught Karine speaking with a Brazilian attorney about child support and divorce.
After the viral showdown – during which Paul's mom reportedly told cops that Karine was pregnant with the couple's second child – Paul claimed Karine went "missing" with Pierre, however, Karine denied this on August 2.
"I want you all to know that me and Pierre are doing well now," Karine said on her Instagram Story. "All this past days I had a lot going on. As the media showed, I had issues where the police was called because I feared for my life and my son's life which led me to ask for help and ultimately be rescued from an environment that no longer was healthy for none of us involved in the situation."
Karine went on to reveal she was "getting the best help" she could and taking time to work on herself and care for her son.
Paul later expressed his regrets about taking his marital problems public, while seemingly confirming Karine's pregnancy.
"I never want to date or remarry to ever feel this pain again," he shared in August. "To not be a part of your children's life, born and unborn, is beyond painful."
Last month, Paul revealed on social media that he was in Brazil prepping his and Karine's home for baby number two, while Karine was still in the United States. He also told followers he had not seen Pierre since July and needed to accept that he will "probably never see [his] wife or son ever again. Or see the birth or ever see [his] unborn child."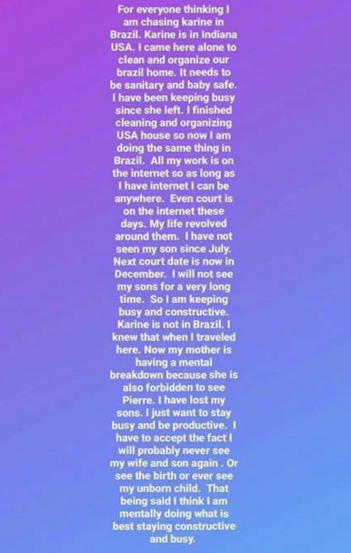 Now, however, in addition to Karine and Paul dropping their respective restraining orders, Paul has shared some posts to his Instagram Story, suggesting he and Karine may be headed for a reconciliation or at the very least, getting along with one another.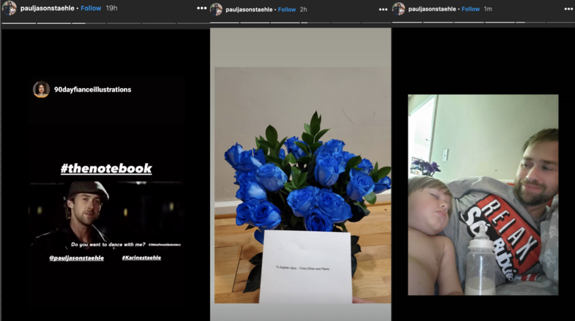 Paul's recent Instagram Stories included a quote from The Notebook, a bouquet of flowers with a card reading, "to brighter days" and a photo of himself and Pierre.
RELATED STORY: "90 Day Fiance" Star Jihoon Lee Tells All: Denies Child Abuse Accusations; Claims Wife Deavan Clegg Threatened Suicide If She Had to Stay in Korea
(Photos: Instagram; TLC)