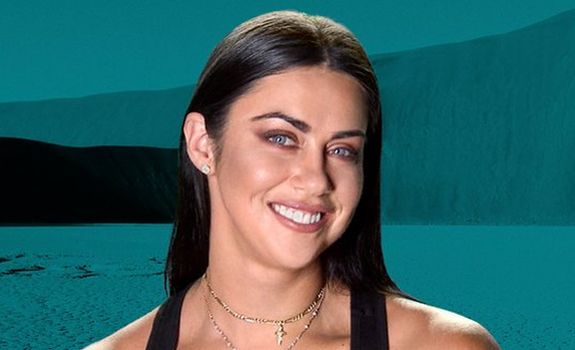 Party Down South star Mattie Breaux will have to put her partying days on hold for a while – or at least for the next few weekends – as a result of getting her third DUI.
According to TMZ, Mattie, who also appeared on Season 3 of Floribama Shore and competed on The Challenge: War of the Worlds and Total Madness, plead guilty to misdemeanor DUI and will serve 7 days at Davidson County Jail in Tennessee.
After the news broke, Mattie faced some harsh criticism on social media, but she later spoke out about what she did.
While Mattie was reportedly facing nearly a year behind bars, the judge suspended all but 7 days of her sentence, which will be served on weekends until completion.
Following those 7 days served, Mattie will be placed on supervised probation for nearly a year and will also lose her driving privileges for a year.
As The Ashley told you in August 2019, Mattie landed behind bars after crashing the car she was driving into a concrete median. Mattie admitted to police that she had guzzled down two beers and taken some Hydrocodone (prescribed to her friend, Mattie claimed) before getting behind the wheel.
Mattie has also been arrested twice before for driving under the influence – both times in Louisiana – and has had her license suspended twice as a result of those arrests.
As word began to spread on Friday about Mattie's upcoming weekend trips to the slammer, the reality star decided it was a good time to post a photo of herself on Instagram, resulting in a wave of negative comments, many demanding an explanation and others advising Mattie to get some help.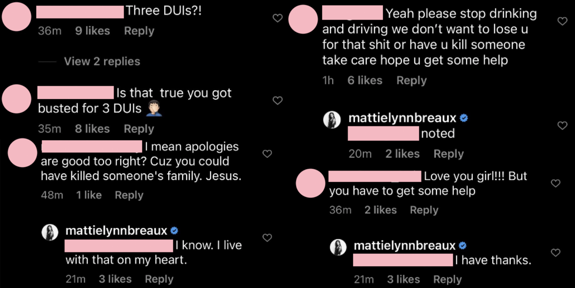 "I mean, apologies are good too right? Cuz you could have killed someone's family. Jesus," one comment read, to which Mattie replied, "I know. I live with that on my heart."
Mattie responded only with "noted" to another person who asked that she "stop drinking and driving" and "get some help."
"Love you girl!!! But you have to get some help," another added.
"I have thanks," Mattie replied.
"Three DUIs?" another person wrote in the post's comment section. "That's f**king disgusting. No regard for other people on the road."
"Don't you gotta be in jail this weekend?" someone else commented.
Elsewhere in the post's comment section, Mattie admitted her mistakes.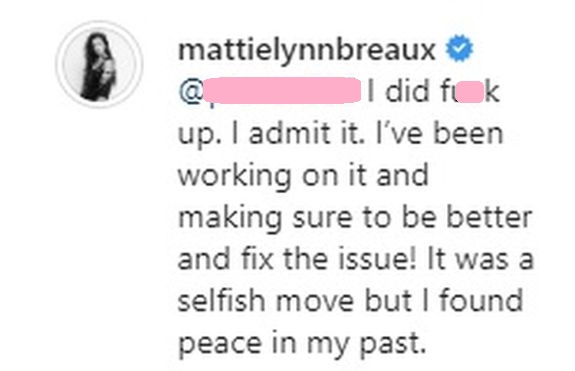 "I did f**k up," Mattie told one critic. "I admit it. I've been working on it and making sure to be better and fix the issue! It was a selfish move but I found peace in my past."
RELATED STORY: 'Challenge' Vet Mark Long Announces Partnership with Bunim/Murray to Develop OG Project
(Photos: MTV; Instagram)