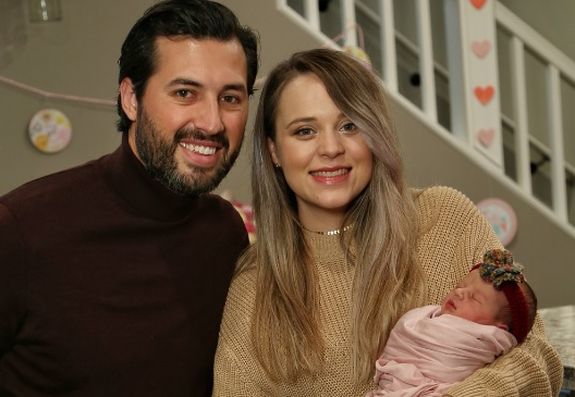 It's another girl for Jinger Vuolo and her husband Jeremy!
The Counting On stars announced on Wednesday that they welcomed their second daughter on Sunday, November 22. The baby— whom the couple named Evangeline Jo— was born "quickly and safely," according to an interview the couple did with Today.
Evangeline– who weighed in a 7 lbs. and measured 20 inches long at birth— joins 2-year-old sister Felicity.
"As for Felicity, she is in love with her little sister but has no idea how much sharing is in her future," the couple said in a statement. "We are so grateful to God for this beautiful gift!"
Jinger and Jeremy told TLCMe that they chose the name Evangeline because it means "good news," and Jo in honor of Jeremy's middle name Joseph.
Evangeline was born in a hospital, judging by the photos posted by Jeremy and Jinger on social media. As 'Counting On' fans will remember, Jinger was the first of her sisters and sisters-in-law to choose a hospital birth and an epidural, when she gave birth to Felicity. It appears that Jinger's mother, Michelle Duggar, flew in from Arkansas to be there for the birth. (Jinger's little sister Jordyn also appeared in photos with Jeremy on Instagram this week, which indicates that she was likely there as well.)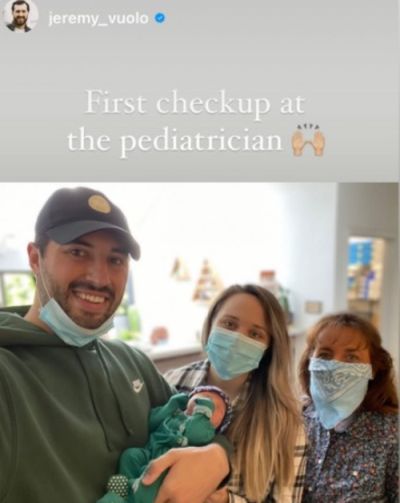 "I'm very excited to have another girl," Jeremy said in a video made five weeks ago for TLCMe. "I don't mind being outnumbered by girls. Being a girl dad is a lot of fun."
"Welcome to 2020, Evangeline Jo," he captioned a photo of the newborn. "Understandably, she's skeptical."
Jinger and Jeremy got plenty of congratulatory messages on social media from the Duggar clan.
"Welcome to the world sweet Evangeline," Jinger's cousin Amy Duggar wrote.
"She is a doll!" Jinger's sister Joy Forsyth wrote. "You did amazing. So happy for you all."
"So sweet," Jinger's other sister Jill Dillard commented. "Congrats!"
This is the 19th grandchild for Michelle and Jim Bob.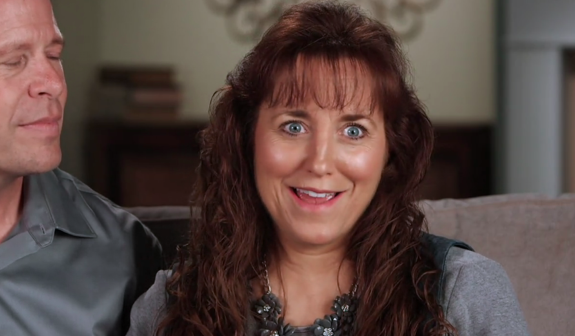 The next Duggar woman in the birthing stirrups will be Kendra, who is married to Jinger's brother Joseph. The couple announced earlier this year that they are expecting their third child in February 2021.
RELATED STORY: 'Counting On' Star Justin Duggar Announces His Engagement to Claire Spivey, One Day After His 18th Birthday
(Photos: TLC; Instagram)