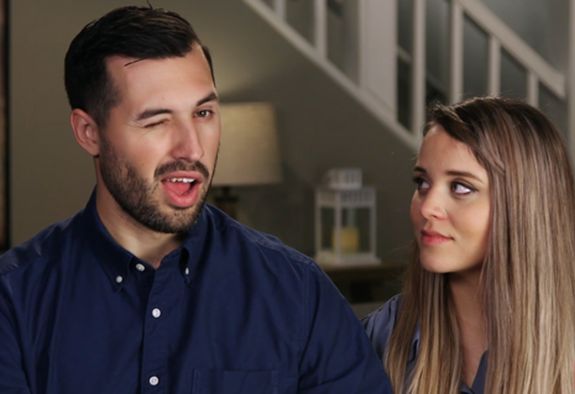 After ignoring speculation and questions from fans for months, Jinger Vuolo finally addressed her and her husband Jeremy's decision to stop posting photo of their children to social media. On Friday, Jinger acknowledged for the first time that she and Jeremy are intentionally keeping the kids off Instagram, and she revealed the reason why.
The Counting On stars have not posted a photo of their youngest daughter Evangeline since November— the same month she was born. Their older daughter Felicity– who was born on 'Counting On' and used to make frequent appearances on the Vuolos' social media accounts— has not had her face shown on Instagram in nearly a year. Because of this, most of the Vuolos' Instagram posts are flooded with comments asking if the kids are OK.
A recent video made for TLC showing the girls did little to stop fans from speculating that there was something wrong with Evangeline, since she has barely been shown publicly at all.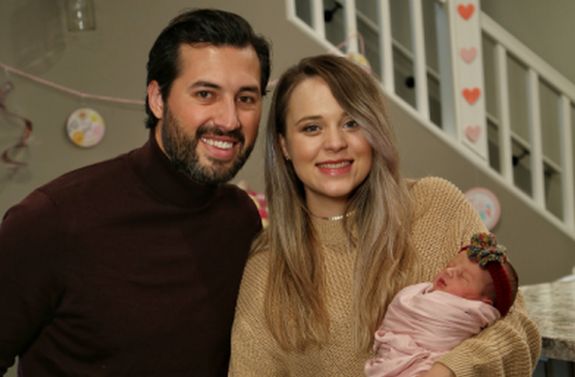 During an Instagram Q&A session on Friday, Jinger finally discussed the issue.
"Why no pictures of your girls?" one fan asked Jinger.
Jinger stated that, despite the rumors saying they're purposely keeping Evangeline under wraps because she has health issues, both of their daughters are fine.
"The girls are doing great!" she wrote. "Felicity is absolutely smitten with her little sister and Evy adores Felicity. You haven't see much of them simply because we are wanting to give them a bit more privacy while they're so young."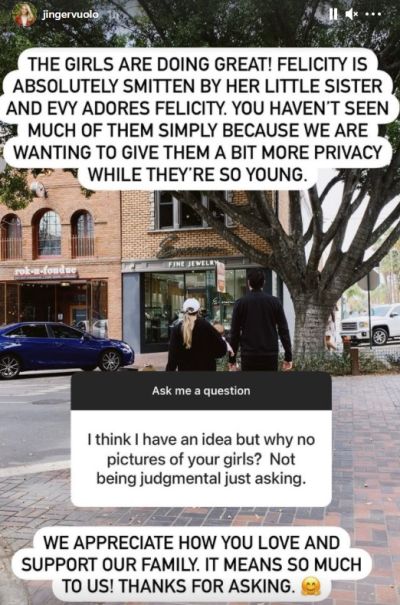 Jinger thanked her fans for caring about the girls, though.
"We appreciate how you love and support our family," Jinger wrote. "It means so much to us! Thanks for asking."
A private childhood is exactly opposite of what Jinger herself had. Starting around the age of 10, Jinger's life was documented for various specials/shows. During 14 Children and Pregnant Again — the 2004 one-hour special that helped launch the Duggars' reality TV career– Jinger had her life documented alongside her family. She would later go on to star on the family's show, 19 Kids and Counting and later, 'Counting On.'
Jinger and Jeremy have not revealed if they plan to put their daughters on 'Counting On,' should they continue to film for the reality TV show.
In the same Q&A session, Jinger also addressed the ongoing rumor that she and Jeremy are having marital trouble.
"We are doing very well," she told a fan who asked if the rumors are true. "Sadly, people love to write up false narratives about us. I am happier than ever and enjoying marriage with this fun guy and being a mom to our sweet girls!"
RELATED STORY: Another Duggar Says 'I Do': Jed Duggar Weds Katey Nakatsu In Surprise Ceremony: Get Details of Their Unique Wedding Ceremony
(Photos: TLC; Instagram)