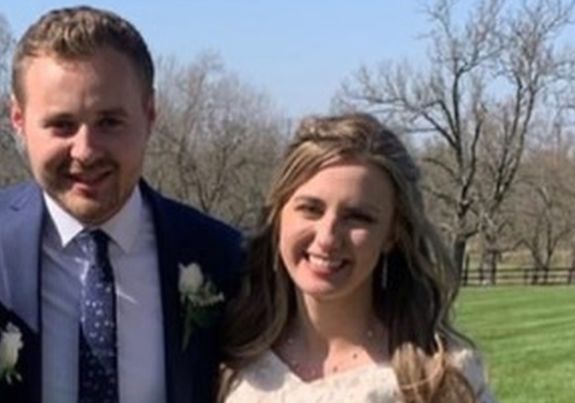 Just a few weeks after 18-year-old Justin Duggar wed 20-year-old Claire Spivey, another member of the Counting On clan has tied the knot.
Jedidiah Duggar and Katey Nakatsu, both 22, wed Saturday in front of family and friends in an outdoor ceremony in Arkansas. In a very un-Duggar move, Jed chose to keep his courtship and engagement a secret from his family's fans. Instead, he only announced his relationship with Katey after the pair said "I do!"
Jed's parents Michelle and Jim Bob Duggar acknowledged the couple's private relationship in a post congratulating them on their wedding day.
"We are overjoyed about adding another daughter-in-love to our family!" they shared. "Jed and Katey have enjoyed a quiet, low-key relationship that has allowed them to prepare for a beautiful life together.
The groom shared about his wedding on Instagram.
"For a long time I have prayed for my future spouse, not knowing who that person would be," he wrote. "God answered my prayers far beyond what I could have ever imagined in Katey! We have enjoyed quietly developing our relationship over the past year and every moment together has been amazing!
"I'm so grateful God brought Katey into my life and excited to share with you all that today she became my wife! Katey, the thought of sharing the rest of my life with you makes me the happiest man in the world! I love you so much!"
Unlike the relationships of other Duggar kids (which have been closely followed by TLC cameras for 19 Kids and Counting and 'Counting On'), Jed's courting of Katey was a mostly private affair. The family never officially confirmed that the pair were dating. Instead fan sites broke the news when the two became engaged at Christmas time. Their engagement was later confirmed by the new bride's family.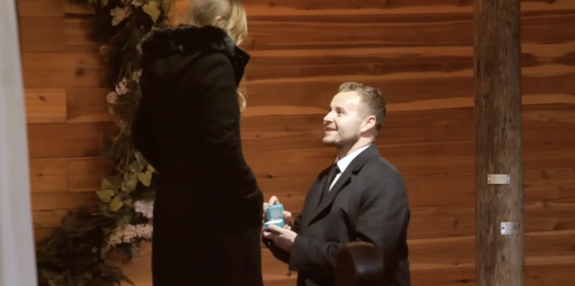 The newlyweds didn't let the COVID-19 pandemic prevent them from having what Hello! called a "crowded ceremony." In screenshots shared on Reddit from the live stream of the ceremony, wedding guests appeared to be maskless.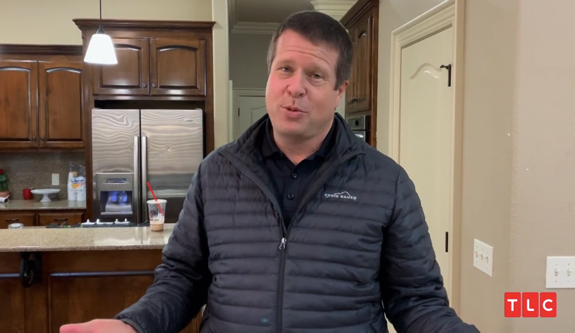 While details of the wedding are scarce, a rep for the Duggars told People that the couple "was married in a private ceremony Saturday with family and close friends in attendance."
The wedding was (poorly) livestreamed and held outdoors (which is unusual for a Duggar wedding, as they usually take place in a church). Jed's best man was his twin brother (and former twin-bed-roomie) Jeremiah Duggar, and Katey's sister served as the maid-of-honor. Jed's niece Felicity Vuolo (daughter of Jinger and Jeremy Vuolo) was the flowergirl.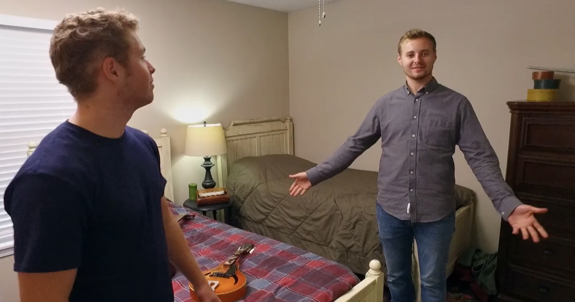 At the time of their engagement, the couple vowed (as most of the Duggar kids have done before them) to stay pure and avoid physical contact or unchaperoned time together until they were married. Jed and Katey chose to make like his sister Jessa and her husband Ben Seewald on their wedding day and not have their first kiss at the altar. Instead, they did so privately.
During their vows, Katey raised eyebrows when she vowed to "submit" to Jed's authority.
"[God] instructs me as the one who will be your wife and to submit to your authority as you submit to God…I vow to submit to your leadership, pray for you always, trust you, honor you, remain faithful to you, be your greatest encourager, listen to your needs and love you, whether we are healthy or sick, rich or sick, young or old."
The couple also treated their wedding guests to a song midway through their ceremony. (As you do..)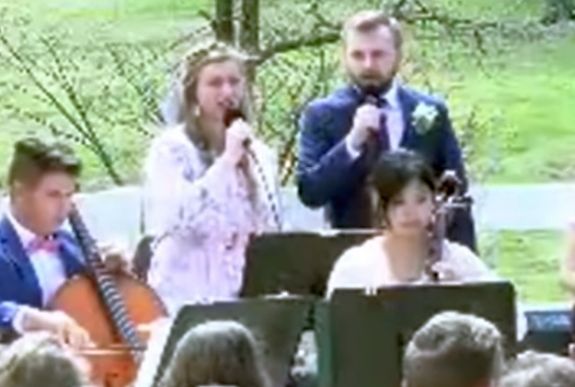 Members of the Duggar family took to social media to congratulate the wannabe-politician and his new bride, including Duggar parents Jim Bob and Michelle.
"Congrats to this wonderful couple on their wedding day! We are excited to see how their story continues to unfold in the future. Jed, we are so pleased with the man you've become, and Katey, we are absolutely delighted that you have joined the family!" Jed's parents wrote on the official Duggar Instagram account.
Jed's sister Joy Forsyth shared the last picture she took with Jed before the wedding in her Instagram Stories along with some well wishes for the couple.
"I remember many times talking with you about when you would find 'the one'. And today you married her," Joy wrote. "Since Katey has come into your life, you have smiled a little brighter, loved others deeper, and you just have an extra skip in your step. Seeing you happy makes me happy. I love you and Katey very much."
Jed's sisters Jessa Seewald and Jill Dillard also shared well wishes on Instagram, as did Jason Duggar.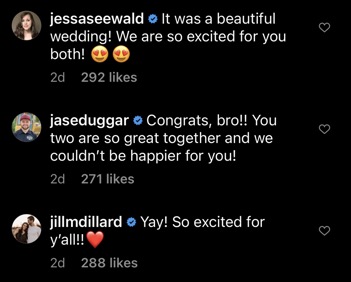 You can watch some of Jed and Katey's wedding ceremony in the video below. (The quality is poor due it being livestreamed, just FYI.)
RELATED STORY: Odd Engagement Video of Jedidiah Duggar & Katey Nakatsu Sparks Rumors Among 'Counting On' Fans
(Photos: Instagram; TLC; The Nakatsu Family Blog; YouTube)