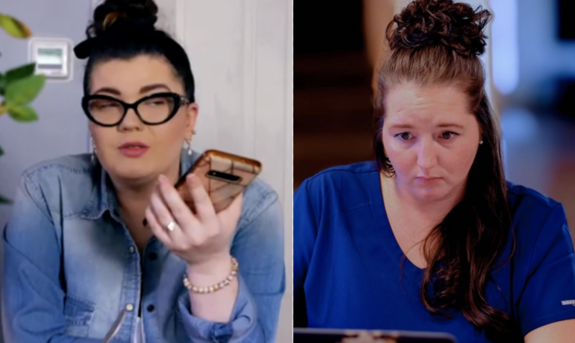 Amber Portwood celebrated Easter by taking part in one of her favorite pastimes: kicking up some drama on social media.
The Teen Mom OG star took to Instagram Sunday to post a message to her 12-year-old daughter Leah, whom she shares with ex-fiancé Gary Shirley, acknowledging the strained relationship the two have – a situation that has unfolded on the current season of 'Teen Mom OG.'
Unfortunately, Amber's Easter greeting for her daughter quickly turned into an online shredding of Gary's wife Kristina— whom Amber accused in a later-deleted comment of "an opportunist who cries if Gary doesn't [buy] her a Coach bag." Amber also attacked Kristina for her custody situation of her oldest daughter, who is not seen on 'Teen Mom OG' or social media.
View this post on Instagram
Let's break down this Easter Day mess, shall we?
Amber started off in the right direction, posting an Easter greeting for her daughter, and even taking responsibily for her own past actions against her daughter.
"I know you are going through a lot and there are many things I need to do to make things right," Amber captioned the post. "However, I will always love you, my beautiful daughter. Love you and Happy Easter."
Before Amber disabled the comments on her post, the comment section was filled with people criticizing her parenting of both Leah and two-year-old son James, whom she shares with ex-boyfriend Andrew Glennon. What seemed to strike a nerve more than anything, however, were mentions of Kristina, who referred to herself as Leah's "bonus mom" on a recent episode of 'Teen Mom OG.'
In response to one of the comments left on the post, Amber addressed some of the claims, while hurling some insults Kristina's way. She really seemed to take aim at the situation with Kristina's oldest daughter, a 13-year-old whom she shares with her ex-husband, and who does not appear on 'Teen Mom OG.' (As The Ashley has previously reported, Kristina and her ex agreed to keep her off the show and social media.)
Amber— who actually is not legally allowed to post photos of her son James to social media—-faulted Kristina for not mentioning her oldest daughter on Instagram.
"I have 1 question for her…How does it feel knowing she doesn't have joint custody of her daughter the same as me because [she] chose this life [of being on the show] over her," Amber wrote. "She has no excuse for that. Not one thing! She should be ashamed to even act like she's such a great mother."
Amber went on to criticize Kristina for not posting photos of her 13-year-old, claiming that she used to talk to the teen's "bonus mom" and "was told everything."
"She can't even have her daughter's name mentioned on the show," Amber claimed. "People come at me like I'm a mess when the truth is I've been keeping a lot of secrets from people."
(We can assume she means Gary and Kristina here.) She also insisted that she's doing much better these days.
"Yes I have made mistakes however I have changed for the better!!" Amber wrote.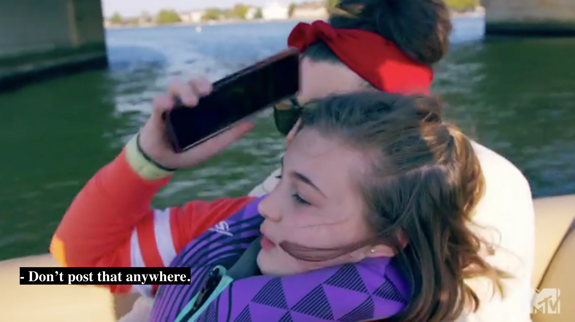 "She needs to take some pictures with her kids not mine 24/7," Amber continued. "I think there's some guilt issues personally. I see her with my daughter compared to hers and it's like she's not ever there. I feel bad for her personally. People can take this how they want. It is the truth…she is an opportunist who puts pictures of my daughter on her Instagram for clicks. I said my piece and I'm at peace with this personally."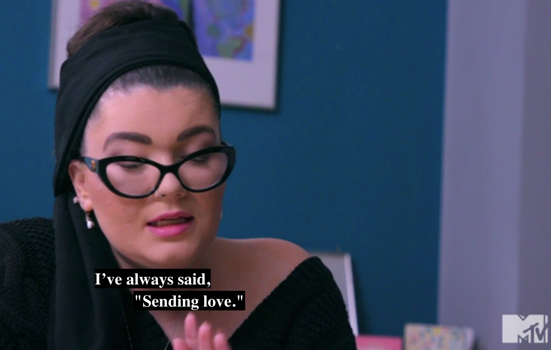 Amber's brutal online bashing of Kristina was captured by the Teen Mom Tea Instagram account before it was deleted. Kristina's sister-in-law Jenna Tinch went on to comment on Teen Mom Tea's post in Kristina's defense, claiming that Kristina is "an incredible mother to her THREE girls" and that "she treats them equally and loves them the same."
Jenna also said Kristina has been very supportive and encouraging of Leah and Amber's relationship, just as viewers have witnessed on 'Teen Mom OG.'
"I've only been apart of this family for 5 years and in that time, Kristina has displayed so much encouragement and support for Leah and Amber's relationship," she wrote. "The fact that Amber is bashing Kristina for loving her child is appalling and sad. Amber has said herself how happy she is that Leah has Kristina. And, I think the world is aware of how amazing Kristina is."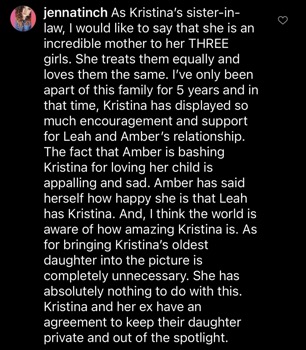 Jenna said Amber bringing Kristina's oldest daughter into the argument was "unnecessary," as she has nothing to with the situation. She explained that Kristina and her ex have an agreement to keep their daughter's life private and out of the spotlight.
Of course, this isn't the first time Amber has made Kristina or Gary the target of one of her online rants, having made disparaging comments (on more than one occasion) within the last couple of weeks alone about Kristina's role as both a mom and a stepmom.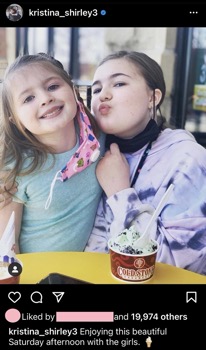 She also hinted that Kristina was the reason she and Gary didn't reunite after she got out of gel jail, as Gary had already begun dating Kristina before her release. For this reason, Amber labeled Kristina a "whore" and a "home wrecker" in one of her recent rants.
Amber also went after Gary and Kristina back in January, calling the couple "liars" and "two-faced" in another online rant, only to then accuse Gary of cheating on Kristina days later in – you guessed it – another online rant.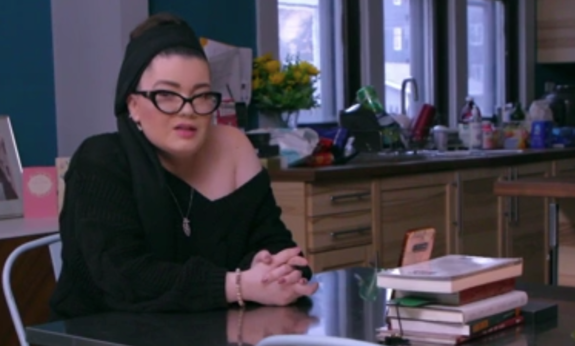 Shortly after Amber's social media slam on Sunday, Kristina posted a Bible verse to her own Instagram page, encouraging others to be kind to everyone and patient with difficult people. (Although she didn't mention any names, it was obvious due to the timing of the post that Amber was one of those "difficult people" she was referring to.)
View this post on Instagram
Gary and Kristina have yet to comment publicly on Amber's latest rants.
RELATED STORY: 'Teen Mom OG' Star Maci Bookout Talks About Co-Parenting with Ryan Edwards, the Possibility of Having More Kids with Husband Taylor McKinney & More
(Photos: MTV; Instagram)