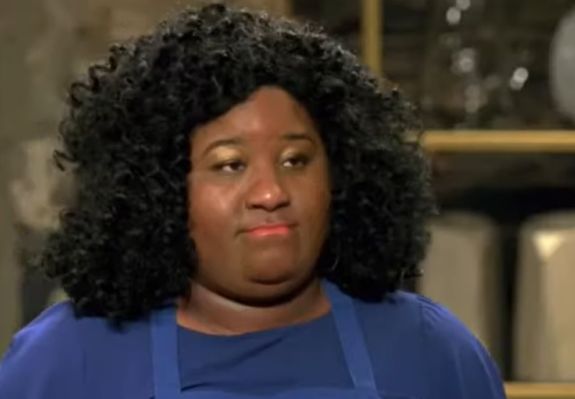 Ari Robinson has lawyered up.
The former Worst Cooks in America winner— who, along with her husband Jerry, was arrested last month for the murder of her three-year-old adopted daughter Victoria— was charged with "Homicide By Child Abuse" and is now requesting bond. FitsNews reports that Ari's lawyer filed a motion on Tuesday to ask that a "reasonable bond" be set for Ari. (She and Jerry were both denied bond following their arrests on January 19.)
In the Motion for Bond— obtained by FitsNews— Ari's lawyer claims that Ari is "neither a flight risk nor a danger to the community." He credits her as having a clean criminal record, a Masters degree from Clemson University and a former career as a public school teacher in the filing.
As The Ashley previously reported, the South Carolina State Board of Education suspended Ari's teaching certificate last month after her arrest.
Ari— who won the most-recent season of the Food Network reality show, was arrested five days after the death of Victoria, who reportedly died from blunt force injuries. Victoria and her two brothers were adopted by the Robinsons and, up until Victoria's death, frequently appeared on Ari's social media. The adoptions were also a topic of a recent episode of the Robinsons' podcast.
While details about Victoria's death are still vague, FitsNews reports that according to an Incident Report, Jerry called 911 around 2 p.m. on January 14, after Ari found Victoria "unresponsive" in their home. The 911 dispatcher instructed Ari to perform CPR, which she was certified to do.
A fire department arrived within minutes, followed by an EMS team, who immediately rushed the girl to the hospital.
"It appears that first responders on scene immediately suspected child abuse," FitsNews reports, adding that the fire department called the police with a report of child abuse/ aggravated assault and asked for emergency protective custody at 2:25 p.m. Victoria was pronounced dead at the hospital on January 14.
During her time on 'Worst Cooks in America,' Ari— who took home $25,000 for winning her season— spoke of her two biological kids, as well as the three children they were adopting. After news of Ari's arrest broke, the Food Network quietly yanked down Season 20— the season she appeared on— from all of its streaming services.
Ari had auditioned for America's Got Talent right before her arrest, and was optimistic that she would make it on the show.
Last week, members of Victoria's biological family spoke to local news station WIS10, stating that they are trying to get possession of Victoria's remains in order to give her a funeral and burial.
"Give her to us," Victoria's biological great aunt, Michelle Urps, said. "Let us give her a proper funeral and say goodbye one last time."
(WIS 10 reports that a Family Court judge will decide where Victoria's remains will go.)
Last week, Victoria's biological mother Casie Phares spoke out, denying she was abusive to her children. She stated that she had been flagged by SCDSS after she tested positive for marijuana while pregnant with Victoria, and when Victoria tested positive for it as a newborn.
FitsNews reports that Victoria's biological mother stated that her kids were removed from her care after she fell asleep while watching newborn Victoria and her two older brothers. The boys ran to the neighbor's house and the neighbors contacted the police, Casie claimed.
"[That was the] final straw," Michelle Urps said, adding that Victoria's bio mom was struggling to maintain housing. Victoria's bio mom said she was told she wouldn't need an attorney for the custody court case and she was unprepared. She then lost custody of the three children and they were placed in foster care. All three were eventually adopted by the Robinsons.
"(SCDSS) made me feel that it was better for the kids," she said. "I thought they were going to a loving family. I thought if they could have better, happier lives and become better versions of themselves, that's OK. I trusted them and they failed."
Both Ari and Jerry Robinson have a bond hearing scheduled for next Friday, February 12.
RELATED STORY: 'Worst Cooks In America' Winner Ari Robinson Auditioned for 'America's Got Talent' Weeks Before Her Arrest for the Murder of Her Adoptive Daughter (Exclusive Details)
(Photos: Food Network, Instagram)