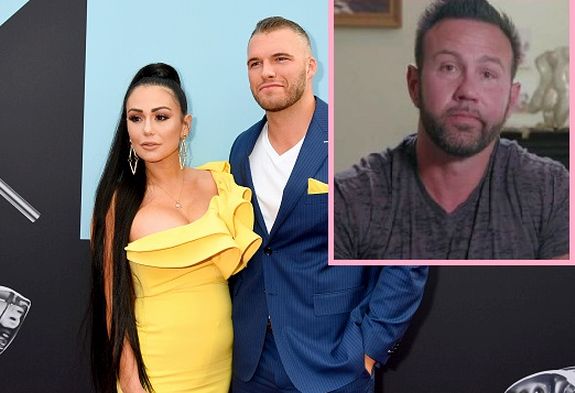 Jenni "Jwoww" Farley received plenty of congratulatory messages when she announced her engagement to Zack Clayton Carpinello earlier this week, and on Thursday, she received another from a surprising source— her ex-husband Roger Mathews.
Roger— who officially divorced the Jersey Shore star in 2019 after a bitter, bitter breakup— talked about Jenni's engagement during Thursday's episode of his Champ and the Tramp podcast.
"We live different lives now," said Roger, who shares a son and a daughter with Jenni. "We live in different worlds, but obviously we're always going to be connected for [our] kids. So I didn't think it was my place to comment…but I'm happy for her. I'm happy for them."
Despite Jenni and Zack's bumpy relationship– which included a breakup after Zack was caught flirting and acting inappropriate with Angelina Pivarnick during an episode of Jersey Shore Family Vacation—Jenni accepted Zack's proposal in late February when he proposed on top of the Empire State Building.
"I don't know Zack well, but what I do know of him, he's not a very talkative guy. It's hard to have a conversation with Zack because he doesn't talk much. So it's kind of hard to get to know him. But I talk to my kids, and from what I know, he's good to my children. Jenni seems very happy, and they seem very happy together and I have no reason to have any beef with him whatsoever."
Despite his bitter breakup with Jenni, Roger has always been supportive of her relationship with Zack (whom Jenni's 'Jersey Shore' roomies nicknamed "24" due to his age at the time he met Jenni, who is nine years older than him). When she first started dating Zack, Roger had nothing but nice things to say about Zack.
"I'm happy for Jenni," Roger said on the podcast on Thursday. "Listen, we went through our s**t. We went through some nasty s**t, as many divorces are. But we live very public lives so it became public. And I take an incredible amount of responsibility for that. I did s**t I should have never done, and I'm sorry for it."
(Roger is likely referring to this little incident…)
When Roger and Jenni first split, Roger vowed to win his wife's affections back but things soon turned ugly. Now, Roger insists that he has learned from his mistakes, and that, because he doesn't want Jenni back anymore, he has no reason to be anything but happy for his ex.
"We're done. Why am I going to have resentment?" he said. "Our time together is over, with the exception of being parents to two wonderful kids…I would never want her to not move on with her life and be happy. I'm truly happy for them.
"I'm not gonna talk s**t man. Why would I talk s**t?" he said. "If he talks s**t [about me] that would be a different f**king story. But he doesn't talk s**t so why would I talk s**t?
"He's a good guy and I wish her all the best and that's my comment. Truly, I'm not just f**king saying that."
As for when Roger plans to get remarried, he says not to expect him to be fist-pumping down the aisle any time soon— or ever! (He's been dating Danielle Miele for over a year, FYI.)
"Only an idiot would say never about anything, so I would never say never but I'm very content," he said. "My role in life is to be a dad. I'm very happy in my relationship but we're not talking about engagements or marriage."
You can watch the video clip below!
RELATED STORY: 'Jersey Shore' Star Jenni "Jwoww" Farley Announces Her Engagement to Boyfriend Zack Clayton Carpinello
(Photos: Dia Dipasupil/Getty Images;