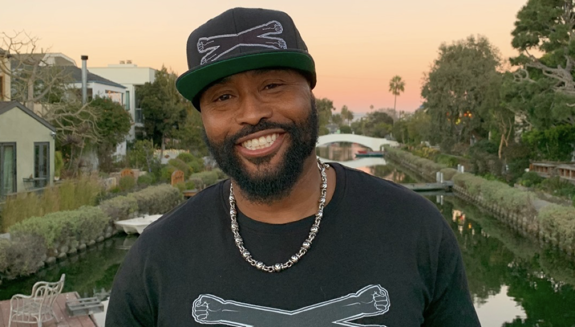 As fans prepare to watch their favorite OGs go head-to-head on The Challenge: All Stars, one 'Challenge' vet is reflecting on the longtime competition show, the new cast members the producers are bringing into the game, and what may be in store for the future.
During an episode of the Behind the Velvet Rope podcast, Syrus Yarbrough talked about the upcoming 'All Stars' season, streaming April 1 on Paramount+, joking that the show will have OGs competing against other OGs, "not with us going against these little children nowadays, these little steroided up children."
After making his debut on The Real World: Boston in 1997, Syrus went on to compete on five seasons of 'The Challenge' – his last being in 2009. While it's been more than a decade since he's appeared on 'The Challenge,' Heavy reports, Syrus believes his tendency to stay out of the drama may have also kept him out of the cast lineup.
"There's a lot of crap that goes on behind the scenes and they do act like children a lot of the time," he said. "I've never partaken in any of that, which is one of the reasons I probably wasn't on any of the later 'Challenges' too, 'cause it just wasn't me. I don't kick up dust for no reason. I don't disrespect people to the point where that happens. I remain that flexible character that you can rely on in most 'Challenges.'"
Longtime 'Challenge' competitor Johnny Bananas has also criticized the show's newer cast members, taking to Instagram last year to talk about how the show has changed since people from random reality shows started joining the cast. Johnny said expanding the pool of potential cast members had really changed 'The Challenge' dynamic – something many longtime fans seemed to agree with at the time.
"I'm not saying I hate newcomers," he said on Instagram Live. "You're right, we do need an injection of new blood in 'The Challenge.' I'm saying the injection of blood we're getting is not the right one."
Johnny also said casting itself had changed over the years, claiming newcomers aren't put through the same casting process he and other 'Challenge' vets were once put through.
Despite the newcomers mixing things up a bit, Syrus said he'd be open to competing against them in the future.
"[Competing against newer players] would be fun, too," he said. "I don't care. Bring on whoever you wanna bring on! I give two damns. But it will be kind of fun to see the OGs going against each other."
Syrus also revealed that he and OGs Eric Nies of The Real World: New York and Beth Stolarczyk of The Real World: Los Angeles have an idea for a 'Real World'-like show featuring all OGs, which they have pitched to Bravo.
"Bravo had several meetings with them about the project and we'll see what happens," he said. "COVID kind of changed the outlook on a lot of different things, I think, but I think the market is still there and the market will probably always be there."
(Beth will compete on the upcoming 'All Stars' season, while fans can catch up with Eric and his former roommates on The Real World Homecoming, currently streaming on Paramount+.)
Regarding a potential 'Real World' OG season, Syrus said he thinks "it'd be excellent," especially if it ends up on Bravo.
"When you get down to that level of it, Bravo is…they pay their talent," he said. "Now people got lives and so forth, so they really wanna be paid for what they're doing. The amount of money those people make is another level."
'The Challenge: All Stars' beings streaming April 1 on Paramount+. Click here to check out the full cast lineup!
RELATED STORY: Ashley Cain of 'The Challenge' Starts Fundraiser for Infant Daughter Azaylia's Leukemia Treatment: "The Only Option to Save Azaylia's Life"
(Photos: Instagram)