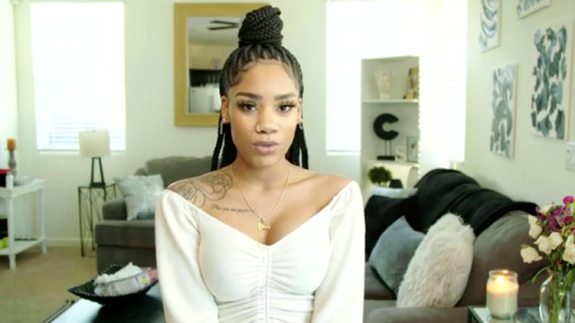 Former Teen Mom: Young and Pregnant star Ashley Jones will join the cast of Teen Mom 2 when the series returns for Season 11 on Tuesday, May 4, and while she isn't the first to make the jump from 'Young and Pregnant' to 'Teen Mom 2' (that title belongs to Jade Cline), she is the first Black girl to join the cast.
Last year, The Ashley reported that the 23-year-old would be the newest addition to the 'Teen Mom 2' cast. (Ashley will be taking the place of Chelsea Houska, who revealed last year that she was leaving the show after 10 seasons.) Ashley took to Instagram Live this week to talk about her new role and what she hopes it will mean to others. She also shared how she feels she has taken the brunt of the racial criticism by viewers of the show.
"I'm happy to share my story so other little Black girls can relate," Ashley said in the video, reposted to the Teen Mom Shade Room Instagram page. "Whatever they take from me, they take it. Or other little white girls, Mexican girls, whatever. I share my story for everybody but I definitely think that people are not used to a Black story on 'Teen Mom.'"
Ashley went on to say that she's tired of being called "ghetto" by the show's fans.
"They're like, 'What the f**k? How ghetto!' For me it's worth it because, what I was going through, I never knew people were going through what I was going through … " she said
During her video, Ashley also addressed comments from fans about Briana DeJesus being a fellow woman of color on the 'Teen Mom 2' cast, as well as Cheyenne Floyd being the first Black mom to be cast on Teen Mom OG.
"I don't know what Briana is," Ashley said. "I don't know if she's Black. I don't know her. She don't seem Black to me … I've never heard her say she is Black … I don't think she identifies as a Black woman. I do. Cheyenne also does, but Cheyenne came on the show after I was already on ['Young and Pregnant'], so I was the first Black girl, which means I got the brunt of the s**t."
(Ashley made her MTV debut on 'Teen Mom: Young and Pregnant' in March 2018, while Cheyenne didn't make her first appearance on 'Teen Mom OG' until Season 7B, which premiered in October 2018.)
Ashley said "though there is a lot of bad going on," she's glad to be on the show and isn't going to let anyone's opinion of her change that.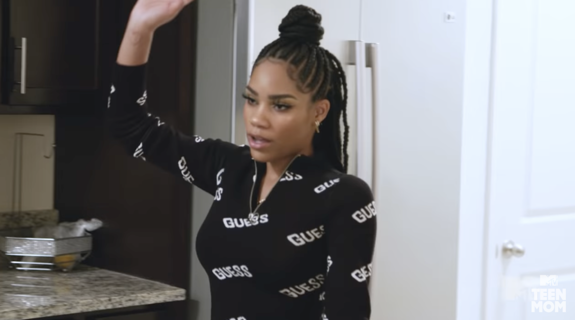 "I'm happy to be here. I'm not going to quit because people don't like to see me," she said. "People are always like, 'Oh, why is it about race?' I don't know. You tell me. … You tell me I'm ghetto but some of these b*tches – I ain't gonna go there, but I'm just saying, it seems a little racist to me. But I'm going to be in the building and I'm gonna be Black."
Fans were recently given a first look at what's in store for Ashley on 'Teen Mom 2' when she introduced an "OMG moment" from the upcoming season, featuring her on- and off-again boyfriend Bar Smith proposing to her… for the third time.
The clip also showed some family moments between the couple and their three-year-old daughter, Holly.
Ashley will join returning 'Teen Mom 2' cast members Briana, Jade, Leah Messer and Kail Lowry.
Season 11 of 'Teen Mom 2' premieres Tuesday, May 4 on MTV.
RELATED STORY: "90 Day Fiancé" Star Deavan Clegg Says She Was "In Tears When She Learned About Jenelle Evans' Past; Denies Jenelle's Claims That She Was Her Producer of Failed Podcast Project
(Photos: MTV; Instagram; YouTube)