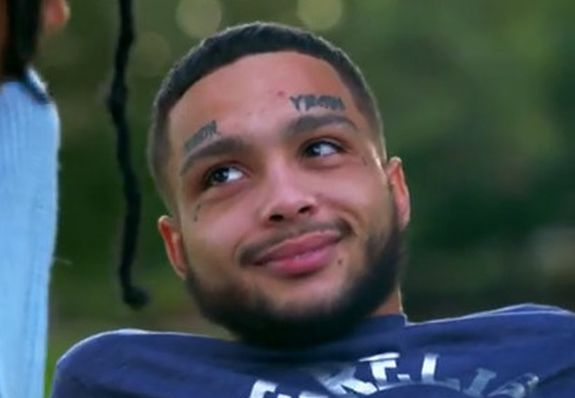 Farewell Four Brows…we hardly knew ye!
Bar Smith is tired of being called "Four Brows," due to the tattoos he has above his eyebrows— and he's vowing to do something about it!
The Teen Mom 2 dad and fiancé of Ashley Jones announced on Friday that he plans to get his once-beloved facial tats removed.
"I'm lasering away these face tattoos y'all," Bar posted on Instagram Stories, later writing in the comment section of one of his posts, "Y'all better get y'all jokes out now. No more 4 brows. NONE OF THAT soon."
View this post on Instagram
The tattoos— which Bar got in the Spring of 2019 to honor his late friends— are directly above his eyebrows. He has "NORM" written over his left eyebrow, and "YR474" tatted over his right eyebrow. In addition, Bar has several teardrop tattoos near his eyes.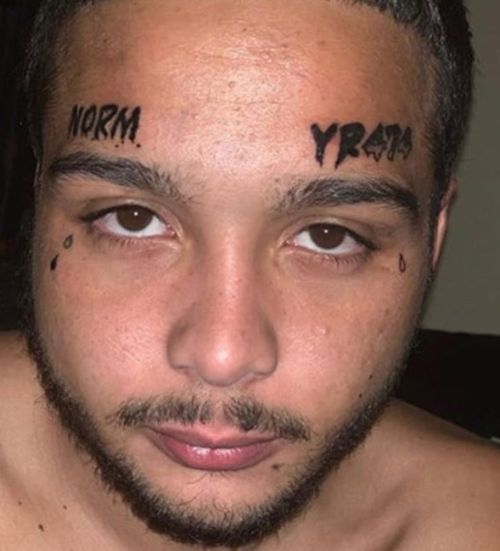 During an episode of Teen Mom: Young and Pregnant that showed Bar preparing to get the tattoos, he explained the meanings behind them.
"I'm getting YR474 and then on this side, I'm getting Norm. YR stands for Young Rell, that's my brother that passed away, 474 is the jurisdiction I'm from, it's my district. And then Norm is for my brother that passed away." ("Young Rell" was a rapper who was killed in San Francisco in March 2019.)
He received plenty of hate for bringing his daughter Holly— then 20 months old— to the tattoo parlor with him when he got the tattoos done.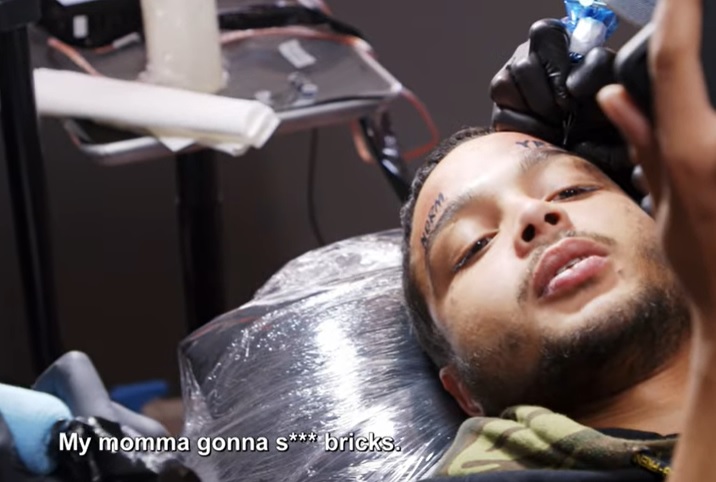 Anyway, on Friday, Bar opened up on Instagram about why he is getting the tattoos removed.
"I'm sad to say but I think it's time," he wrote on Instagram Stories. "It was a good time not a long time."
"My brothers [who I got the tattoos for] would've been mad at me for this s**t anyway," he wrote on his post. "#RipYr #CipNorm Ima put y'all somewhere else. I gotta make a few adjustments for the better though."
(In case you're not hip to the street lingo, 'CIP' means 'Crip in Peace,' so we can assume Norm was a member of the Crip gang.)
One person who is all for Bar removing the tattoos from his face is his mother, Shen Williams. She added her two cents to Bar's Instagram comments, revealing how angry she was when Bar got the tattoos, and suggesting he move them to a more suitable place…like his neck.
Um…
"Honor them on yo neck or something but honestly son [if] that's what helped u I support it," she wrote, adding also that she "wanted to take his head off when I saw" the tattoos.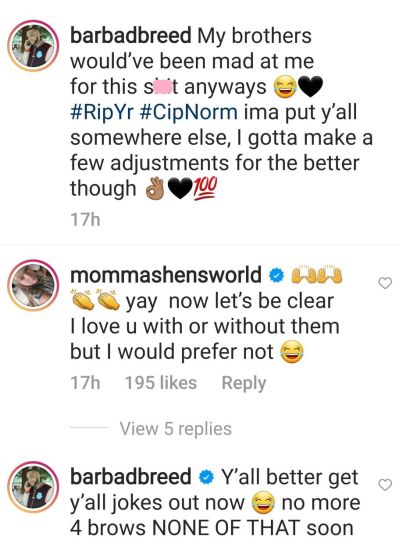 "Now let's be clear," she wrote. "I love u with or without them but I would prefer not."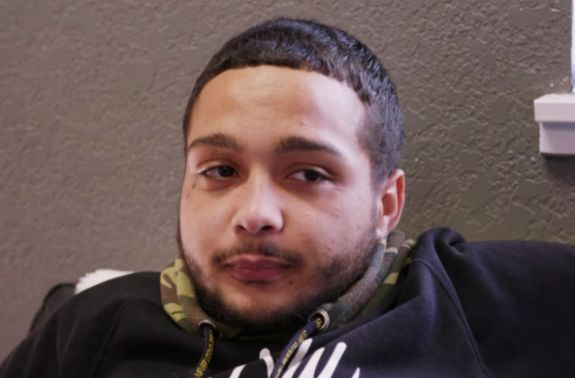 Despite all the heckling he's received for the tattoos, Bar wrote that he doesn't regret getting them.
"Nah, they served their purpose that I felt I needed at the time, and that was to honor them," he wrote. "I can continue that just differently."
When some nay-sayers chided Bar for getting facial tattoos in the first place, Mama Shen was back to defend her son.
"He is a role model showing his daughter it's okay to fall, it's about getting back up, trying again and getting better each time!" Shen wrote. "He is not a screw-up, clearly you have no clue. I do. I know the good, bad and ugly and my baby is doing amazing and no one will tell us different."
(Shen didn't mention this little recent, um, "screw-up" of Bar's though…)
As for Ashley, she has stated numerous times in the past that she's fine with Bar's "4 Brow" tattoos, although she wishes he didn't have them.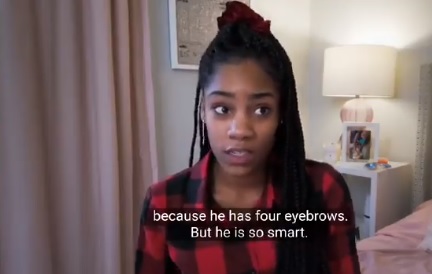 "It's his body. He had his reasons," Ashley said in October 2020. "I have to respect that."
You can re-live the moment Bar became "4 Brows" in the vintage 'Teen Mom: Young and Pregnant' clip below!
RELATED STORY: 6 Reality TV Stars Who Have Facial Tattoos
(Photos: MTV; Instagram)