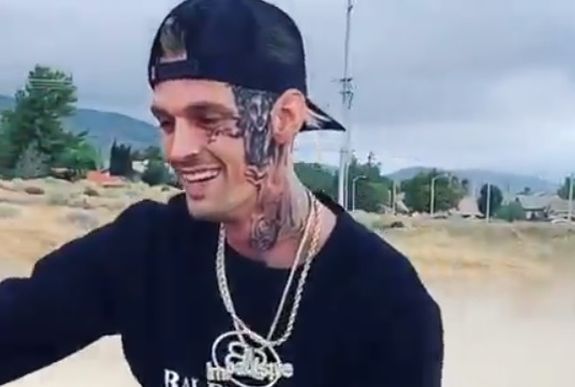 Aaron Carter's new giant face tattoo has his former teeny-bopping fans shaking their hand and saying "Oh, Aaron!"
(By the way, that is the name of his 2001 album and, yes, The Ashley had to look it up because she had no clue.)
Anyway, the former teen heartthrob — who is set to appear on the upcoming season of Marriage Boot Camp: Family Edition— debuted his two new face tattoos over the weekend on Instagram. The first– a giant Medusa-like woman that is inked down the entire side of his face– connects to the second, which is the word "Love" scrawled in cursive under his eye. The new tats put Aaron in the small group of current and past reality TV stars who dared to ink up their faces.
"IM THE BIGGEST THING IN MUSIC RIGHT NOW. I CANT BE DENIED. FACT CHECK ME. #unstoppable #LMG #SilenceBreaker," Aaron wrote in the photo's caption.
Aaron has been going through hard times over the past few years, but his caption for the photo was extremely positive…although his followers' comments weren't.
"Nooooooooo. Why'd you do this? Your poor face in 30 years," one person wrote.
"This dude needs help," another wrote. "A grown man that weighs less than 120 lbs getting face tattoos and making up lies about him being the hottest thing in music. What music?"
While Aaron's face tattoo didn't go over too well with his fans, here are five other reality TV stars who are still rocking a facial tattoo.
Bariki Smith ('Teen Mom: Young & Pregnant')
View this post on Instagram
While the majority of the 'Teen Mom' franchise cast has multiple tattoos, 'Teen Mom: Young & Pregnant' star Bariki "Bar" Smith is currently the only 'TM' star who has brought the ink to his face. Earlier this year, Bar– who is the on-and-off boyfriend of 'Young & Pregnant' star Ashley Jones— got "NORM" inked over his left eyebrow and "YR474" over his right eyebrow.
Bar later told his fans that both tattoos are tributes to his friends who have died. (The "YR" stands for "Young Rell," a rapper who was killed in San Francisco in March.) The eyebrow tats joined the three teardrop tattoos that were already on Bar's face.
It's been reported that a 'Teen Mom' crew filmed Bar's eyebrow tattoo session, so we may see the footage on the next season of 'Young & Pregnant,' which premieres next month!
Kat Von D
View this post on Instagram
Kat is one of the most-famous tattoo artists in the world…so it's only fitting that she's covered in tattoos herself! The former 'LA Ink' star has star tattoos covering most of one side of her face, and a small lightening bolt near her eye on the other side.
In an interview, she stated that her favorite Mötley Crüe song is "Starry Eye," which explains why she got the tattoo. (Fun fact: she also gave Mötley Crüe member Nikki Sixx a small star tattooed on his cheek during the short time they were dating.)
Jemma Lucy ('Ex on the Beach' & 'Celebrity Big Brother')
UK reality star Jemma— who has appeared on the UK version of 'Ex on the Beach' as well as on 'Celebrity Big Brother'– has multiple tattoos on her face. She has the word "LOVE" scrawled over her eyebrow, next to some diamond tattoos. On the other side of her face, Jemma has a tattoo of a swallow, as well as several stars. By one of her eyes she has a small red heart. Last month, she added the name of her daughter— who was born in May– to her facial tattoo collection.
While Jemma has yet to appear on any U.S. reality shows, there's a possibility that she could eventually come to The States for a TV show. After all, her ex-boyfriend, Stephen Bear, is currently appearing on MTV's The Challenge.
Lil Scrappy ('Love & Hip Hop: Atlanta)
Lil Scrappy's face bares tattoos of two different crosses. The 'Love & Hip Hop: Atlanta' star– who has also appeared on reality shows such as 'Leave It To Stevie' and 'Love & Hip Hop: Miami'– explained the significance of his face tattoos in a 2017 video interview.
"I'm real religious when it comes to my Christianity, so I said, 'I'm going to get me a cross that signifies Christianity and Jesus, you know what I'm saying?" he said. "Jesus died on the cross for us; he went through a lot of pain. I'm going through a lot of pain. I feel like he's better than me so I'm gonna ride with that."
Later in the interview, he explained why he wanted the crosses on his face, as opposed to somewhere else on his body.
"The reason I said that I'm gonna do the face is because, for one, I felt like I wanted to use everywhere else [on my body] for something else," he explained. "I wanted [people] to actually see what I believe in. You know what I'm saying? This is what I believe in, and you're going to see it every day. Every day I wake up and I can have clothes on and you can still see what I believe in."
Raymond "Benzino" Smith ('Love & Hip Hop: Atlanta'; 'Marriage Boot Camp: Reality Stars')
View this post on Instagram
Lil Scrappy's 'Love & Hip Hop: Atlanta' co-star Benzino is also a fan of the facial tattoo. Benzino– who appeared on a season of 'Marriage Boot Camp: Reality Stars'– has had several tear drop tattoos on his face since the late-1990s. In a 2014 interview with VLADtv, Benzino explained that "everyone has their own meaning" for getting teardrop tattoos on their face, but his "means struggle, this means pain…this means your man is gone."
He went on to explain that one of his friends died in his arms, which prompted him to get the tattoos.
RELATED STORY: 'Teen Mom OG' Stars Cory Wharton & Cheyenne Floyd to Appear on 'How Far is Tattoo Far': Cory Wants to Give Cheyenne A Tattoo That "Makes Her Cry"
(Photos: Instagram)