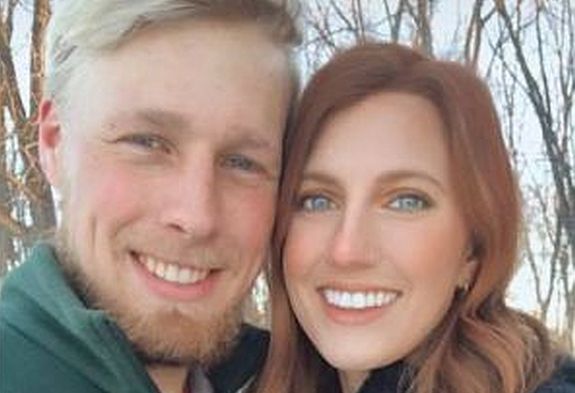 Welcome to Plathville returns for a third season later this month, but one person who won't be watching is Olivia Plath.
The wife of Ethan Plath told her fans in a recent Instagram Q&A session that she refuses to watch the show, despite the fact that she and Ethan provide a large part of the storyline. Olivia also opened up regarding the status of her marriage to Ethan, which many fans had speculated was on the rocks due to Olivia rarely wearing her wedding ring.
Olivia assured fans that she and Ethan are still happily married, and stated that this is the "most-common" question she gets asked. (Back in April, Olivia admitted that she and Ethan were "working through a lot" in regard to their marriage.)
"Yes we are still married," she wrote, explaining that her going ring-less has nothing to do with the status of her relationship.
"People comment on the fact that I don't always wear my wedding ring and make so many assumptions," Olivia wrote, adding that sometimes she just forgets to put it on.
Other times, she said, she chooses not to wear it.
"I often don't wear my ring when I travel solo and am afraid of damage, theft or being forgetful and leaving it at a hotel. Hence why it's often off in travel/wedding/adventure photos. You can come at me but that's the truth and it has nothing to do with commitment levels."
Olivia mentioned that her commitment to Ethan is so strong, in fact, that they are planning to re-do their wedding day. Olivia claims that her mother-in-law Kim Plath basically hijacked the couple's original wedding day back in 2018.
"I just wanted the opportunity to have my dream day, not my MIL's dream day, and wear what I wanted, invite who I wanted, eat what I wanted, have the music I wanted, etc." Olivia wrote. "You know, like any bride would. It's okay, we are going to have a redo someday."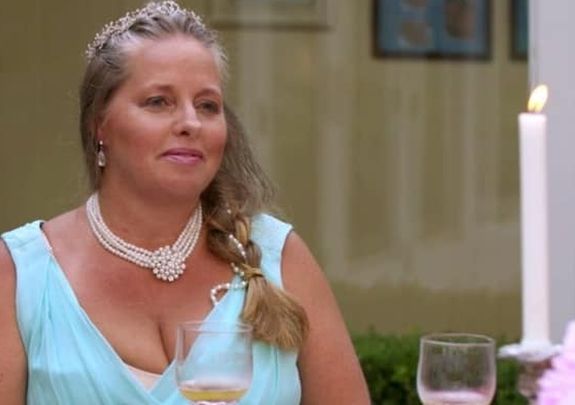 Olivia and Ethan have been estranged from Kim and Ethan's father Barry for a while, and during the Q&A session, Olivia noted that she and Ethan no longer associate with her in-laws, even for show-related reasons.
"The only toxic thing was having to continue a relationship we didn't want with my in-laws for the sake of the show," Olivia wrote. "So we decided to do what was best for us and cut contact [with Barry and Kim].
"Now we are so much happier and continue to make choices that reflect cutting out drama and choosing peace."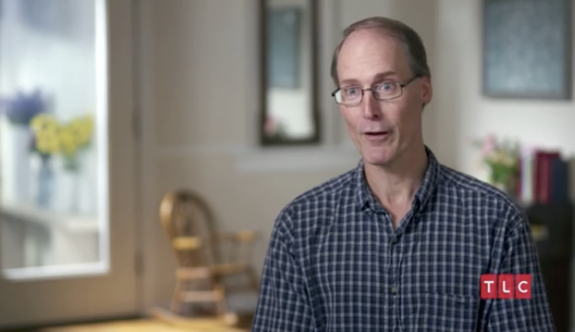 Olivia stated that she keeps peace in her life by not watching 'Welcome to Plathville.'
"My life is more peaceful when I cut out drama, chaos and untruth," she wrote. "Sometimes that's impossible in real life but I choose to not rewatch it on the screen for my own mental health."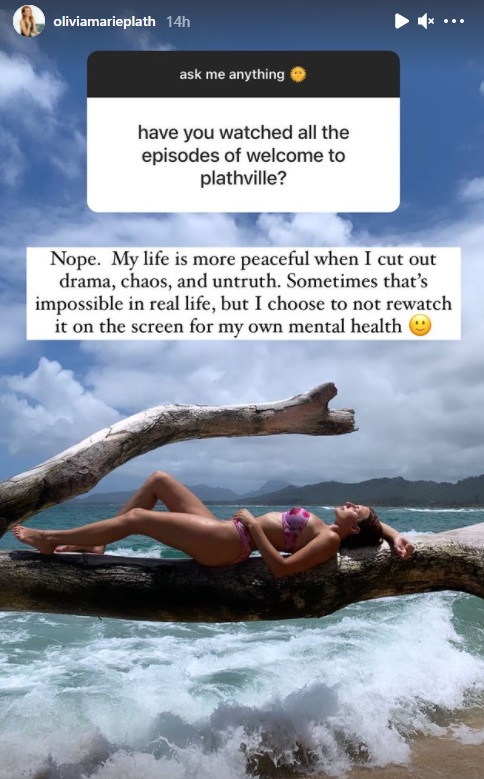 Olivia and Ethan have complained about the show in the past, which prompted some of Olivia's followers to ask her why she continues to appear on 'Welcome to Plathville' if it negatively affects her mental health. Olivia clarified that it's the people on the show, not the show itself, that causes her pain.
"The show has not been toxic for me," she wrote, later adding, "It was never the show, only some of the people who remained in our lives because of it. Once we removed the source of trauma, it's been a fun experience!"
Last month, TLC released the trailer for the upcoming third season of 'Welcome to Plathville.' However, Olivia assured her fans that there would be no pregnancy announcement on the new season.
"No baby plans any time soon," she wrote, adding that she and Ethan have raised enough kids for the time being.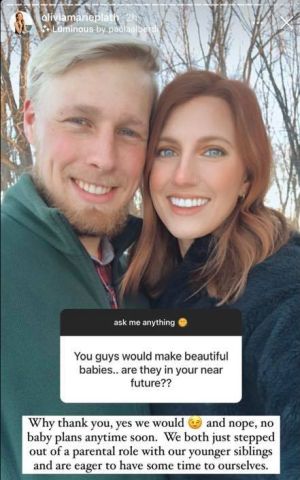 "We both just stepped out of a parental role with our younger siblings and are eager to have some time to ourselves!"
You can watch the 'Welcome to Plathville' Season 3 trailer below! New episodes premiere August 24 on TLC.
RELATED STORY: A Proposal, An Ambush & A Confused Model: Get Your First Look at 'Welcome to Plathville' Season 3
(Photos: TLC; Instagram)