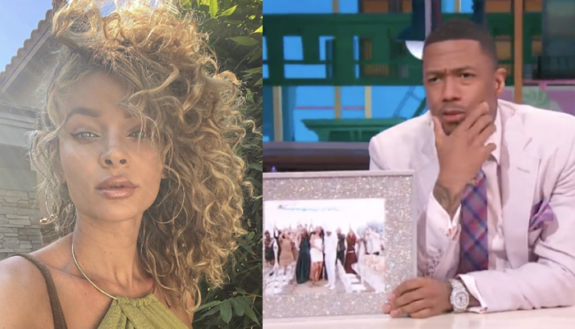 Nick Cannon has confirmed he's expecting his eight child, just months after he and Alyssa Scott's five-month-old son Zen died of a brain tumor.
Nick announced the news on Monday's episode of The Nick Cannon Show, Today reports, confirming he and Bre Tiesi are expecting a boy– their first child together.
After Nick's announcement, Alyssa posted a statement to her Instagram, writing that she "will not judge" and that she does not appreciate Zen being brought up in conversations about Nick's newest child.
"It's a boy! We found out yesterday," Nick said while showing viewers a photo taken at the gender reveal. "Everyone knows I have a lot of children. It's never a competition. Each one is special."
As The Ashley previously told you, Nick and Alyssa welcomed baby Zen in July 2021, just weeks after Nick's fifth and six children–- twins Zion Mixolydian and Zillion Heir, whom he shares with Abby De La Rosa–- were born. He also shares daughter Powerful Queen and son Golden with Brittany Bell, and twins Monroe and Moroccan with ex-wife Mariah Carey.
Following Nick's latest baby announcement, Alyssa shared a post on Instagram assuring followers she was "at peace" in the wake of her son's passing, and the news of Nick's eighth child.
" … It is painful having my son be a part of conversations that aren't in alignment with his light and legacy," she wrote. "It isn't something I chose for him or myself. It's important for me to let you all know.. I am centered, I am at peace.
"I look at everyone's predicament with loving eyes," she continued. "I will not judge. I will consciously decide what I will participate in."
She then wrote that she has been getting through her grief thanks to her family and God. (She did not mention Nick, though.)
"I am surrounded by love. God, my mom, dad, sister, brother, and daughter continue to carry me," Alyssa wrote.
Nick also spoke about Alyssa and Zen on Monday's show, telling viewers he questioned when would be the right time to share the news of Bre's pregnancy, which he claimed to have known about prior to Zen's passing.
"I wanted to definitely respect the grieving process with Alyssa, and Bre was respectful enough– she held off making our announcements and speaking on social media," he said. "She's a very, you know, in the public eye type of person, but keeps her stuff private as well.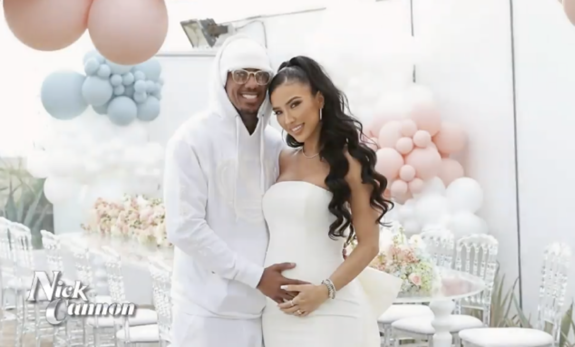 "And it was just one of those things like, you know, I didn't know what to do," he continued. "I didn't know what to say when I was dealing with Zen or to hold off. Even right now, that it came out yesterday, that wasn't planned to talk about it. We wanted to, you know, hold on as long as we can, but it happened. We here and I'm with my family, I get to discuss it, I get to be open."
In an Instagram Stories post, Bre wrote that she was "horrified" when photos of their gender reveal party were posted online.
"From the day I found out I was pregnant, I was over the moon excited and filled with joy. I am incredibly excited and eager to be a mommy. I purposefully kept my pregnancy private for various reasons."
"…This was not how I'd hope to share this news especially given that I've been able to protect this news for almost my entire pregnancy."
View this post on Instagram
The news of Bre's pregnancy comes after Nick declared in late 2021 that he was abstaining from sex until 2022. Nick caused a bit of controversy in November 2021 on his daytime show, The Nick Cannon Show, while playing a game of "Plead the Fifth" with guest Andy Cohen.
During the game, Nick joked with Andy that his "favorite baby mama is the next one"– a comment he went on to clear up on Entertainment Tonight.
"Everyone knows I'm crazy, everyone knows I say things that will get me in trouble," he said. "At this point, if you're in my life and don't know that every day I'm going to say something out of pocket, you really don't know me."
In July 2021, JT of the rap duo City Girls appeared on the Nick Cannon Radio show and advised Nick to "wrap it up" to prevent having more kids. However, Nick assured JT that he is not accidentally knocking women up.
"I'm having these kids on purpose," he said. "I'm not having them on accident…Trust me, there's a lot of people I could've got pregnant that I didn't. The ones that got pregnant are the ones that were supposed to get pregnant."
On Tuesday, he shared that his celibacy journey began after he found out that Bre was expecting his eighth child.
"My therapist was one of the [people] who said I should probably be celibate and the reason why is because I had shared that news about Bre being pregnant," he said on his talk show. "That was the reason why I started my celibacy journey back then. So for anyone who's thinking, 'Oh he wasn't celibate,' I was!
"I felt like I was out of control and honestly, celibacy did help me through the journey of getting one with myself and being able to deal with this," he added.
Nick says that he "almost" made it to 2022 being celibate, and that he's no longer abstaining from sex.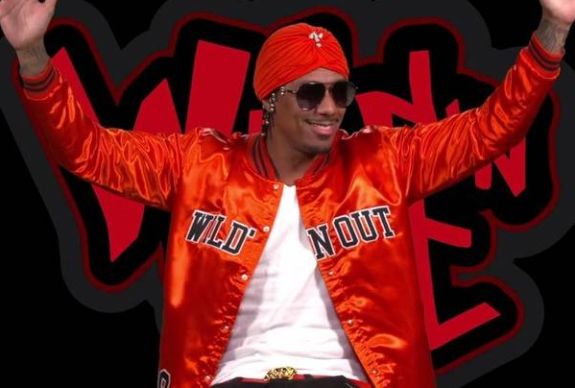 (Photos: Instagram; The Nick Cannon Show)