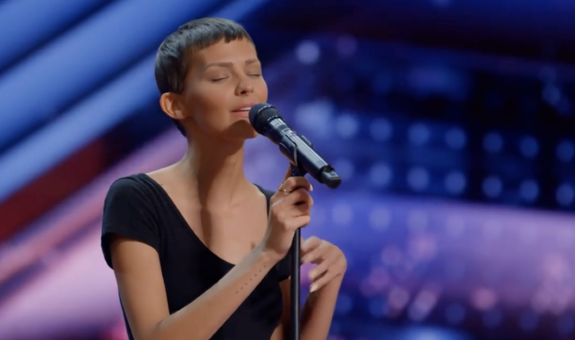 Former America's Got Talent contestant Nightbirde passed away on Sunday at the age of 31 following a lengthy battle with cancer.
Nightbirde– whose real name was Jane Marczewski– announced in August that she was leaving the 'AGT' competition to focus on her health.
As fans of the show may recall, Nightbirde received the Golden Buzzer from 'AGT' judge Simon Cowell following an emotional audition in which she sang her original song "It's Okay." While introducing herself to the judge (and the world), she explained that the song was inspired by the previous year of her life, revealing she was currently dealing with cancer in her lungs, spine and liver.
"I have a two percent chance of survival, but two percent is not zero percent," she said on the episode. "Two percent is something and I wish people knew how amazing it is."
In January 2020, Jane told Instagram followers she had "innumerable tumors" in her liver, nodes, lungs and spine, She documented her cancer fight on social media throughout 2020 and in July 2020, announced she was cancer free. However, in January 2021, Jane reported "it turns out that my journey wasn't quite over."
She went on to explain that, after being declared cancer-free the previous year, she suffered what she called a "catatonic mental breakdown," revealing she "barely spoke, ate, or moved from bed for several months." Her doctors later discovered that she had physical head trauma caused by the events of the last year. She also reported that, unfortunately, "some of the cancer has grown back."
The 'AGT' Facebook page posted a tribute to Jane on Monday, noting that the singer and songwriter will "always be a member of the AGT family."
The most recent post featured on Jane's Instagram is a picture of herself from January 11, at which time she told followers "honestly, things have been pretty brutal."
" … But this is a photo of myself from last week where I felt pretty, and alive, and awake, and human, and real," she added. "I needed that. We're all a little lost and it's alright."
(Photos: NBC; Instagram)