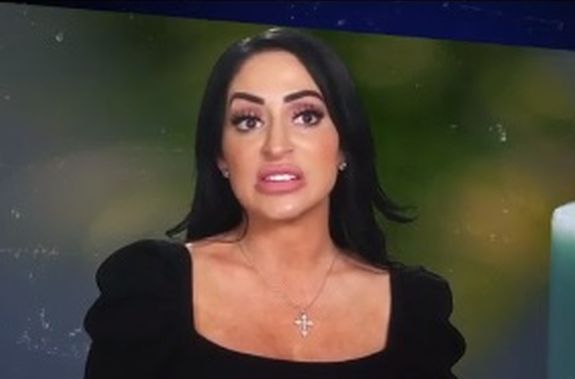 Jersey Shore Family Vacation star Angelina Pivarnick says a recent bout of stress has impacted her health to the point that she had to be hospitalized this week.
Angelina revealed the news about her health in a series of Instagram Stories on Tuesday, telling followers, "I'm not doing well at all."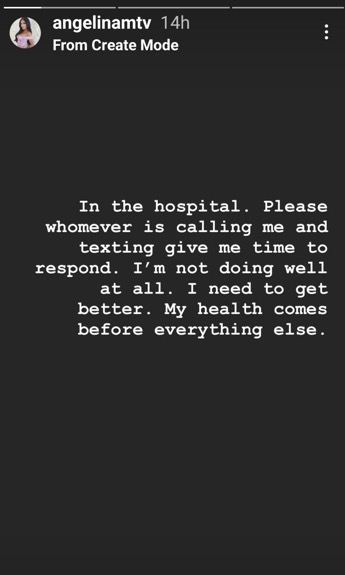 "In the hospital," Angelina wrote. "Please whomever is calling me and texting give me time to respond. I'm not doing well at all. I need to get better. My health comes before everything else."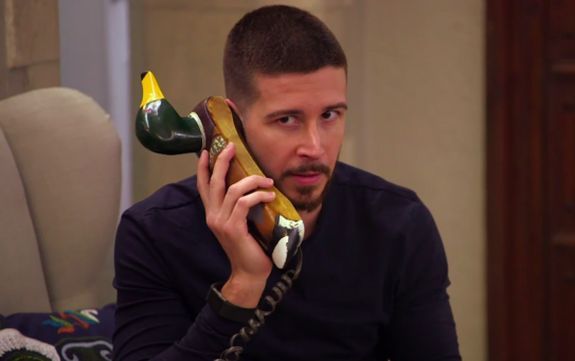 After posting a quick video of herself lying in a hospital bed, Angelina explained that recent stress has caused her immune system to become "super low."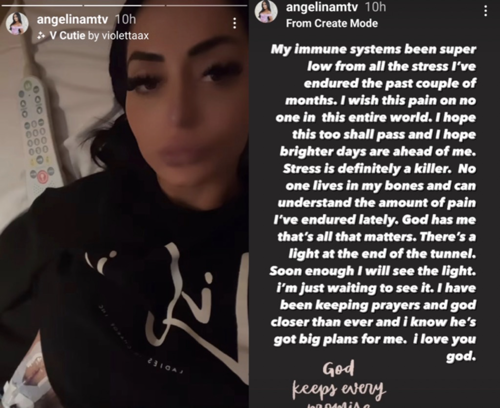 " … I wish this pain on no one in this entire world," she continued. "I hope this too shall pass and I hope brighter days are ahead of me. Stress is definitely a killer. No one lives in my bones and can understand the amount of pain I've endured lately."
While Angelina didn't specify the source of her recent stress and pain, it's worth noting that the 'Jersey Shore' star is in the middle of a divorce.
As The Ashley previously reported, Angelina's husband, Chris Larangeira– who has appeared alongside Angelina on 'Jersey Shore Family Vacation'– filed for divorce at the end of January after Angelina allegedly "got close" to Acapulco Shore star Potro Caballero while filming the spinoff All Star Shore in Spain in November and December.
Despite the physical and emotional pain she's dealing with, Angelina ended her Instagram Story with some optimism.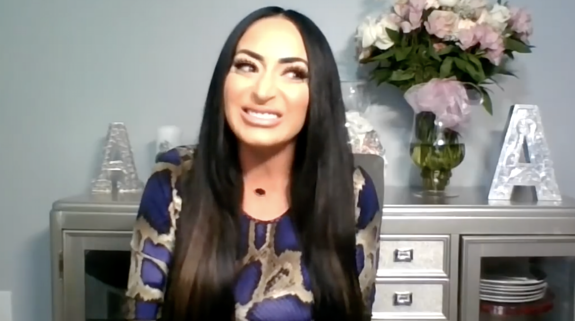 "God has me that's all that matters," she wrote. "There's a light at the end of the tunnel. Soon enough I will see the light. I'm just waiting to see it. I have been keeping prayers and god closer than ever and I know he's got big plans for me. I love you god."
Angelina has yet to respond to the well wishes left on her most-recent Instagram post. Her 'Jersey Shore' co-stars have also not responded to her announcement that she's hospitalized.
RELATED STORY: Vinny Guadagnino Says He Would Never Date Newly-Single 'Jersey Shore' Costar Angelina Pivarnick: "I Would Rather Jump Off This Balcony"
(Photos: MTV; Instagram)