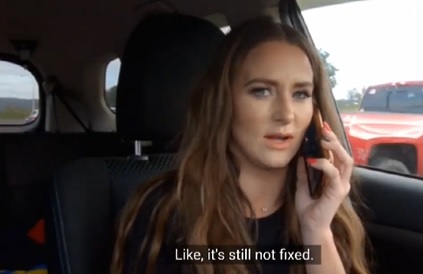 From talking babies to taking a "Just Say Allergy" stance on alcohol, the stars of the Teen Mom franchise (both past and present) have been keeping themselves busy lately! In an effort to keep you up-to-date on the latest Teen Mom OG and Teen Mom 2 news, The Ashley brings you the Teen Mom News Pile.
Here are some of the major (and minor but interesting) 'Teen Mom'-related things that have happened over the last week or so…
Leah Messer addresses those pesky pregnancy rumors.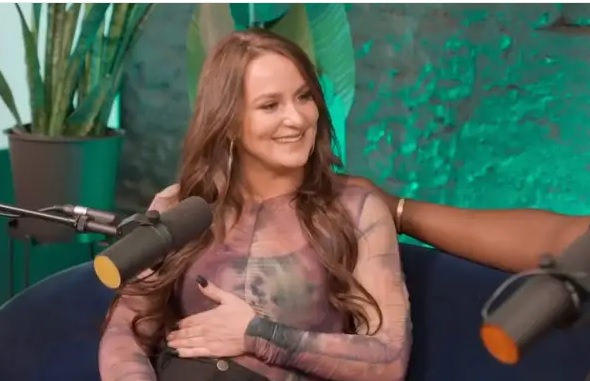 Leah Messer has been plagued by pregnancy rumors over the past few months, and she's finally addressed them.
As 'Teen Mom 2' fans know, Leah basically has a professional photographer following her around to do constant photoshoots of her and her boo, Jaylan Mobley. (Because…who doesn't do a pro photoshoot once a week?) In some of the more-recent ones, fans have sworn that they've seen Leah with a slight baby bump, causing pregnancy rumors to run rampant.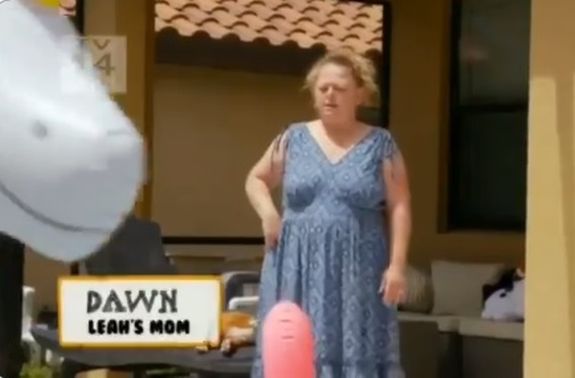 However, the 'Teen Mom 2' star says she's not with a ding-dang child, she's just gotten a little "thicker."
In an extremely random video (produced by and starring Jaylan, natch) that was posted to Instagram in honor of Leah's recent 30th birthday, Leah denied being pregnant, calling all the recent stories about her being pregnant "clickbait nonsense."
Instead, she attributed the alleged "baby bump" to weight gain from being comfortable in her relationship with Jaylan, calling it "happy weight."
"I'm not 30 and pregnant," Leah said, obviously playing off of her 16 and Pregnant past.
"I ain't mad at that. I appreciate the thickness," Jaylan added.
Leah has stated that she finds all of the pregnancy rumors "rude." After being accused of being pregnant one time last year, she took to Instagram to set her fans straight.
"I want to let them know, I was bloated last week. That was not okay!" she wrote.
Kail Lowry says she can't talk about being abused because she was once an abuser herself.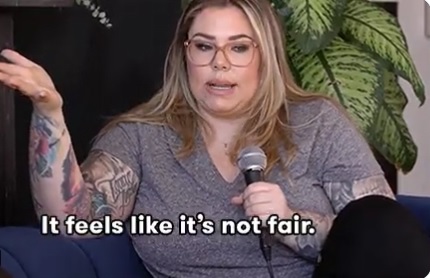 Kail was recently a guest on 'Bachelor' star Nick Viall's Viall Files podcast, where she discussed losing her recent lawsuit against Briana DeJesus. She also spoke about domestic violence and abusive partners, and revealed that she feels unable to discuss the domestic violence she's experienced in the past, due to her own abusive history.
During the podcast interview, Kail stated that she feels the public doesn't want to hear about her abusive relationship. We can assume she is talking about her relationship with her third baby daddy, Chris Lopez, as Kail has stated multiple times that Chris allegedly physically abused her. (Back in July 2020, Kail accused Chris during his Instagram Live of choking her. During her February 2022 deposition for the defamation lawsuit, Kail told the attorneys that "Chris almost killed me in October of 2019.")
Anyway, during her interview with Nick, Kail said the reason no one wants to hear her talk about being abused is that she got physical with her ex-husband, Javi Marroquin, during a 2012 episode of 'Teen Mom 2.'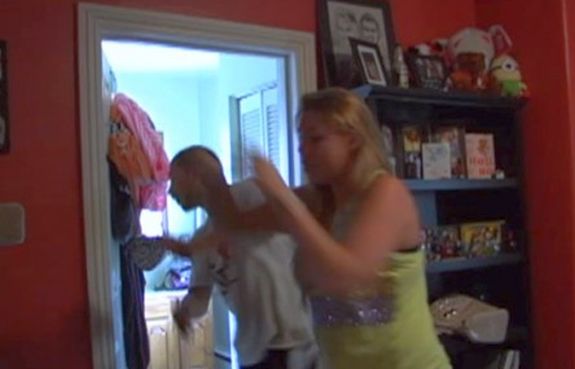 "So I was married and I pushed my ex-husband. Then I got into another relationship afterwards and he was abusive towards me," Kail said. "I have felt up until this point that I can't talk about that because I pushed my ex-husband in 2012. It's hard because, yeah, I did do that, but I've owned it, I've talked about it, I've apologized for it.
"So I have been, I guess you could call that abusive, and now I can't talk about the abuse in my most-recent relationship because of that," Kail said.
As The Ashley previously reported, Kail also talked about pushing Javi during the recent deposition, telling the lawyers, "I definitely regret my reaction to what I did to my ex-husband.
"I absolutely am remorseful. I have apologized both publicly and privately, so I think I'm am at a place where I can face the music and talk about it and I am okay…I absolutely should not have pushed him."
Farrah Abraham says that she's done drinking alcohol, due to her low brain activity…or something.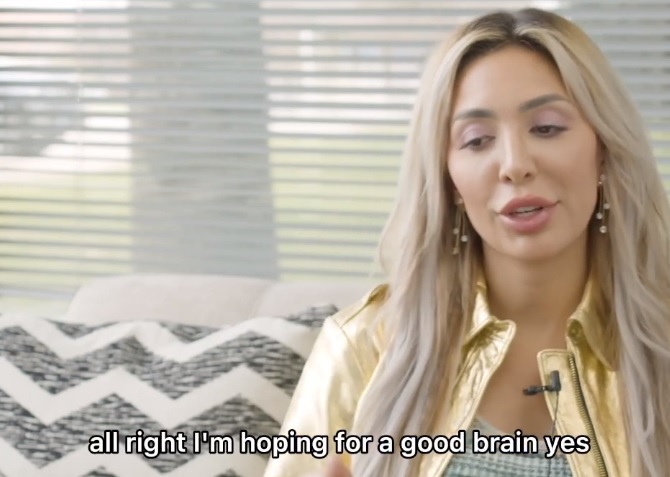 Farrah's days of drunkenly laying out on a sidewalk outside of a nightclub may be behind her.
The former 'Teen Mom OG' star was recently featured in a TikTok video posted by Psychiatrist Dr. Daniel Amen.
"With you, alcohol is particularly toxic, and it lowers your activity in the cerebellum [part of the brain], and your [activity] is already low," Amen Clinics Psychiatrist Dr. Kandace Licciardi tells Farrah in the video.
"You don't want to do anything that's more harmful to your brain," the psychiatrist adds.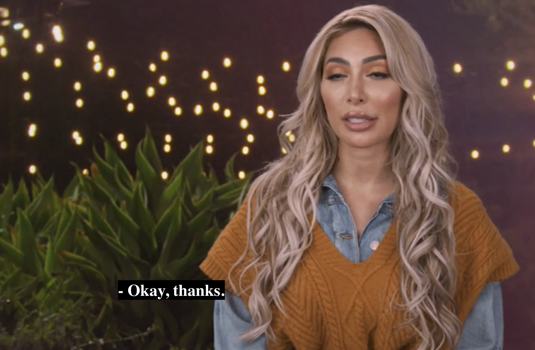 "I have always kind of said that I think I'm just allergic to alcohol, and people really weren't taking me serious," Farrah said. "But with my treatment center that I just went through, I was very, very adamant that is not something I want in my system or in my space. I just call it like an allergy and people can respect that or not."
Farrah says her decision to give up alcohol just makes sense…which is more than we can say about her "Farrah Speak"-filled response.
"Having the facts presented in front of us, I truly shouldn't have alcohol in my system," the Backdoor Teen Mom says. "It's not going to help me get to my goals of where I want my energy to go to, in my mind, so I can have better functioning for my life."
As 'Teen Mom' fans know, Farrah has been arrested three times in her life, with alcohol playing some part in all three. Her two most-recent arrests came after she had been drinking at Los Angeles bars.
During her first arrest back in March 2013, The Big F was picked up for DUI after celebrating St. Patrick's Day in Nebraska. After the arrest, Farrah refused to take responsibility for her actions, and even appeared on an episode of The Dr. Phil Show to argue with The Doc about how, although she was drinking and driving, she wasn't drinking and driving.
"I was drunk…I was not driving, I was actually parked," Farrah told a confused Dr. Phil. "I drove around the corner and parked and I was still in my car. Two minutes later, a cop came over. [I was driving] around the corner, yeah, but I wasn't driving! So, no, I was not driving drunk! I guess if I was driving, and still driving, and then a cop pulled me over, that's really driving drunk…When I was approached by a police officer, I was not driving. The car was shut off, my hands were off the steering wheel, I had been parked. There was no driving. That's that!"
In a longer clip of the interview with Dr. Licciardi, Farrah talks about the period of time before she went to the treatment center earlier this year. She stated that, despite all the trauma she's experienced, she now has hope.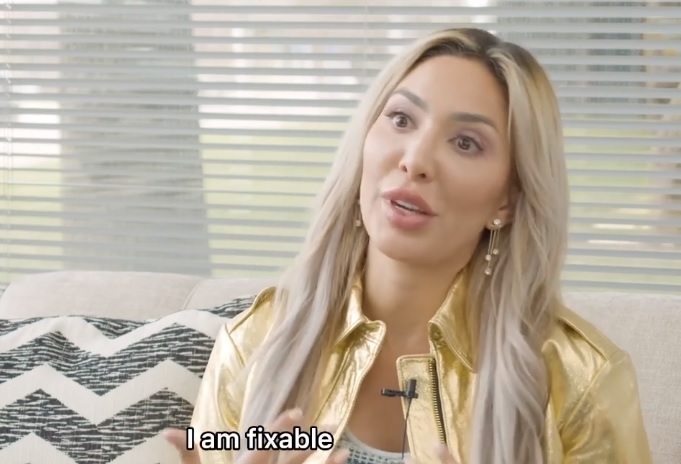 "I am fixable," Farrah said, before adding that she "really wanted to make sure that my brain's OK." Farrah stated that she fears that she'll revert back to the old Farrah.
The doc then goes over Farrah's brain scans, telling her that she has low brain activity in her cerebellum.
You can watch the full video below if you'd like to learn more about The Brain 'o' Farrah.
Chelsea Houska sells her former South Dakota farmhouse.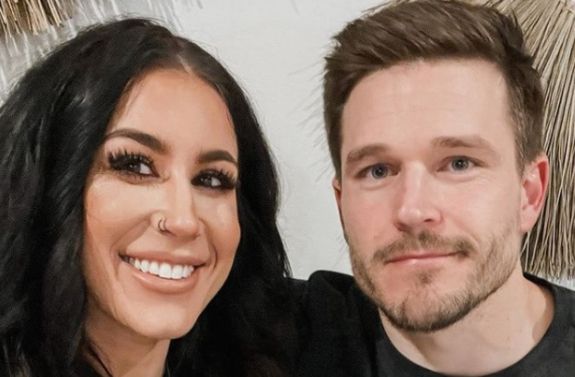 Former 'Teen Mom 2' star Chelsea Houska has sold the South Dakota home she and her family lived in prior to building their current straight-out-of-Pinterest farmhouse, also located in South Dakota.
Cole, Chelsea and their ever-expanding litter of buffalo-plaid-loving kids moved out of their former home in December 2020. According to The Sun, Chelsea and her husband, Cole DeBoer, listed the home for $600,000, though it sold in July for $45,000 less than their asking price.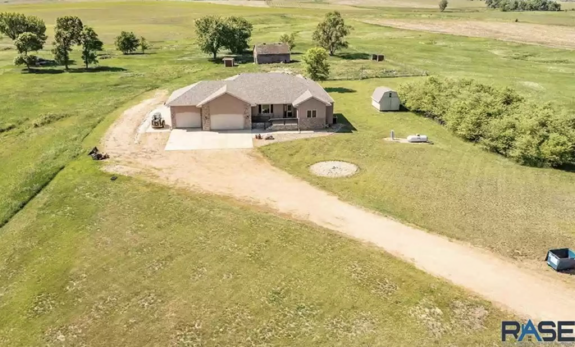 Despite accepting a lower offer, Chelsea and Cole still made a profit on the sell, as they purchased the six-bedroom two-bathroom home in June 2018 for $435,000.
The house was featured on 'Teen Mom 2' and as viewers fans may recall, it was burgled in 2018 while the family was away on vacation in Colorado.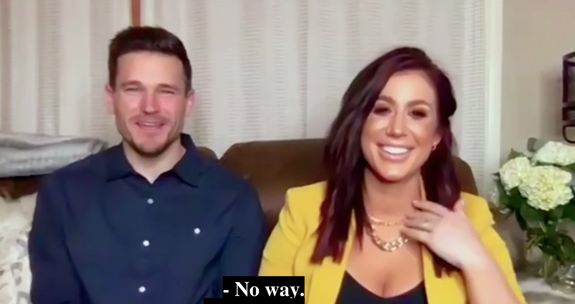 As The Ashley previously reported, Chelsea and Cole are currently filming their own show, Farmhouse Fabulous, for HGTV.
To catch up on more recent 'Teen Mom' news, click here!
(Photos: Instagram; Realtor.com; TikTok; MTV)