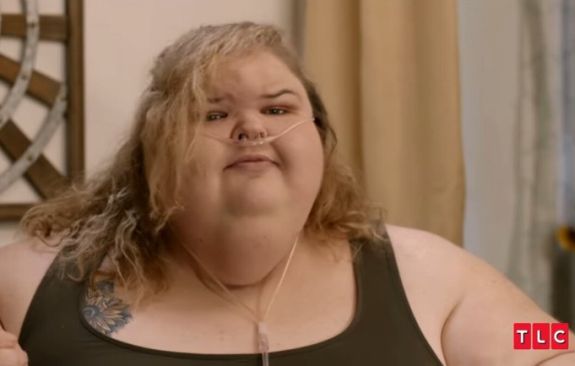 After not being able to meet her doctor's requirements to receive weight loss surgery in the past, Tammy Slaton of TLC's 1000-Lb Sisters will finally go under the knife next month to have bariatric surgery.
As The Ashley reported earlier this week, Tammy is still in the rehabilitation center she checked into in late 2021, where she has reportedly been able to quit smoking, drinking alcohol and eating junk food.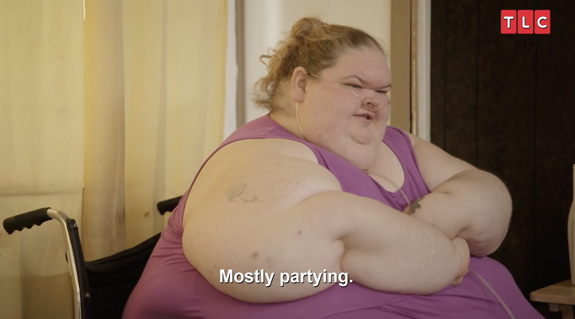 In fact, Tammy has made so much progress at the center, that she will reportedly complete her stint at the treatment center earlier than her doctors anticipated, which will also allow her to have weight loss surgery sooner.
According to The Sun, the 35-year-old wasn't supposed to have the procedure until August, but she will now go under the knife in June at a hospital in Atlanta, Georgia.
As fans of "1000-Lb Sisters" may recall, Tammy's sister Amy Slaton Halterman met the requirements for bariatric surgery earlier in the series after losing more than 100 pounds. Amy went on to welcome a baby with husband Mike Halterman, and the couple is currently expecting their second child.
Tammy, on the other hand, did not qualify for the procedure and continued to struggle with her weight as well as exhibit "reckless" behavior related to her drinking and smoking.
At the beginning of her rehab stint, Tammy weighed 639 pounds; she reportedly must weight under 400 pounds to qualify for the surgery.
Tammy is also planning to have a second operation on her knee after her weight loss surgery, which will alleviate severe joint pain she has been experiencing. Knee pain–- along with her weight–- has prevented Tammy from being able to walk.
It has not been revealed if Tammy's surgery will be documented for the show, as the future of the Slaton sister's reality series currently remains unknown. Tammy told fans in March that she hadn't begun filming yet and it was "gonna be a while before [Season 4] airs."
As for Amy, she previously told producers she would leave the show if her filming hours were not cut going forward, as she wants to be more available for her growing family.
Amy also stated that she had not been contracted for Season 4 of the TLC show at the time and was waiting for the network to get in touch with her to begin negotiations.
RELATED STORY: "1000-Lb Sisters" Star Tammy Slaton Reportedly Being Released From Rehab Sooner Than Expected; Plans to Write a Book
(Photos: TLC; Instagram; TikTok)