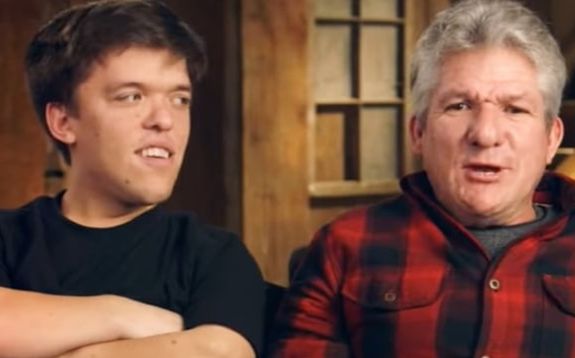 Zach Roloff and his family are moving (and moving on) in this week's episode of Little People, Big World.
In a clip of from Tuesday's episode shared by ET, Zach and his wife Tori settle into their new home in Washington with their children, as Zach reflects on his own childhood growing up on Roloff Farm.
"We're excited for our kids to grow up here," Zach says in the clip of their new home. "The way we got here was not good and, like, actions from other people, I think, weren't right."
Zach's comments were clearly directed at his father, Matt Roloff, who announced last month that 16 of Roloff Farm's 109 acres have been listed on the market for $4 million. At the time of his announcement, Matt seemed to blame Zach and Zach's twin brother Jeremy for not wanting to purchase the 16 acres up for grabs on Roloff Farms themselves.
On Tuesday's episode, Zach admits his children's upbringing will be different than his own, though he says their upbringing wouldn't have been the same regardless if his children were raised on the farm as he and his siblings were. He also reveals he hasn't spoken to his father "much lately."
"But my mom [Amy Roloff], Chris [Amy's husband] and my dad and [his girlfriend] Caryn [Chandler] are all about to go to Arizona," Zach added. "It's a little strange for me, them all hanging out together in Arizona, but I'm staying out of it."
Zach and Tori revealed to fans in October 2021 that they had relocated from Portland, Oregon, to Washington, stating at the time they hope to "never move again."
"We said goodbye to our sweet, cozy, unique, and very green house in Portland yesterday!!" Tori posted in October. "We have had so many beautiful memories in that house including bringing our sweet bean home from the hospital, countless gatherings, and just a whole lot of love."
Like his twin brother, Jeremy recently planted some roots of his own in the wake of the Roloff Farm shakeup, purchasing a farm with wife Audrey.
New episodes of 'Little People, Big World' air Tuesdays on TLC.
RELATED STORY: Jeremy & Audrey Roloff Purchase Their Own Farm Shortly After Matt Roloff Revealed He's Selling the Family Farm
(Photos: TLC; Instagram)