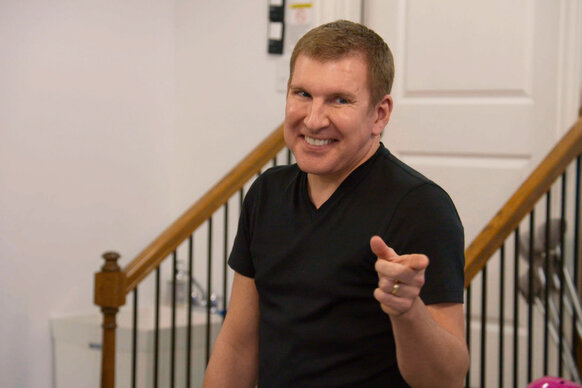 Todd Chrisley is firing back at Angela Johnson, the biological mother of his adopted daughter Chloe, following Angela's recent claims that she is planning to regain custody of the 10-year-old when Todd and wife Julie Chrisley head to prison next month.
As The Ashley has reported, Todd and Julie have had full custody of Chloe-– who is also the biological daughter of Todd's oldest son Kyle Chrisley-– since 2016, and Angela allegedly surrendered her parental rights to Chloe the following year.
Angela has revealed, however, that she plans to regain custody of Chloe when Todd and Julie begin serving their respective prison sentences in January, despite Todd and Julie's 25-year-old daughter Savannah Chrisley claiming that she will be taking custody of Chloe in her parents' absence.
Todd responded to Angela's comments on the latest episode of his Chrisley Confessions podcast, calling it "ironic" that Chloe's biological mother is coming forward now, "when she has not been in [Chloe's] life since 2015."
He then informed his listeners that Angela willingly gave up her rights to Chloe, after she was allegedly a no-show for visitation much of the time.
❤️ my Chloe pic.twitter.com/yupTkiHwuF

— angela johnson (@angej201211) March 31, 2016
"Angela Johnson surrendered parental rights on March 2017 and we never heard from her again," Todd said, adding that he and Julie legally adopted Chloe and "will be the ones who decide, if and when the time comes, as to who will be her caregiver."
While expounding on Angela surrendering her rights to Chloe, Todd said a judge explained to Angela at the time that she had a certain number of days to return to court and rescind her actions and that the judge also asked Angela if anyone had "threatened" her or "promised [her] anything financial" for surrendering her rights to her daughter. (Angela had previously claimed that she was "pushed out" of Chloe's life by the Chrisleys.)
"The answer to all of that is no, and that's in writing," Todd said. "It's in a court document."
Todd said his family is choosing not to post court documents from the case as "they are supposed to be private," though he insists Angela's "rights were terminated" and Chloe "has been legally adopted."
Todd went on to claim that years earlier, he and Julie purchased a condo for Angela (and Chloe, at the time) to live in, as he did not want Chloe to grow up and think that he "allowed her mother to be in the streets." Todd said Angela would have been able to live in the condo until Chloe was 18 years old, at which point "Chloe could've done whatever she wanted to do with it."
The only stipulation, he said, was that Angela pay the $258 monthly HOA fee, which Todd said Angela "would not" do.
Todd also claimed that he had tried to help Angela establish a career.
" … I've given this woman money to go to school for nursing, only to find out she never completed any of it," he added. "She was just using us for the money."
Makes me wanna cry to see how big she is getting I love my baby pic.twitter.com/Ag65IhND1k

— angela johnson (@angej201211) March 13, 2014
Todd claims that back when Angela was sharing custody with him and Julie, the Chrisleys purchased a Toyota Prius for Angela because she did not have a car at the time and needed to be able to meet them every other week to pick up and drop off Chloe. Todd said Angela "wouldn't show up half the time" and wouldn't answer her phone, which is what prompted him and Julie to move forward with the adoption.
Todd reiterated that Angela "terminated her rights voluntarily" and suggested she spend her time and efforts elsewhere.
"What she needs to do is spend more time trying to find a better wig and less time trying to go out here and get more time on the camera," he said.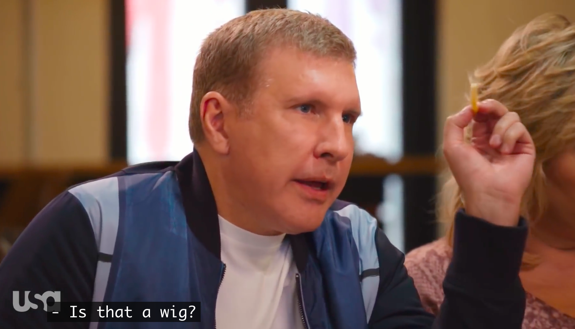 RELATED STORY: Todd & Julie Chrisley Respond to "Misleading Narrative" Created By Chloe Chrisley's Biological Mom Angela Johnson Regarding Custody of Chloe
(Photos: USA Network; Instagram; Twitter)