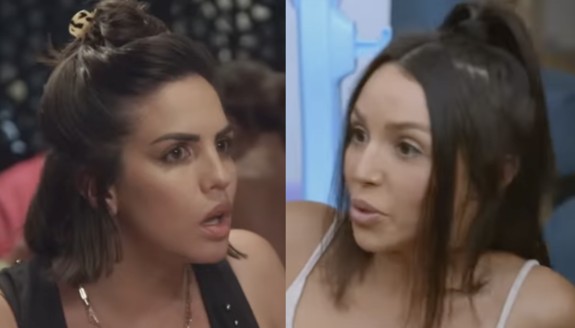 The latest drama to be SURved out of the Vanderpump Rules world feels a bit reminiscent of the early 'VPR' days in that it involves nearly half of the cast.
(However, no one has yet to mention the movie Drive, hire a personal reiki master, or backhand a former bestie. But no worries…it's still early in the season!)
This particular bout of drama ignited on Saturday when Raquel Leviss posted a photo of herself and Tom Schwartz taken at Schwartz & Sandy's–- the restaurant/bar co-owned by Schwartz and Tom Sandoval.
(As The Ashley previously told you, Schwartz and OG 'VPR' star Katie Maloney announced in March 2022 that they had split after five years of marriage and in the Season 10 trailer, it was confirmed that Schwartz decided to move in on Raquel– the former fiance of DJ James Kennedy. (Because things weren't already confusing/incestuous-adjacent enough within the 'VPR' fam.)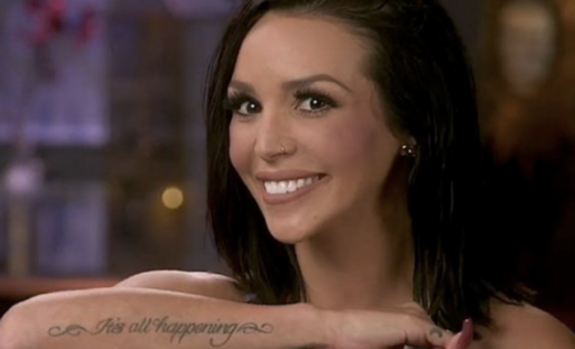 With the showromance between Schwartz and Raquel slated to be a major storyline this season, Raquel stirred the pot o' pumptinis on Saturday by posting a snapshot with Schwartz, along with the caption "Just cause." Unsurprisingly, the post garnered a lot of feedback from fans and 'Vanderpump Stars' alike.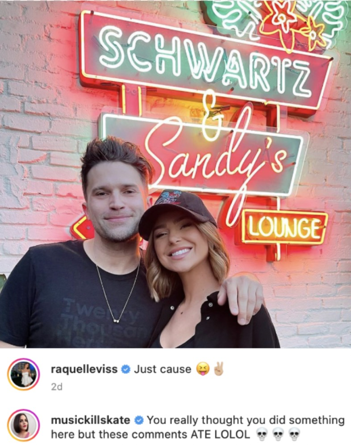 "You really thought you did something here but these comments ATE LOLOL," Katie commented on the post.
Further into the comment section, Katie called Raquel "desperado" and explained that she only responded to the photo of Schwartz and Raquel because so many people had sent it to her that she "couldn't leave it alone."
Even Stassi Schroeder jumped into the drama.
"I know no one asked for my opinion, but it's moments like this I really miss giving it," Stassi wrote in a comment captured by @pumprules.
In a clip from an interview with Entertainment Tonight that was posted earlier this month, Katie revealed that her one post-divorce rule for Schwartz was that he not hookup with anyone from their friend group. After finding out Schwartz did just that, Katie said it made her realize that "under no circumstance" will Schwartz ever respect her. She also elaborated on her post-divorce rule in a comment on the original post, claiming it wasn't a matter of telling Schwartz what to do, but rather creating necessary boundaries.
"I was saying that it would create a toxic environment and he agreed," she wrote. "We had seen it play out in our friend group a million times before."
While Katie claims she was clear about wanting her ex-husband to date people who hadn't been employed by Lisa Vanderpump, Scheana Shay argued that Katie was fully supportive of the idea of Schwartz making Raquel the new Bubba in his life.
In a interview with Page Six's Virtual Reali-Tea, Scheana–- who "disinvited" Katie to her Cancun wedding to second husband Brock Davies in August–- recounted a conversation that took place between her and Katie in Las Vegas after Schwartz and Raquel had been seen making out at Coachella. When discussing the incident, Katie allegedly told Scheana that Schwartz and Raquel "would make a good couple."
" … So I took that and ran with it and told Raquel, 'Katie kind of gives you her blessing if you want to pursue that,'" Scheana said, adding that fans would "see the rest play out" as Season 10 continues.
Katie refuted Scheana's version of the story, claiming on social media that she was only "making light of rumors" when she made that comment to Scheana–- something Katie went on to reiterate when Scheana's divorce from ex-husband Mike Shay was mentioned on Instagram.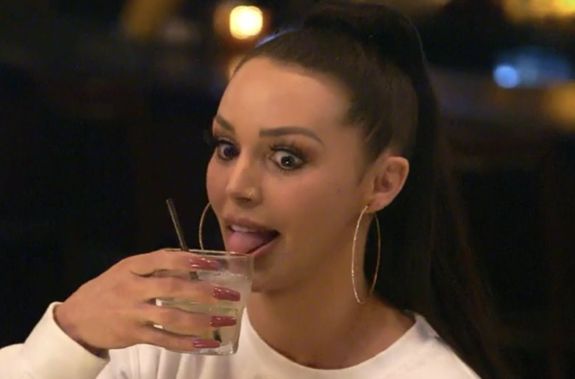 In a post by @cici.loves.you, it was argued that despite how cast members may have felt about Scheana at the time of her divorce, "nobody initiated or facilitated a moment where Mike Shay was pushed towards another girl in the group after their divorce." Katie commented on the post, agreeing with the statement and noting that she was very supportive of Scheana during her divorce from Shay and "wouldn't have dreamed of meddling" the way Scheana has in her split from Schwartz. Katie also said the Vegas conversation between her and Scheana was just "cheeky girl chat."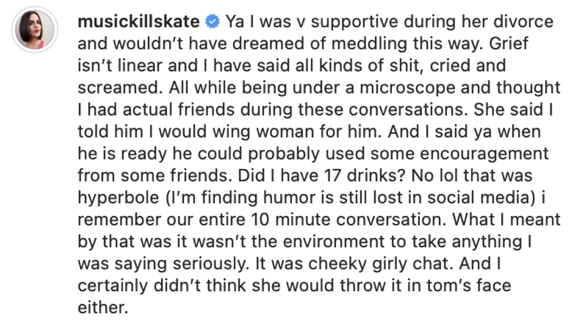 " … [I] thought I had actual friends during these conversations," Katie wrote. "[Scheana] said I told [Tom] I would wing woman for him. And I said ya when he is ready he could probably use some encouragement from some friends. Did I have 17 drinks? No lol that was hyperbole … I remember our entire 10-minute conversation.
"What I meant by that was it wasn't the environment to take anything I was saying seriously," she continued. "It was cheeky girl chat. And I certainly didn't think she would throw it in [T]om's face either."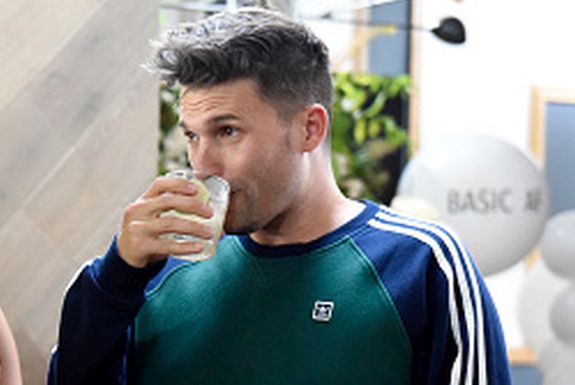 Katie doubled down on Sunday, posting a series of screenshots from a text conversation with Scheana that allegedly took place in May 2022. Within the conversation, Katie clarified to Scheana that while she did want her ex-husband to move on, she didn't need Scheana to help him do so.
"Back in May.. after we spoke in Vegas.. I told Scheana I wasn't down for this shit.. so keep going with this diabolical nonsense..," Katie wrote over the screenshots of the text exchange. "I was pretty clear that I didn't mean or co-sign shit.. so why go through with this?"
Katie also called out Scheana for inviting Schwartz and Raquel to a birthday party in an effort to "lay some ground work" for a potential relationship between the two. Meanwhile, Katie didn't receive an invite.
New episodes of 'Vanderpump Rules' air Wednesdays on Bravo.
RELATED STORY: Katie Maloney Reacts to Ex-Husband Tom Schwartz Hooking Up With Raquel Leviss On Upcoming Season of 'Vanderpump Rules': Watch the Season 10 Trailer
(Photos: Bravo; Instagram)