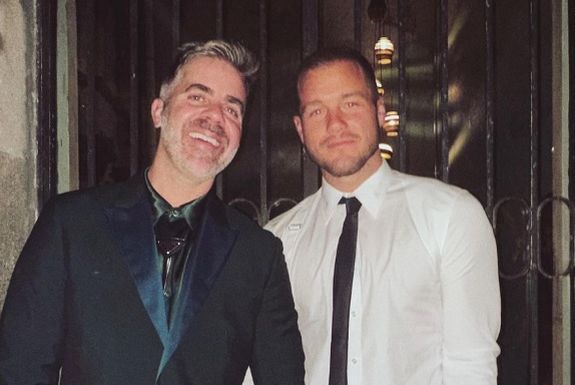 Colton Underwood is no longer a bachelor!
The reality TV star tied the knot on Saturday, marrying his fiancé Jordan C. Brown in Napa Valley, California, in front of 200 guests— including former Bachelor franchise host Chris Harrison. Colton's nuptials occurred two years after he publicly came out as gay in a surprising Good Morning America interview in April 2021.
"The Brown-Underwoods May 13th 2023," Colton– who, in addition to being a 'Bachelor' lead also starred on his own Netflix reality show Coming Out Colton— wrote in the caption of a wedding photo posted to Instagram on Monday.
View this post on Instagram
Colton and Jordan's wedding took place outside, with the grooms walking down the aisle together. The ceremony was followed by a reception that included a first dance to Gabby Barrett's song "The Good Ones."
"We love it," Colton told People of the song. "It's just one of those songs that both remind us of each other and special to us."
The wedding weekend also included a disco-themed pool party and other special events.
"We wanted to break some of the traditional norms of what a ceremony and a wedding look like," Colton told the magazine. "And for the entire weekend, we recognize that a lot of people attending, both of our families and some of our friends, this will be their first queer wedding. We really want to make it special."
Chris Harrison— who hosted Colton's season of 'The Bachelor' in 2019— joked on Instagram that he finally fulfilled his goal of getting Colton married.
"Like I said at the wedding I finally completed my job!" Chris wrote, to which Colton replied, "Mission Complete!"
View this post on Instagram
As fans know, Colton chose Cassie Randolph at the end of his 'Bachelor' season. Although the couple went on to date for awhile after the show, things ended badly, with Cassie eventually filing a restraining order against Colton. (It was dropped in November 2020.)
When Colton came out as gay in April 2021, Cassie was shocked and later stated that it was "horrible" that she found out when the public did.
During his 'GMA' interview, Colton apologized to Cassie— and the other women who appeared on his season— for not being honest with them about his sexuality.
"Do I regret being the Bachelor and do I regret handling it the way I did? I do. I do think I could have handled it better," he said. "I just wish I wouldn't have dragged people into my own mess of figuring out who I was. I genuinely mean that…
"I'd like to say sorry [to Cassie] for how things ended," Colton said. "I messed up. I made a lot of bad choices."
He confirmed that, despite being gay, he was in love with Cassie.
View this post on Instagram
"That only made it harder and more confusing," he said. "I loved everything about her…but I obviously had an internal fight going on…I'm sorry for any emotional pain and stress I caused [her]…I wish I would have been courageous enough to fix myself before I broke anybody else."
Colton met Jordan in April 2021. Ten months later, Jordan proposed to Colton.
"I've never been more sure about something," Colton told People of marrying Jordan. "He has the biggest heart and he's such a good friend to all of the people in his life. He goes out of his way to take care of his friends and his family. That speaks volumes. It was one of the first things that I noticed about him."
Colton posted a video montage of wedding photos on Monday, captioning it, "Peace. What a wild few years leading to the most perfect weekend with our friends and families. Thank you for the love and support."
View this post on Instagram
RELATED STORY: Former Bachelor Juan Pablo Galavis Blasts Mike Fleiss After It's Revealed 'Bachelor' Creator is Leaving Franchise Due to Racial Discrimination Investigation
(Photos: Instagram)