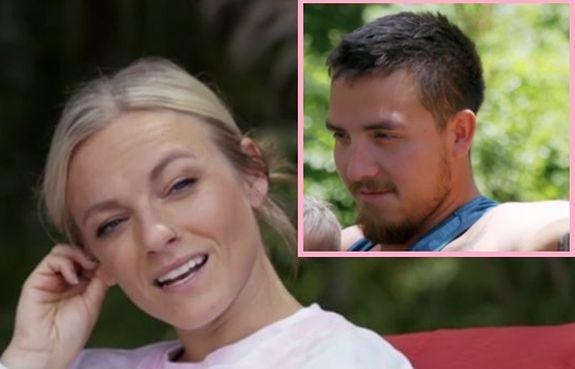 Mackenzie McKee is getting honest about her ex-husband Josh removing himself from their three kids' lives.
The former Teen Mom OG star recently opened up about the state of Josh's relationship with his kids. Mackenzie's Instagram post from this week shows Mack and Josh's oldest son, Gannon, graduating from elementary school. While Mack and her boyfriend Khessy Hall posed for pics with Gannon at his graduation, fans noticed that Josh was nowhere to be seen in the photos.
Mackenzie responded, confirming that Josh did not show up for Gannon's big day, while also revealing that she can't even get him to answer any of her messages regarding their kids.
View this post on Instagram
"Damn, Josh didn't even show up?" someone wrote in the comment section.
"He wasn't here," Mack replied. "Probably didn't even know he graduated. But I do tell him anything that's happening with no reply just to continue to do what's right."
In addition to Gannon, Josh and Mackenzie also share daughter Jaxie and son Broncs. After Josh and Mackenzie split in 2022, it appears that Josh went M.I.A. in his kids' lives. Back in March, Mackenzie told fans that her failed rodeoin' ex-husband has basically left their three kids behind and that it had been unnecessary to work out a custody plan with Josh, as she hadn't even been able to get in contact with him.
"Can't even reach him," Mack responded. "Wish him well though."
As The Ashley previously reported, Josh has been keeping himself busy dating, pumping iron and making extremely corny "inspirational" videos for The 'Gram. In the comment section of his most-recent Instagram thirst-trap post, though, fans began to slam him for seemingly ditching his kids.

"Your son graduated middle school the other day…glad the gym was open though.." one person wrote in the comments.
"Bro call your son," another person commented.
The Instagram page @TeenMomFanz recently interviewed Josh's ex-girlfriend, Brooke, who reportedly claimed Josh is "furious about" Mack's relationship with Khessy, and that he has not seen or spoken to his kids for months.
"Josh has not been in contact with his children and hasn't seen them in several months due to the relationship [of Mack and Khessy]!" @TeenMomFanz stated, sourcing Josh's ex. "Josh is even ignoring Mackenzie's messages to him, which is 'always about the kids and their activities, and nothing more.'"
Josh has not yet responded to Mackenzie's claims.
RELATED STORY: 'Teen Mom' News Pile: Kail Lowry & Vee Torres Say They'd Return to Reality TV; Farrah Abraham Says She's a Paralegal & More
(Photos: Instagram; MTV)