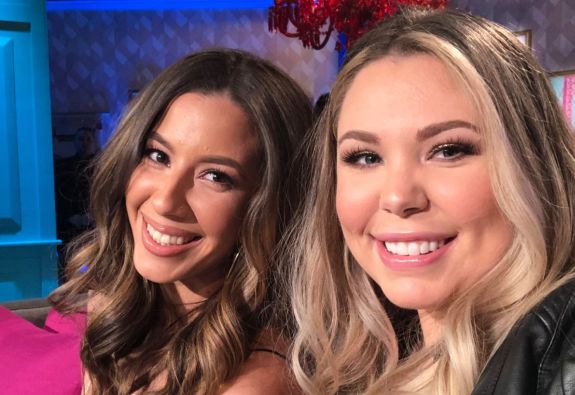 From eyeing more reality TV to eating flowers, it's been another busy week for the stars/former stars of the Teen Mom franchise! In an effort to bring you up-to-date on the latest Teen Mom: The Next Chapter, Teen Mom OG and Teen Mom 2 news, The Ashley brings you the Teen Mom News Pile.
Here are some of the major (and minor but interesting) 'Teen Mom'-related things that happened over the last few days…
Kail Lowry and Vee Torres are Interested in Doing a Reality TV Show Together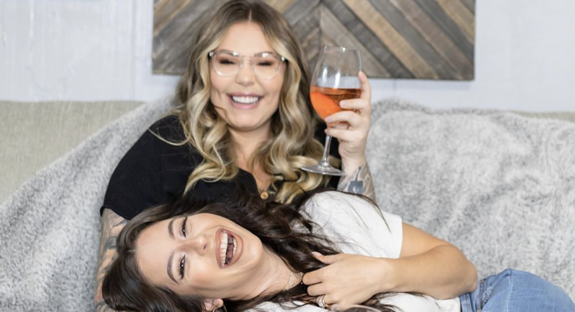 Former 'Teen Mom 2' star Kail Lowry and Vee Torres–- the wife of Kail's ex and (first) baby daddy, Jo Rivera–- have expressed interest in returning to reality TV, but don't expect to see the Baby Mamas No Drama podcast co-hosts schlepping it back to the 'Teen Mom' franchise.
"I think I'm done with reality TV for now," Vee told The Sun in a new interview. "Unless it was for the podcast, then I'd be down."
Vee went on to say that she and Kail have "definitely" discussed the idea.
"If we could, like, do more of what we wanted to do, I think that's something that we would like, if we could have a little more control," she said. "I would love for it to focus more on us as moms who are just entrepreneurs and things that we do with our kids."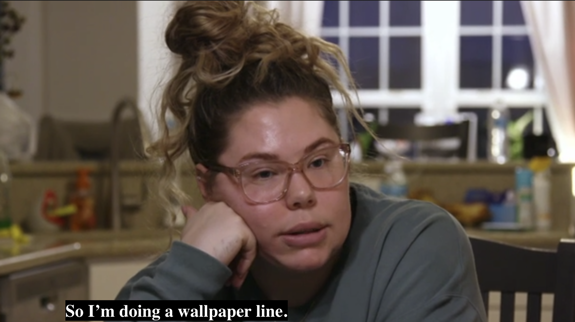 Ideally, Vee said, the show would be family-oriented, fun and light on the drama. She also discussed the possibility of filming a series for YouTube or Snapchat.
Vee said it would be a "dream" for her and Kail to launch their own show and they hope "it could come to fruition one day."
In addition to the podcast she co-hosts with Vee, Kail hosts the Barely Famous podcast and co-hosts Coffee Convos with Lindsie Chrisley. She is also the creator of the KILLR Podcast Network, which she launched in September 2021 to help other people start podcasts of their own.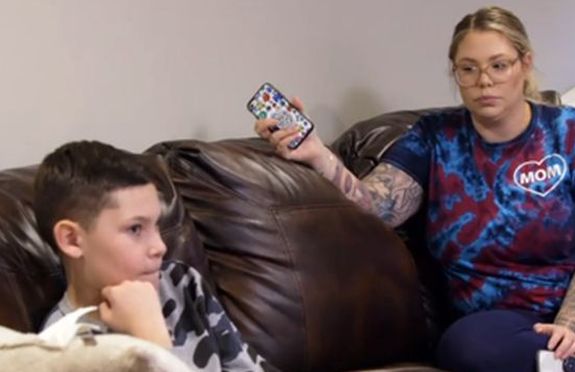 Kail said in February that she was open to returning to reality TV and feels she's interesting to watch– especially if a show were to focus on her work in the podcasting world.
"I do think that I have proved that I have the capability to be on a reality show and be interesting enough for people to watch," she said. "I think people would be very interested to see the dynamic behind the scenes of podcasting, especially when it's really saturated and people don't like each other.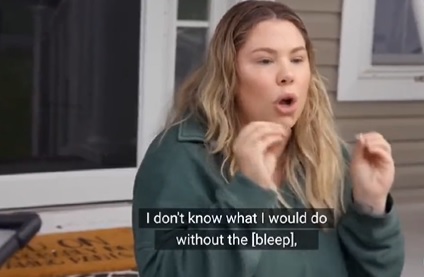 "There's a lot of cattiness that people don't realize, and so I think that would be a really interesting show," she added.
Farrah Abraham Claims to Be a Paralegal Now; Talks About the "Challenging Legalities" She Has Due to Her Being a "Celebrity"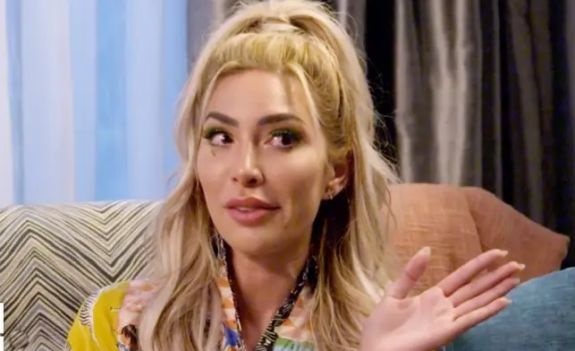 File this one under: "More Farrah What-the-F**kery."
Farrah is still determined to foist herself into the legal world…or, at the very least, make it appear that she has.
The Backdoor Teen Mom took to social media recently to take a swipe at aspiring lawyer Kim Kardashian, while also bragging about legal work she claims to have done.
The Big F— who, as The Ashley has previously told you, has aspirations to become a lawyer— now claims to be a paralegal who has been breaking her back(door) to give free legal help to…someone.
Or something.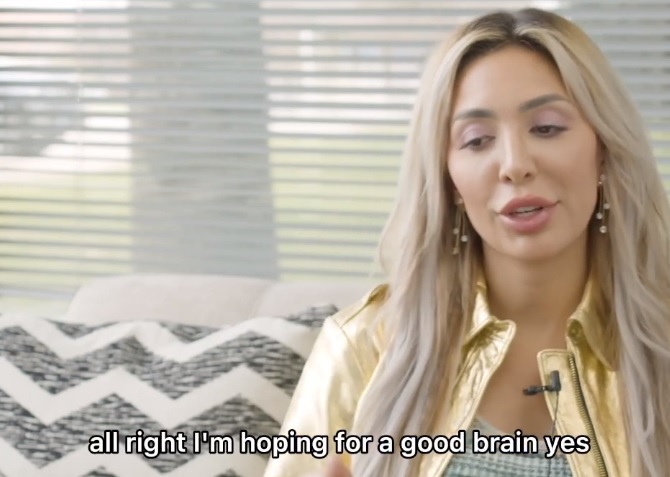 After People posted a story about Kim K paying off the legal fees of more than 50 moms involved in court cases, Farrah naturally had to make it about herself. She reposted the story and gave Kim some "advice," all while bragging about now having a "top credited" paralegal certificate. (As always, The Ashley has not edited Farrah's words at all, in hopes of preserving the authentic "Farrah Speak.")
"The smarter thing would have been to excuse the fees & clear the moms record," Farrah wrote to Kim. (Obviously Kim has no capability of excusing the legal fees the women incurred from legal professionals or the courts, nor does she have the ability to clear someone's legal record.)
"Kim's part in law allows women to keep paying a price they shouldn't pay," Farrah said before bringing on the "humble" brag.
"I'm glad I at least have a top credited paralegal certificate to know this much," she wrote. "(Congrats to the mothers who didn't know any better) you deserve far better assistance."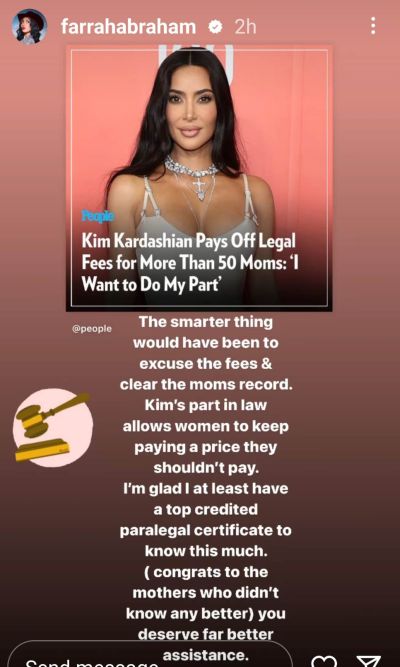 And, naturally, Farrah feels the "far better assistance" will come from her.
In another post to Instagram Stories, Farrah claimed to be already helping out people legally, all while dealing with "challenging legalities" of her own that have come because she's so famous and all.
"My probono work consists of clearing records and excusing fees, as I am going through challenging legalities due to my celebrity," Farrah wrote. "I truly know what mothers and fathers need to set them up for future opportunities."
She then signed the post "-Farrah Abraham PARALEGAL."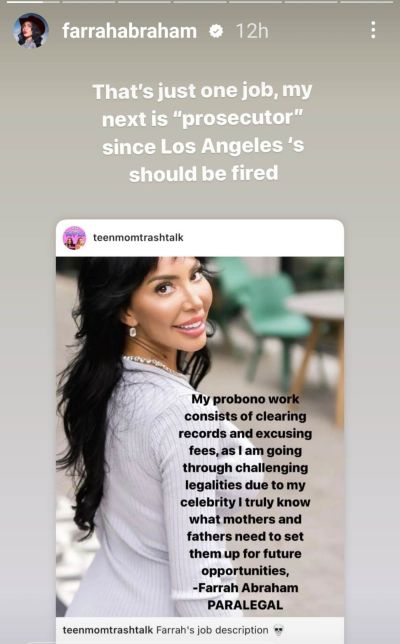 A gander at Farrah's LinkedIn page (which, honestly, is a treat in itself), now shows that Farrah claims to have obtained her "Paralegal Certification Paralegal Satisfactory Completion" (whatever that is) from the University of Texas at Austin in 2023. She also claims to be a member of the National Federation of Paralegal Association.
For her skills, she lists, "Legal writing, Civil Law, Tort Law, Contract Law, skills for paralegals." (As you do…)
(Of course, her LinkedIn also states that she has a Masters Degree from Harvard University. In case you missed it, Farrah took an online class at Harvard and got kicked out. However, she now claims she has a Masters from there so…)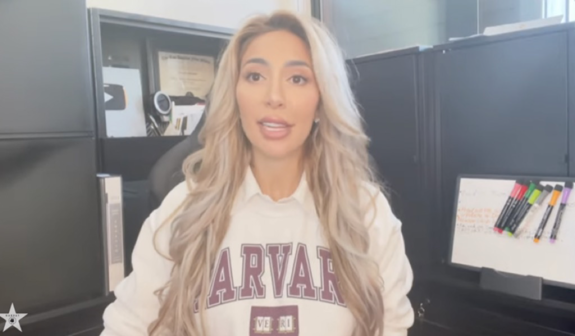 Farrah was— per law— not thrilled that her followers were not taking her claims of legal accomplishment seriously. The next day she added, "That's just one job. My next is 'prosecutor' since Los Angeles's should be fired."
As The Ashley has previously reported, Farrah's "challenging legalities" due to her "celebrity" started last January when she was held face-down in the dirt on a Los Angeles sidewalk after allegedly hitting a security guard outside of a club. She was arrested and, in June 2022, officially charged with Simple Battery and Battery Upon a Police Officer/Security Officer.
The case is ongoing, with Farrah's most-recent pre-trial hearing being held last week.
Kail Lowry Says She's Blocked on Her Baby Daddy Chris Lopez's Cash App For Requesting Money Too Often; Praises Boyfriend Elijah Scott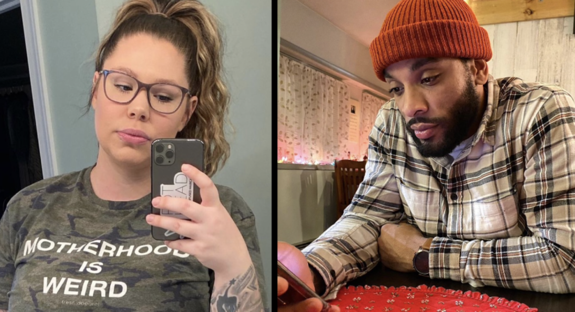 Kail may be getting along better with her third baby daddy, Chris, these days, but things between Kail and Chris' wallet are still bad.
During the most-recent episode of her Coffee Convos podcast, Kail revealed that Chris is not paying her child support for Lux and Creed, the two sons they share. She also revealed that she's asked Chris for money so many times, that he's actually blocked her on Cash App.
"He doesn't pay child support that he's supposed to pay," she said, adding that Chris also doesn't contribute to their kids' activities.
"He never offers to pay excess bills. He won't pay, he won't Cash App. I'm actually blocked on his Cash App for requesting [payment] too many times," Kail said.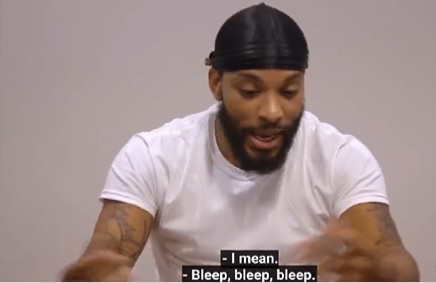 She went on to say that Chris is currently court-ordered to cover 50 percent of the kids' medical costs.
Kail then praised her live-in lover, Elijah, for willingly helping her with all of her kids.
"He will willingly help me with the kids so I can sleep and I don't feel that he holds it over my head or is resentful…and these are not his kids," Kail added. "He didn't choose this but he helps so much."
(Rumors have swirled for months that Kail actually welcomed a fifth child who was fathered by Elijah. However, Kail and Elijah have never confirmed these rumors.)
Kail stated that, while she is happy to take some parenting help from Elijah, she does not take money from him for her kids.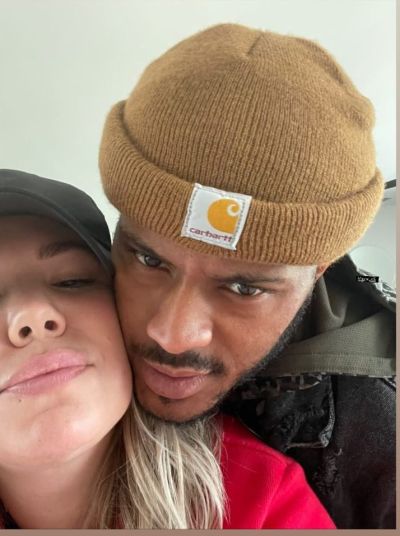 "I don't ask Elijah to contribute financially for anything regarding my children," Kail said before insinuating again that Chris doesn't contribute financially to his kids. "Especially for Lux and Creed that is solely, 100 percent my responsibility."
As The Ashley reported last month, Kail stated on her podcast that she was currently getting along with Chris– as well as her other baby daddies Jo Rivera and Javi Marroquin. Her improved co-parenting with Chris came after she pleaded with him to end their feud.
"I saw him at the football game and I'm like, 'Please, let's just do a truce. Whatever it's going to take to do what we have to do for these f**king kids. I love these kids, you love these kids, so please let's do a truce.' We've been getting along this week," Kail said in April.
Debz OG Dances & Eats Pansies on TikTok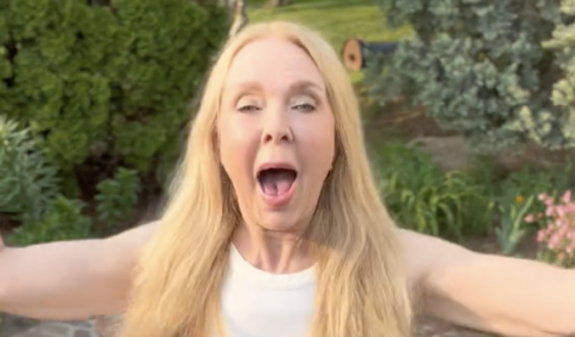 Former 'Teen Mom' granny/hip-hop legend (in her own mind) Debra "Debz OG" Danielsen took to TikTok recently to show off her super sick dance moves— while munching on some of the finest offerings from the local garden center.
"Eat pansies!" Debra captioned her, um…unique TikTok. "Deliciousness."
In the video, Farrah Abraham's mom could be seen dancing and twirling–- to her own song, "White Woman's Rap," natch–- while holding a pot of pansies. She then proceeds to pick off a few of the flowers and pop them into her mouth (as you do).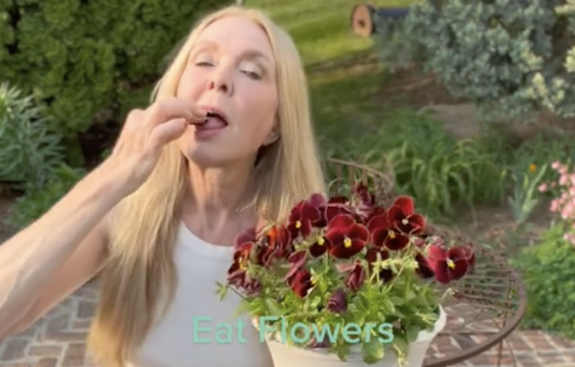 Debz OG's foray into floral foods was met with some confusion, including numerous comments asking the gift that keeps on giving her, "Wtf?"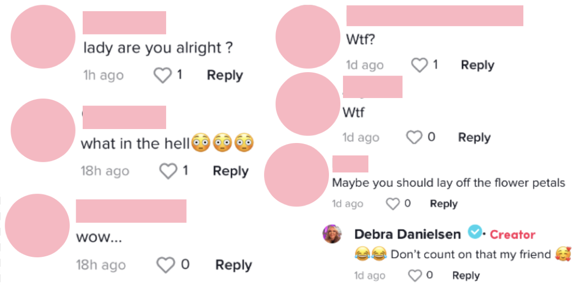 "Lady are you alright?" one person asked.
"What in the hell," begged another.
"Maybe you should lay off the flower petals," someone suggested, to which Debra replied, "Don't count on that my friend."
While the confused comments were certainly entertaining, our favorite has to be the one asking, "Where's Farrah?"– specifically Deb's response.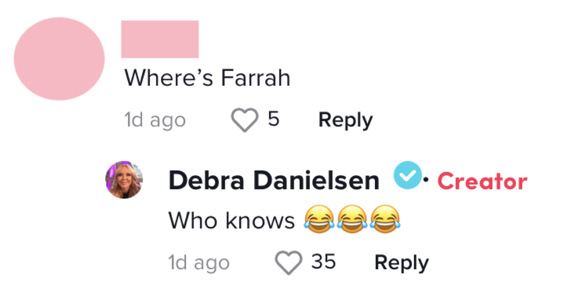 "Who knows," she wrote, along with a series of laugh crying emojis.
Check out Debz OG's puzzling pansy production below.
To catch up on more recent 'Teen Mom' news, click here!
(Photos: MTV; Instagram)