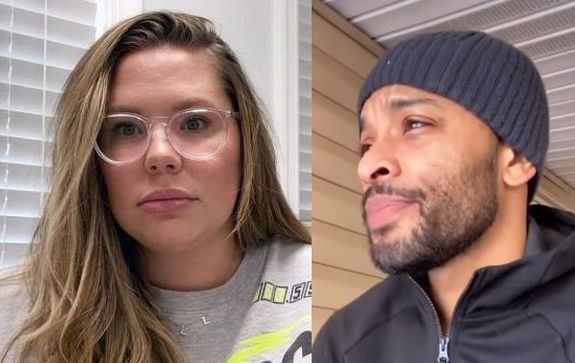 Kail Lowry and her baby daddy Chris Lopez are once again battling over the hair of their son, but Part III of "The Great Haircut Caper" brought Chris spilling the beans of the former Teen Mom 2 star's "secret" baby— and Jenelle Evans randomly throwing her two cents into the chat.
As The Ashley has previously reported, rumors were circulating last year that Kail was pregnant by her boyfriend Elijah Scott. Kail– who already has four sons— stayed relatively quiet about the pregnancy rumors, although she did deny that she was pregnant on multiple occasions. In December (one month after fans claimed Kail gave birth to Baby No. 5), she slammed the "trolls" whom she claimed were obsessed with proving that she had another baby.
While Kail has kept mum on the (alleged) baby, the same cannot be said about her baby daddy, Chris. On Tuesday— after getting into a messy fight on social media earlier that week— Chris posted a comment to the Teen Mom Chatter Instagram page, seemingly confirming that Kail did, indeed, recently have another baby.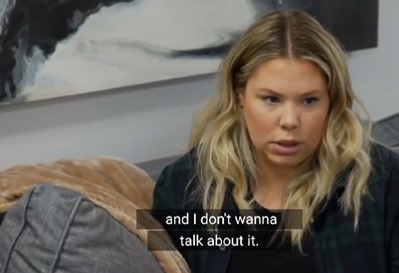 (On Wednesday, a source close to Kail reportedly confirmed to The Sun that Kail did welcome a baby— another boy!— with Elijah on November 20.)
The Ashley is going to do her best to summarize the week's events….
Things got messy (well…messier) between Kail and Chris— who share sons Lux and Creed—after Kail took to Instagram Live to announce that Chris had once again cut Lux's long hair without her knowledge or permission.
(As 'Teen Mom' fans may remember, this is the third time that Chris has taken the scissors to one of their sons' hair. In 2020, he cut Lux's long hair and that incident— which The Ashley calls The Great Haircut Caper (Part I)– led to legal issues for Kail. The Great Haircut Caper (Part II) occurred in February 2022 when Chris cut off Creed's curls.)
View this post on Instagram
Anyway, after Kail called Chris out for chopping Lux's hair again, Chris hopped on social media to defend himself. In a Live, Chris said that Kail doesn't maintain Lux's long hair properly, so he decided to take the scissors to it.
After that, Kail hopped on one of Chris' Lives to provide commentary of her own.
"He didn't want his hair cut," Kail wrote in the comment section of Chris' Live. "Chris wanted to do it to hurt me. Not for Lux…cut your own hair bro. Shape your own beard.
"You're the one with a problem," she wrote, after stating that Lux's hair was clean and maintained. "Holding haircuts over my head."
Chris responded to a few of Kail's comments, stating that he wishes their fights could be kept off of social media.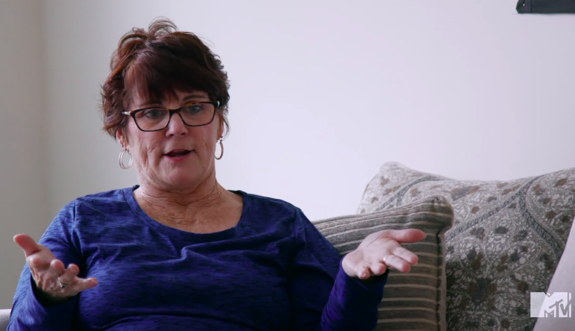 "You wanna talk about me cutting Lux's hair as if you don't have another storyline you can talk about but you won't, right?" Chris wrote in the comment section, seemingly hinting that the "storyline" in question is Kail having a fifth child.
Chris then commented on a post on the Teen Mom Chatter Instagram page about his fight with Kail. It was there that he dropped the baby bomb.
"I'm done bro…you claim to be so real, so raw but yet you got a whole newborn you should be focused on and yet you['re] trying to create unnecessary drama to cover up that FACT," Chris wrote.
"At this point it ain't about the kids…she doin' to[o] much… on here and behind the scenes…running to the Internet for validation because her fans enable her behavior," Chris wrote.
View this post on Instagram
Chris also slammed Kail for calling him out publicly for taking his kids to school late, even though she allowed Lux to miss school the next day so she could take him to the hair salon to fix Chris' chop.
Chris later "pulled a Kail" and jumped on a Live Kail was doing, insisting he was telling the truth about Kail having a fifth baby.
"I'm not lying about a child tho," Chris wrote using his podcast's Instagram account.
Kail has not yet responded to Chris' baby comments. However— randomly— Jenelle Evans did. As 'Teen Mom' fans know, Kail and Jenelle have been feuding for years. After Jenelle claimed that she felt Kail was "shading" her, she took to TikTok to post a video of herself gleefully stating that, "I see the shade. I hope Chris cuts your son's hair over and over again!"
View this post on Instagram
Jenelle's video didn't go over well and garnered her a lot of hate so she took it down and, later, even denied that she ever said it (even though numerous 'Teen Mom' Instagram pages had posted her video to their pages.)
"I said her baby daddy should keep her child's hair tame?" Jenelle wrote in a comment to a person who criticized her for saying that about Lux. "OK sure. I'm sooo wrong for that."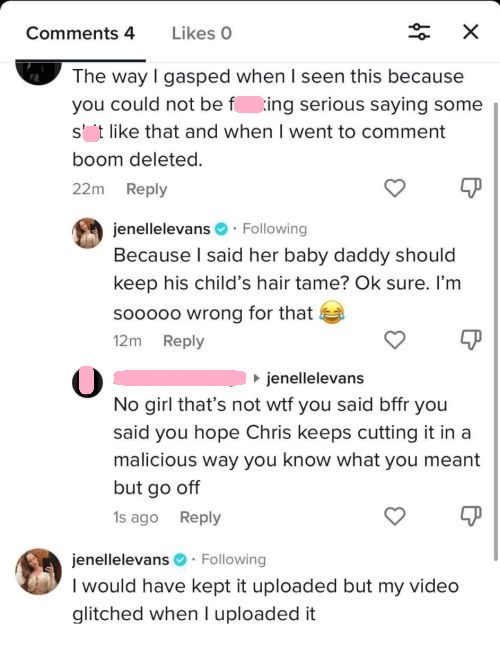 "No girl, that's not wtf you said," the person responded. "You said you hope Chris keeps cutting it in a malicious way. You know what you meant but go off…"
The Ashley will update this story when more info becomes available.
RELATED STORY: Kail Lowry Talks About How Her Time on 'Teen Mom 2' Has Affected Her Career; Says She Wants to Do a Reality Show About Podcasting