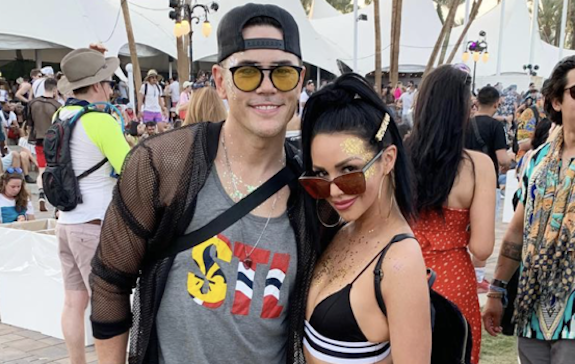 The cast of Vanderpump Rules recently began filming for Season 11 and, according to Scheana Shay, things have gotten off to an emotional start.
While one would assume that it would be hard–- if not impossible-– to top the emotion of Season 10's Scandoval, Scheana revealed this week on her Amazon Live that Season 11's cast trip to Lake Tahoe may have done just that.
Scheana revealed that while Ariana Madix and Katie Maloney did not attend the Lake Tahoe festivities, Ariana's ex-boyfriend Tom Sandoval did, resulting in a particularly "emotionally draining day" on set.
" … There was one day [that was] beyond the most emotionally draining day I have ever had in 11 seasons of 'Vanderpump Rules,'" Scheana said.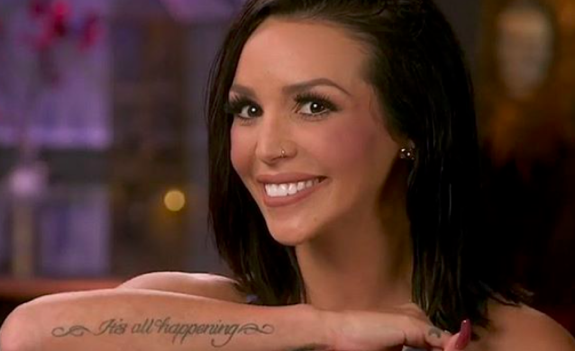 Scheana claimed she cried so much during that fateful day of filming last week that her "eyelashes hurt" and she was left feeling "weak in every way possible."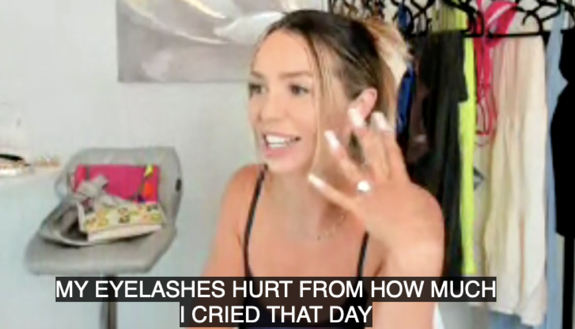 Later in her Amazon Live, Scheana revealed that the "emotionally draining" experience went down last Wednesday when the cast filmed a "spiritual meditation healing sort of thing," in which she was unexpectedly paired up with Sandoval. She explained that while she assumed she would be partnered up with her husband, Brock Davies, for the activity, Brock decided to go golfing instead, leaving Scheana to be paired up with public enemy number one Sandoval.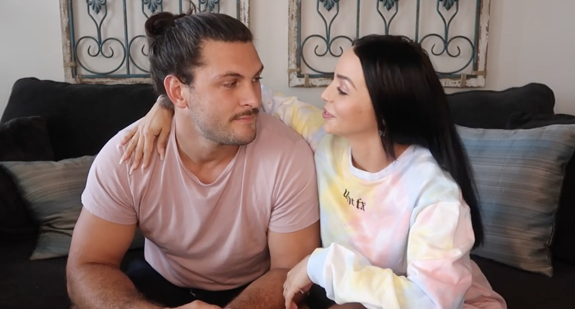 Scheana called the experience "very uncomfortable," though she assured fans it will "make good TV," if nothing else.
She also addressed rumors that she and Sandoval are on good terms now, insisting that she remains loyal to her BFF Ariana.
" … I had a very long friendship with Sandoval so it's been hard and I know people say I'm a flip-flopper, but I am very much still Team Ariana," she said.
As for whether or not Sandoval has turned Season 11 into an apology tour, Brock neither confirmed nor denied, only telling fans, "It's going to be a long summer."
"Well, that doesn't really answer [the question]," Scheana added. "But yeah, I'll say it again, Wednesday was a very long day. There's a lot going on in this group."
According to Scheana, the trip to Lake Tahoe won't be the only time the 'Vanderpump Rules' crew will travel together this season.
"Cast trip number one is done, I hear there is going to be another one, possibly out of the U.S.," she said. "[I] don't know if everyone is coming or just some people are. Nothing is confirmed yet."
Back in May, Scheana called the emotional conversation she had with Sandoval post-Scandoval, which ended up being the last scene of Season 10, the "hardest scene I've ever filmed in 10 years." At the time, she revealed that the scene with Sandoval was even more difficult than any of the scenes she had to film about her divorce from ex-husband Mike Shay.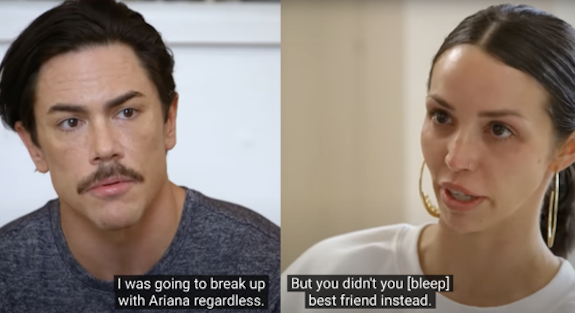 "This conversation [with Sandoval], going into it, I've never had so much anxiety," she recalled. "I had no idea how it was going to go. I'm like, 'How do we end this conversation? I'm not hugging him. Either I'm going to tell him to leave or I'm going to leave,' and at the end of it, I was just so sad.
"Like, [Sandoval and Raquel] broke my heart, too," she added.
RELATED STORY: UPDATE! 'Vanderpump Rules' Star Raquel Leviss' Mom Denies Rachel Ditched Her Dog At A Shelter; Confirms Vanderpump Dogs Rescue Helped Reunite Graham With James Kennedy
(Photos: Instagram; Bravo; Amazon Live)