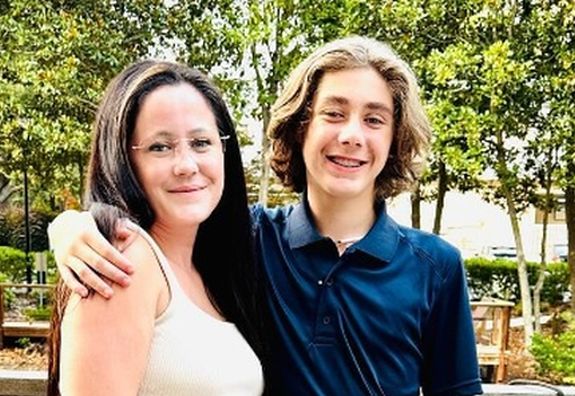 UPDATE: Jace has been found safe!
Jenelle Evans' 14-year-old son Jace has been reported missing.
Jace— who grew up on Teen Mom 2— was listed as a runaway on Tuesday. The Brunswick County, North Carolina, Sherriff's Office put out an alert out on its social media pages, urging anyone who sees Jace to call 911.
"BCSO Deputies Searching for Runaway Juvenile, Jace Evans," a post on the BCSO Facebook page reads, adding that Jace was last seen leaving his school in Leland, North Carolina, around 2:45 p.m. EST on Tuesday.
TMZ broke the story, adding that they had contacted Jenelle's mother, Barbara Evans for more information. As The Ashley previously reported, Jenelle finally regained custody of Jace from Barbara in March. Barbara had raised the boy since he was born, but after a years-long custody battle with Jenelle, agreed to give her custody of Jace. (As The Ashley previously reported, though, the decision was mainly due to the fact that Barbara could no longer handle Jace, according to The Ashley's sources.)
TMZ reported that Barbara said she spoke to Jace on Monday night, and all appeared to be OK. (As The Ashley told you, things on The Land have been pretty terrible over the last week or so, with Jenelle and her husband David Eason fighting and taking their battle to social media.)
Barb also claimed that she called Jenelle on Tuesday (before Jace was reported missing), but Jenelle didn't want to talk to her.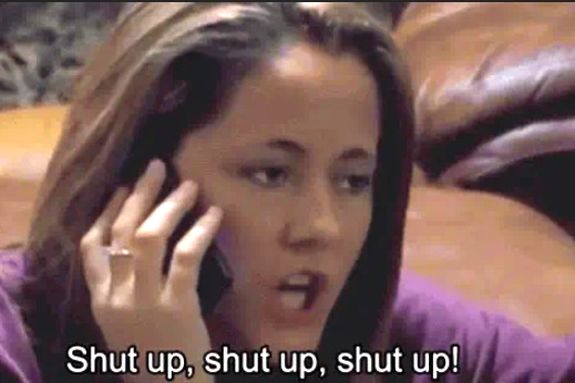 In a statement to TMZ, Jenelle said that Jace only ran away because he got in trouble.
"As a boy mom, kids can act up and rebel as I'm sure the majority of us all once did as kids too. Jace, got in trouble at school, we decided to take his phone away and that's when he decided to run off," she told the site. "Jace is a good kid and we're not dealing with anything that most families don't deal with while raising children.
She also insisted that Jace taking off wasn't due to her and David fighting on The Land in front of him.
"This has absolutely nothing to do with my situation with David, we do not argue in front of our children or fight in front of our kids," Jenelle said.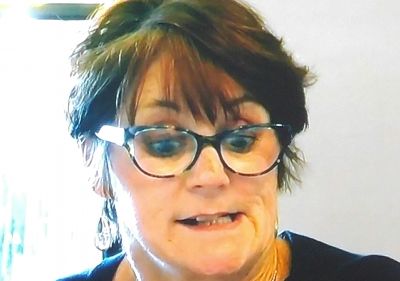 "This is a teenage boy being a teenager mad that we decided to take his phone away."
After Jace was located, David took to social media to insist that he did try to find the lad.
"Jace is fine, he has been found, everyone needs to calm down!" David wrote. "I was the first one looking for him so get off my case!"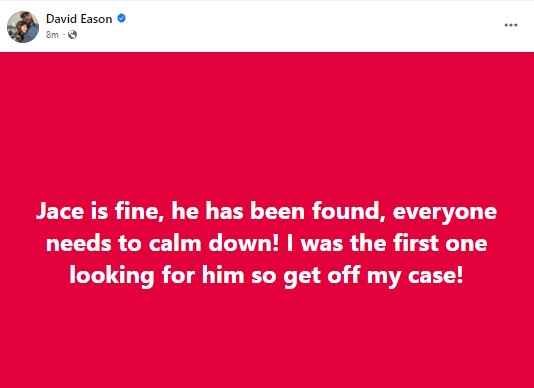 The Ashley's sources tell her that this is not the first time Jace has left since moving in with Jenelle. There was at least one more instance, as well as several when he lived with Barbara.
The Ashley will update this story when more info is available. Stay tuned.
UPDATE! David just posted a rant to Instagram regarding Jace.
You want to come on here assuming all kinds of S**t about Jace… I've been out here running through the f**king woods for two-and-a-half hours trying to find him… I almost had a f**king heat stroke trying to find this kid. You know what they told me? 'Go home, we have drones, we have helicopters, we have dogs, we have ATVs, dirt bikes, we're gonna find him.' They told me to go home and make sure he doesn't walk in the door…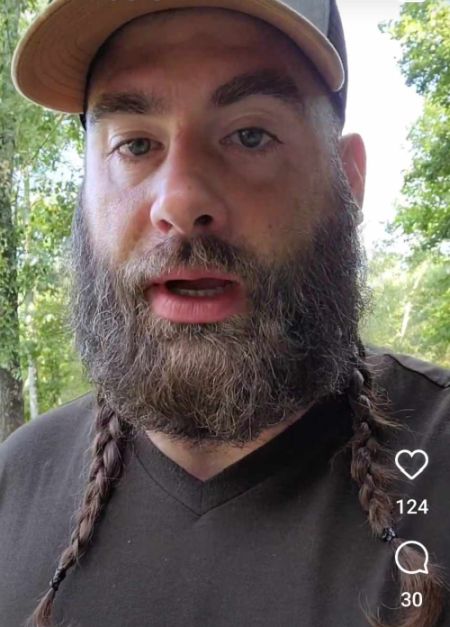 "I'm the first one that ran after his ass to try to find him…Don't come on here trying to tell me what the f**k you think is going on. Please. I do all the f**king work around here, I take care of everything around here, and if you think I don't just because of something someone might tell you when they're mad, you're f**king WRONG.
"And if you think you can assume some shit just because an article you seen because Barbara goes on the Internet saying something. She don't even know what the f**k she's talking about," David added. "You can't f**king take Barbara's word for it, she's selling articles for money. Gotta pay for your retirement somehow."
RELATED STORY: The Fight Continues! Former 'Teen Mom 2' Star Jenelle Evans Accuses Husband David Eason of Stealing Her Debit Cards; Vows to Start Selling His Things
(Photos: Facebook; MTV; Instagram)