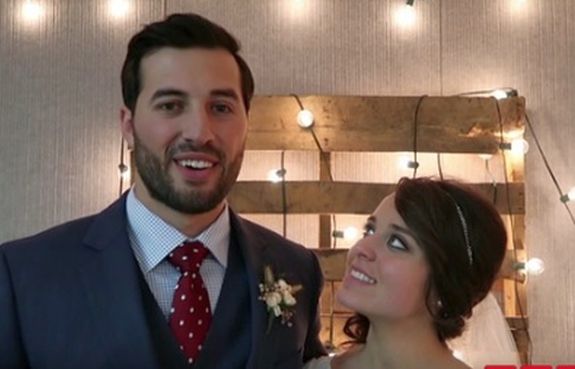 Jinger Duggar married Jeremy Vuolo last weekend (as you Roundupers know), but the Counting On star has just revealed some interesting wedding details to People magazine.
Jinger, who is currently on her honeymoon with Jeremy getting some much-anticipated lovin', told the magazine all about her nuptials, and revealed what it was like to have her very first kiss in front of 1,000+ people.
"I wasn't nervous at all," Jinger said.
Like her siblings Josh, Jessa and Jill before her, Jinger waited until her wedding day to have her very first kiss. She told People that she basically pounced on Jeremy as soon as they officially became husband and wife.
"I couldn't wait for it. It's like he couldn't say it soon enough," Jinger said. (It's no surprise that Jinger was eager to get to smoochin'. After all, she and Jeremy have looked like they have barely been able to keep their hands off each other since he started making appearances on 'Counting On!')
"I told the girls I need the bridesmaids to enter behind me because I thought I would collapse when I saw [Jeremy]," Jinger added. "I just could not wait to get to him."
The magazine stated that Jinger and Jeremy "enjoyed a few moments alone" before joining their guests at the reception. (Get it girl!)
People also had all of the wedding details, including info on Jinger's dress and reception.
Dress:  Jinger said "I do" wearing a hand-beaded lace gown with a 13-foot train. She wore multi-colored high heels under her white gown.
Wedding Party:  Jinger's 10 bridesmaids wore a sleeved lace gown in a variety of colors (including red, burgundy, brown, beige and lilac) instead of all of them wearing matching gowns. It appears that, for the first time in a Duggar wedding, 11-year-old Johannah Duggar was included as a bridemaid. She was pictured wearing the same bridesmaid gown as her older sisters Jill, Jana and Jessa, and sister-in-law Anna.
Josh and Anna Duggar's son, Michael, was the ring bearer.
Reception:  The decor for the couple's wedding reception was done in olive, burnt orange and eggplant, according to People.
"The idea was to bring the outdoors in," the event planner Christina Moore told the magazine. "Jinger really loves the fall landscape and colors."
Food:  Wedding guests chowed down on meatballs, pickled okra, cheese and crackers, as well as a "naked" wedding cake (which is basically just a fancy way of saying "unfrosted").
Who Was There:  Disgraced Duggar Josh made an appearance at the wedding, alongside his wife Anna. He was joined by his other 18 siblings.
Who Wasn't There:  Surprisingly, Cousin Amy Duggar did not attend Jinger and Jeremy's wedding. Her absence was surprising, since Amy is never one to miss a chance to be on-camera. Amy insists, though, that she only missed the wedding due to being in Las Vegas to attend the SEMA Show with her husband, Dillon.
"I was absolutely invited. I love my family! There is no rift between me and my cousins at all. It was just wrong timing," she told Entertainment Tonight. "We already had something scheduled…It was Dillon's dream to be a part of it and his truck was being sponsored! This was planned a year in advance, so there was no way I could let my husband go without me."
Social Media:  Surprisingly, Jinger has yet to join social media, even though the Duggar kids have traditionally joined Twitter and Instagram after they begin courting. (If you're following a Jinger Duggar account, it's not real, by the way!)
Token Creepy Duggar Family Quote:  As always, one of the Duggar family members came through and delivered a strange quote in honor of the wedding festivities. This time around, it was Jinger's mom, Michelle, who talked about how great Jinger is at doing what people tell her to do…or something.
"They really balance each other out. Jeremy is a strong leader, and Jinger is such a gentle people person and a great follower," Michelle told the magazine.
The 'Counting On' episode featuring Jinger and Jeremy's wedding will air next Tuesday on TLC. Want to see how their wedding compares to the other Duggar weddings? Click here!
Check out the video below to see some snapshots from the wedding!
(Photo: TLC)